The Real Reason RHOSLC's Meredith Marks And Her Husband Split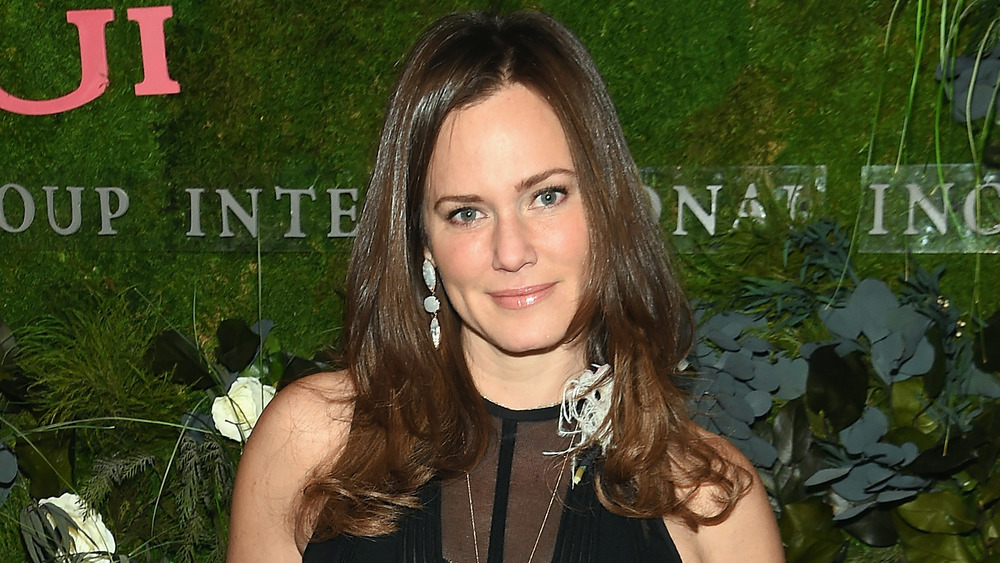 Jamie Mccarthy/Getty Images
During the November 2020 premiere of Real Housewives of Salt Lake City, Meredith Marks' husband Seth decorated a room full of flowers...from a distance via their son, Brooks, since he was 1,400-miles away in Chicago. During the Nov. 18, 2020, episode, he dropped a bomb, casually asking her "Who have you told that we are separated? Do all your friends know we are separated?," according to Page Six. Well, if they didn't know then, they do now thanks to this reality show.
During a confessional, Meredith said, "We met when we were 23, got married at 24 and had a baby at 25. It was just a tornado that came through and that was it. I was young but head-over-heels in love, so I went for it." She admitted, "it [the relationship] just broke down," revealing that they "moved many times" throughout their marriage thanks to both of their careers. Meredith divulged, "There was just no communication and hostility built, and built and built, and we just got so totally overwhelmed that we just were completely disconnected."

The Chicago Tribune reported that Seth filed for divorce in August 2019, but he dropped the petition in December 2019, right around Meredith's birthday, which was the event that kicked off the show's first season. Reflecting on the season, Meredith told the outlet, "I don't know if I would say it was so difficult to film." However, she predicted, "I think what's going to be difficult is to watch those scenes," which probably means this will be a major part of her storyline. So why did the couple split in the first place?
Meredith Marks hid the split from her kids
As it turns out, the 2019 split wasn't the first time Meredith Marks and her husband called it quits. Meredith told ET, "Seth [Marks] and I have had a long history of separations and reconciliations over the years." However, they were very private, with Meredith revealing, "we had dated other people at times — our children did not ever know." That was because they still lived together, which changed in 2019, once they became empty-nesters. They began living separately, with Meredith explaining, "This is really the time where the kids are gone and we can now be in our own homes and sort of try to figure out what direction we want to go. Can we make this work? Or can't we?" 
The Real Housewife confessed that the most difficult part of splitting from Seth was when they had to break the news to their three adult children, Reid, Chloe, and Brooks, admitting that she wishes she told them sooner. Meredith confessed that she got "a little teary" thinking about her marital troubles, sharing, "I had really not told any of my friends, and my children just found out when they left the house, which was probably six months or so before we started filming."
Meredith also shared with the Chicago Tribune, "We have had a bit of a volatile relationship for many years. When you're empty nesters, it's sort of a 'do or die' situation. You have to finally say, OK, we can't keep playing this game anymore and separating and reconciling for our children."
Meredith Marks' marital strife will play out on TV
Meredith Marks kept her separation from her husband Seth Marks as private as she could, except for that whole signing up for reality TV thing. As a result, it is going to be a part of her Real Housewives of Salt Lake City storyline. During an interview with ET, Meredith said cast members, mainly Whitney Rose, questioned their marriage, circulating rumors that Meredith was seeing someone else. Meredith admitted, "To be throwing things out there when you don't know if they're true or false, you don't know what's going on, you don't know what's rumor, is upsetting, very upsetting." Seemingly, Whitney wasn't privy to the Marks' secret split.
However, Whitney isn't the only one who has questions about the Marks' marriage. Meredith said there's someone else involved in the gossip, but even she isn't sure about the person's identity. She's going to have to watch the show to find out, just like the viewers. Meredith teased, "There's a lot of conversation that went on about me behind my back. I'm very curious to see who's responsible for what." And so are the fans.
Meredith hinted that the RHOSLC viewers will find out what's going on with her marriage by the end of the season. However, she was much more direct talking to Chicago Tribune about Seth's divorce petition, quipping, "Well, I can tell you that that was dismissed. I can tell you that much, so we're obviously not getting divorced."