Why The AMAs Are Concerned About Jennifer Lopez And Megan Thee Stallion's Performances
The American Music Awards is set to be an "electrifying" celebration of music, according to host Taraji P. Henson. "The AMAs brings together the music community to celebrate what really drives all artists — the fans," she said in a statement (per Entertainment Tonight). "I'm proud to take the stage as this year's host — and also a fan — for what promises to be an electrifying night of music." Along with other award shows like the Country Music Awards and MTV Video Music Awards, the AMAs have had to grapple with obstacles that come with filming during the ongoing coronavirus pandemic.
As coronavirus cases surge once again in America, the AMA production team, managed by Dick Clark Productions (DCP), has ensured that all involved will be following strict safety guidelines to protect the cast and crew, all while providing top-notch entertainment to Americans. "We have rigorous Covid-19 safety guidelines and protocols in place — approved by the unions and with guidance from L.A. County Department of Public Health — that are beyond what is required," a DCP spokesperson told Rolling Stone.
While DCP seems to have a hand on everything coronavirus-related, the team is reportedly concerned about something that is far different, though no less predictable, than a deadly pandemic: Jennifer Lopez and Megan Thee Stallion's performances. Here's why.
Jennifer Lopez and Megan Thee Stallion are known for shaking it on stage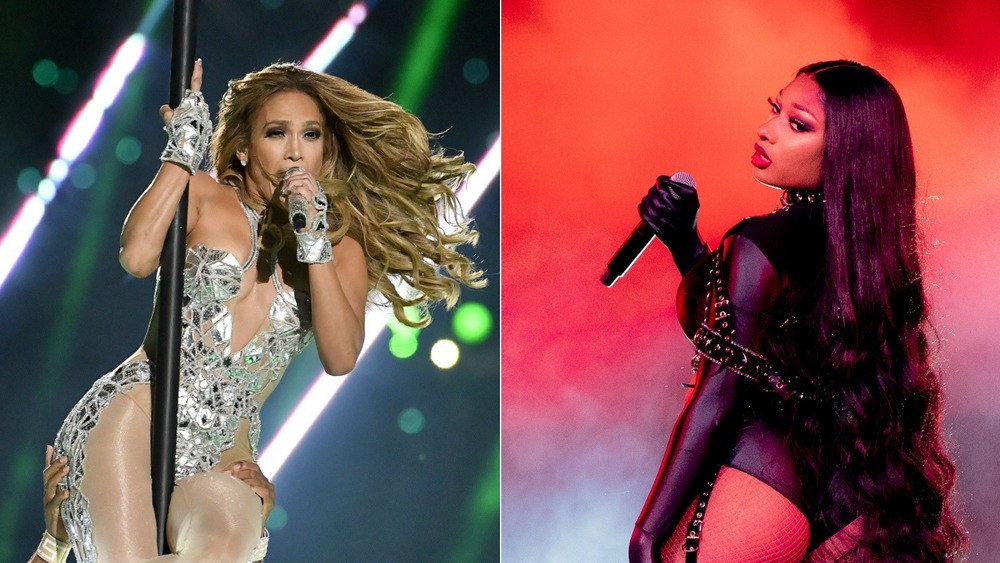 Page Six reports that ABC censors are "freaking out" ahead of risqué performances scheduled for Jennifer Lopez and Megan Thee Stallion at the 2020 American Music Awards. Neither J.Lo nor Megan Thee Stallion is known for their innocent dance moves or lyrics, so some concern isn't exactly unwarranted.
In February 2020, Lopez's super bowl halftime performance with Shakira garnered more than 1,300 complaints to the Federal Communications Commission, as reported by NBC. One complaint likened the energetic performance to one that belongs in Las Vegas, while another, angrier person complained, "I do not subscribe to The Playboy Channel, we do not buy porn for $20 a flick, we simply wanted to sit down as a family and watch the Super Bowl." Lopez is set to perform "Pa' Ti" and "Lonely" with Columbian singer Maluma.
Megan Thee Stallion, meanwhile, released the highly sexual song "WAP" with Cardi B in August 2020, which turned plenty of heads due to its explicit content. Though it's unclear whether "WAP" will make an appearance, the rapper will perform a "sultry" set 30 minutes into the broadcast and Lopez will follow later in the AMAs. Other performers include Justin Bieber, Dua Lipa, Katy Perry, and more. We have to agree with the F.C.C on one thing: we have no idea what is going to happen, but it is certain to be interesting.