This Is Rhett And Link's True Net Worth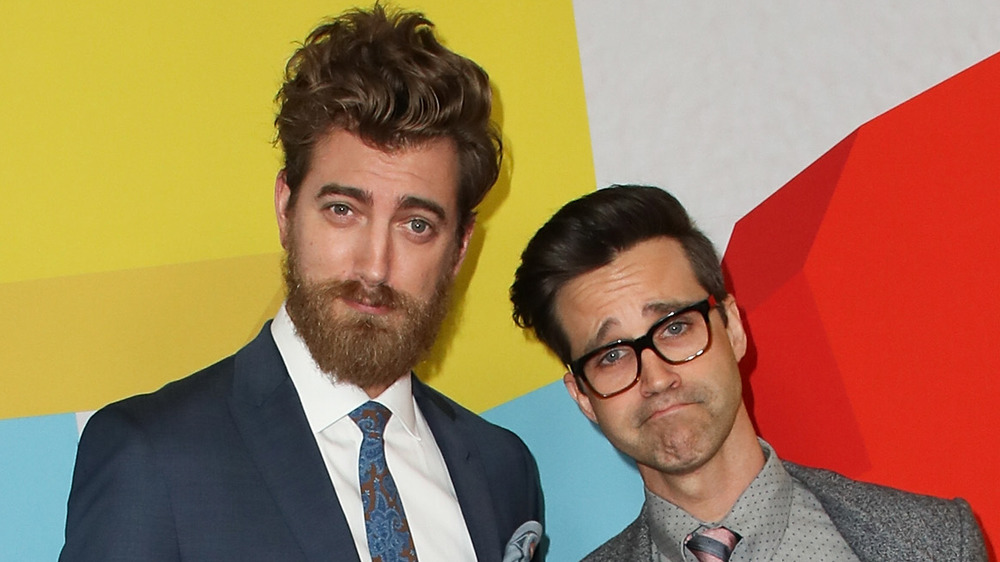 David Livingston/Getty Images
Rhett McLaughlin and Charles Lincoln "Link" Neal III — aka Rhett and Link — are "the Internet's Kings of Comedy," according to Parade. Friends since they were kids, the two grew up and took their shared love of humor to YouTube. "There are many times when we look at each other and we're making each other laugh in the same way we did when we were recording ourselves onto cassette tapes, and doing mock interviews in grade school and middle school," Link told CNET's I'm So Obsessed podcast in July 2020. "We're still doing that as guys in our 40s. It's crazy, and I am so grateful that it resonates with people."
The duo's comedy routine has resonated with so many people that they now have multiple channels — "which include a daily talk show, Good Mythical Morning, the YouTube Red series Rhett & Link's Buddy System, and their wildly popular comedic songs, sketches, and viral commercials," per Parade. That kind of wide-reaching success (they've racked up billions of views) has made them two of the biggest stars on the popular platform. That's why they've also embarked on other opportunities, like heading out on tour and writing a book aptly titled Rhett & Link's Book of Mythicality: A Field Guide to Curiosity, Creativity, and Tomfoolery.
Perhaps unsurprisingly, Rhett and Link are YouTube stars who make a lot of money. However, you might be shocked by just how sizeable their fortunes really are.
Rhett and Link's ridiculousness made them ridiculously rich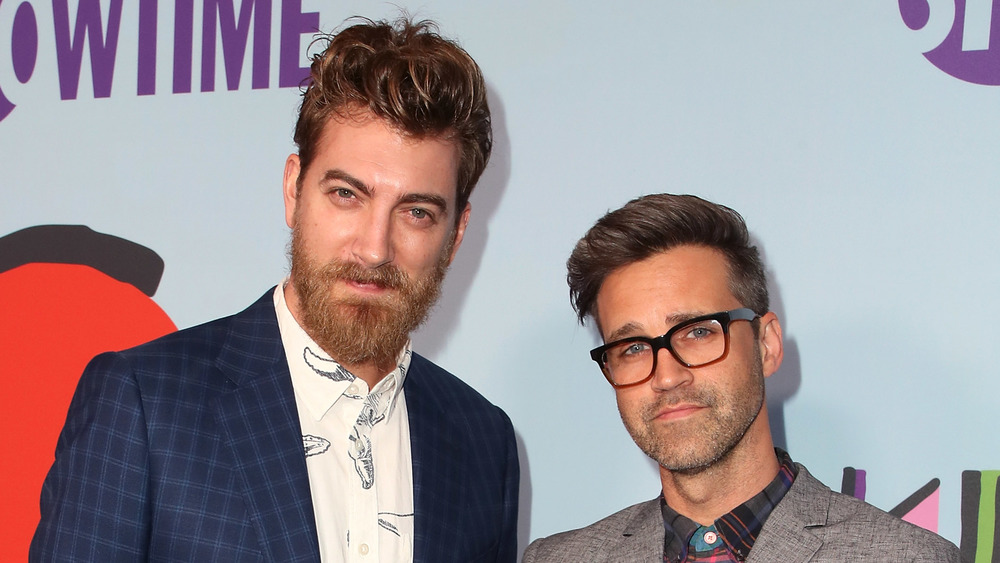 David Livingston/Getty Images
Rhett and Link have become famous for being ridiculously funny. However, that doesn't necessarily translate into a stable career. Fortunately for the pair, they were able to take their talents online. "We had to develop a business model and figure out how to make money off of our YouTube videos, even before there was the YouTube partner program," Link explained to Parade. Noting that was back around 2007 or 2008, he recalled, "We were cold-calling or cold-emailing all the businesses that we thought aligned with ideas we had for sketches and music videos, and then writing our own legal contracts to structure some sort of deal, like pay us a little now, and if the video is successful, pay us based on the success of the video."
That tenacity paid off, and by 2015, Forbes included them at #5 on the list of top-earning YouTube stars with $4.5 million. Although that's impressive, it's not even close to the $18 million that they reportedly earned in 2019, per Celebrity Net Worth, which also put both Rhett and Link's fortunes at a whopping $16 million.
If you're wondering why the duo isn't worth more when they've been bringing in so much, it may be because they have not only spent some of that cash on personal expenditures, but they also happened to drop a cool $10 million to buy Smosh (a popular brand) in 2019. It's obvious the two have more in mind than just making quirky videos.