Teresa Giudice And Danielle Staub Finally Make Peace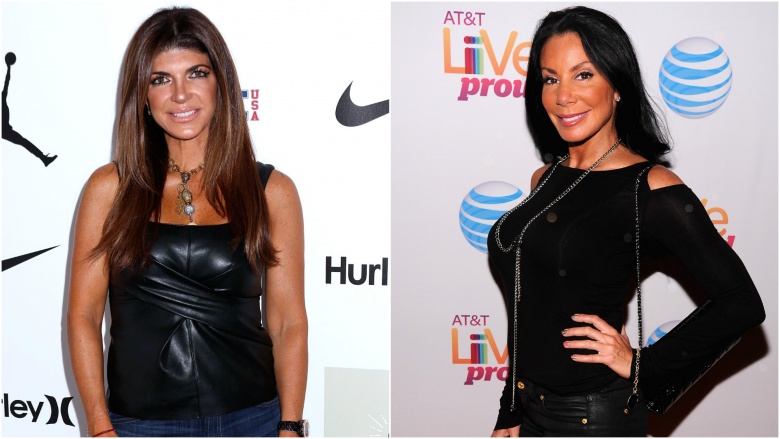 Getty Images
If you glance out the window today and happen to see a pig fly by, well, it might have to do with the fact that Real Housewives of New Jersey stars Teresa Giudice and Danielle Staub have finally made up after years of fighting and table-flipping.
The reality stars—who infamously feuded during Real Housewives of New Jersey's inaugural season—recently made peace by attending a yoga class together. Evidence of their stand-still was posted to Giudice's Instagram account on Wednesday, Oct. 19, 2016.
"So good catching up with @danielle_staub," Giudice wrote. "Leaving the past in the past and moving forward with only positive vibes. Looking forward to the future."
Page Six obtained more details on the surprising reunion, which began via social media. "I absolutely didn't speak to anyone [from the cast] up until a few weeks ago when Teresa reached out to me," Staub said. "It was for a very, very genuine reason and it just started with a dialogue."
"I went, 'Did you just DM [direct message] me recently' and she went, 'Danielle, yes,'" she continued. "And so we started really opening up a dialect with one another and yoga seemed to be an organic thing."
She added: "I felt like it was just genuine and she walked in and everyone in the room saw us. She was a little late and class was already in session, and you don't stop what you're doing, but I stopped to give her a hug and then I had a mat next to me and we continued our class. After class, people were coming up in tears and going, 'Did we just witness the first time you've seen each other?' We took photos, we went to Jamba Juice and we talked a lot."
In season one, tensions flared between Giudice and Staub over allegations about Staub's past, as written in the book Cop Without a Badge. During a tense dinner scene, Giudice flipped a table and referred to Staub as a "prostitution whore."