Whatever Happened To Cali Swag District?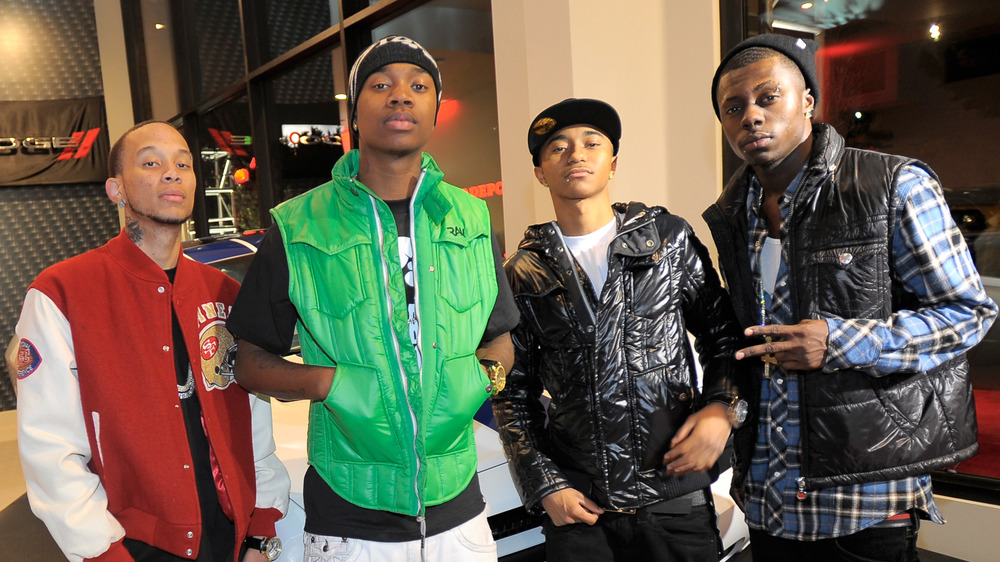 Charley Gallay/Getty Images
Whenever you think of the 2010s, it's hard to escape the era of colored skinny jeans, snapback hats, and those retrospectively horrible poses in photos. What made the early 2010s a decade to remember, however, were the dances that brought everyone together. Although not everyone nails the jerk (popularized by New Boyz) or the R3jectz's "Cat Daddy" routine, there's one dance of the era that was quite catchy and simple to follow: the Dougie.
The Dougie dance originated in Dallas, Texas by rapper Lil' Wil from his 2008 song, "My Dougie." The locally recognized dance would eventually become popularized after west coast rap group Cali Swag District — consisting of the members Smoove Da General, M-Bone, OFB Yung, and JayAre — released the song "Teach Me How To Dougie" in 2010. They filmed the video in Inglewood, Calif.
The song reached commercial success, peaking at No. 28 on the U.S. Billboard Hot 100 and certified platinum by the Recording Industry Association of America. It's without question that Cali Swag District had a huge cultural impact in the early 2010s, but like most one-hit wonders, we don't hear from them anymore. Here's what happened to Cali Swag District.
Two members of Cali Swag District have passed away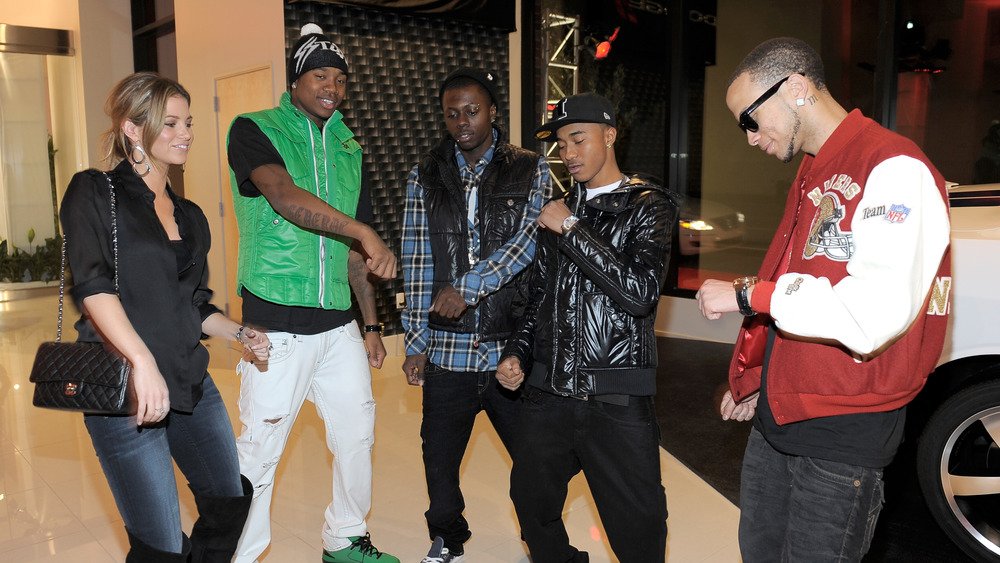 Charley Gallay/Getty Images
Between album pushbacks and tragic losses, the California rap group would undergo some serious hardships. In May 2011, CSD member M-Bone (birth name Montae Talbert) tragically passed away of two gunshot wounds during a drive-by shooting outside of a liquor store in his hometown in Inglewood, Calif., per the Los Angeles Sentinel. In honor of M-Bone's death, Cali Swag District premiered their song "How To Do That." The remaining members of the group went on to release their debut album, The Kickback.
Three years later, in June 2014, the group would face another tragic loss in the group with the death of JayAre (born Cahron Childs). A source told MTV News that the rapper suffered from sickle cell anemia and was admitted to the hospital after having a seizure in his sleep. While admitted, JayAre fell into cardiac arrest and died. Struggling to keep together as a group, Smoove Da General and OFB Yung released one more mixtape, The District.
Although we haven't heard from the two as a group since then, Smoove Da General and OFB Yung still pay their respects to their fallen friends. In September 2020, Smoove Da General posted a throwback photo of the group on his Instagram to celebrate M-Bone's birthday. "Happy Birthday to my dawg MBone man i could only imagine what you would be doing with all these free bands hahah i love and miss you bro," the caption reads. OFB Yung also shared a video with the caption, "HAPPY BDAY TO MY BEST BUD MY PAL MBONE YOU DIED A LEGEND!"