The Truth About John David Washington's Professional Sports Career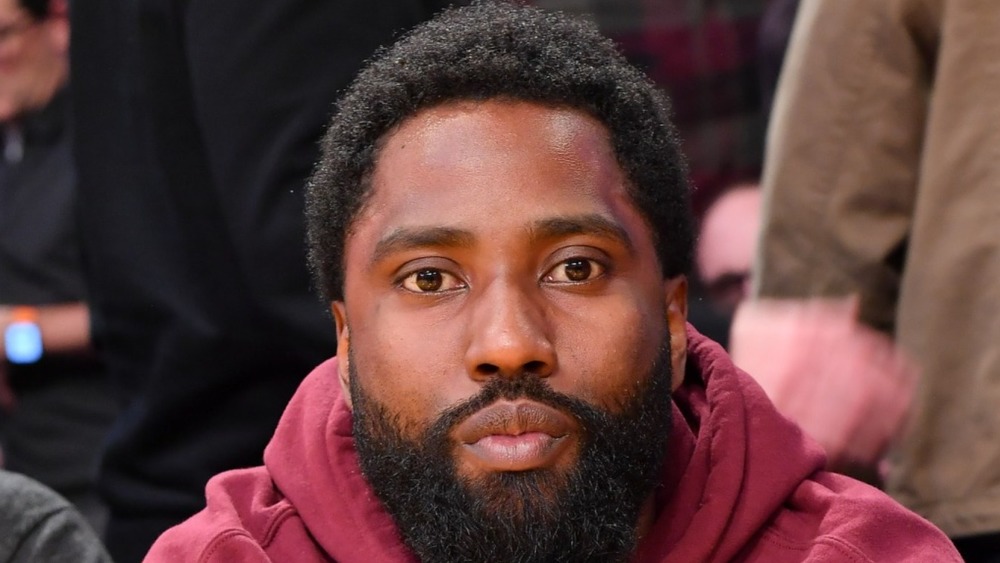 Allen Berezovsky/Getty Images
Before John David Washington became an A-list actor, he was a pro football running back. The oldest son of superstar Denzel Washington focused on football as a way to get out from under his famous father's shadow. In August 2020, Washington explained to GQ why he loved playing football. "I was being recognized by my own efforts that had nothing to do with my father," the younger Washington revealed. "Like, are you saying defenders would not try to tackle me because of my father?"
Denzel Washington's son played football at Morehouse College on a scholarship. After graduation, Washington signed with the St. Louis Rams as an undrafted free agent in 2006. According to GQ, Washington went from the St. Louis Rams to the Rhein Fire to Sacramento Mountain Lions. Washington's pro football career was spent mainly in the NFL Europe League and the United Football League.
After young Washington spent four years with the United Football League's Sacramento Mountain Lions, his professional football career came to a sudden end in 2013. In an interview with Sports Illustrated, Washington revealed that while trying to prepare for an upcoming workout with the Giants, he was seriously injured with a torn Achilles. Washington told the magazine, "It was a death row sentence. I'm 28 years old, as a running back, it's over."
Washington's pro football experience, however, would be the key to helping him transition to a new career. Keep reading to learn more about Washington's professional sports career. 
John David Washington from pro football to his role in Ballers
John David Washington's football career helped him break into acting. In July 2013, Washington lived with his parents while he recovered from surgery to repair his ruptured Achilles. The former pro football player had just turned 29 years old, and his pro football career was over. As luck would have it, Washington's pro football experience would be the key to landing his first acting role. The former pro running back broke into acting on HBO's Ballers, playing pro football player Ricky Jerret.
For Ricky Jerret, Ballers casting director Sheila Jaffe was looking for a former pro football player. According to Men's Journal, "She remembered hearing that Denzel Washington had a kid who played professionally. So she threw a Hail Mary and called Denzel's agent to inquire about John David."
In an August 2020 Esquire interview, Washington confessed he kept his audition for Ballers on the down-low, only telling his mother Pauletta Washington that he was up for the role. He only told his famous dad Denzel Washington the news once he got the part. 
John David Washington's transition to A-list actor
John David Washington told the Esquire his dad was shocked when he confessed he got the HBO series Ballers role. Denzel "kept asking questions like 'For HBO? Like Home Box Office Entertainment? Who? Really? But what's it called? The Rock?'" The younger Washington revealed. "He just kept asking questions like 'Is this real?' I guess he had to check it with his agents to make sure it was real."
After his dad confirmed that his son was starring in a series with Dwayne The Rock Johnson, and not some other Dwayne Johnson, he was happy. Washington's next big break came from his "Uncle Spike," aka Spike Lee. According to The Washington Post, the famed director wanted Washington to play the leading role in his 2018 film BlacKkKlansman.
Washington played Ron Stallworth, an agent working for the Colorado Springs police department. The black undercover agent's true story about infiltrating the Ku Klux Klan in the '70s was a huge hit for Lee. BlacKkKlansman won the Grand Prix award from Cannes Film Festival in 2018, and Washington's performance boosted him to Hollywood's A-list.
Washington's starring role with Robert Pattinson in Christopher Nolan's Tenet will likely take Denzel's son even further. The time travel action thriller launched over Labor Day 2020, and is set to air on streaming networks on Dec. 15, 2020. Most actors never reach such heights, much less after a successful football career, but John David Washington is not most actors.