Here's How Much Charlotte Flair Is Really Worth
Jason Koerner/Getty Images
Like with most wrestlers in the WWE, Charlotte Flair is, of course, a stage name. It's also a nod to her famous father — Ric Flair, who was "the first active performer to be inducted into the WWE Hall of Fame" and the first two-time inductee, per his WWE bio. However, as Charlotte's own profile notes, she's "carving out a path of greatness all her own." And her Instagram bio captures the same sentiment: "Honoring a legacy and building my own."
Charlotte Flair — whose real name is Ashley Elizabeth Fliehr, for the record — came onto the professional wrestling scene in 2012. Since then, she's built a name for herself in and out of the ring. Per Celebrity Net Worth, she's been crowned the WWE Raw Women's Champion a whopping four times. In 2016, Charlotte was Pro Wrestling Illustrated's Woman of the Year. While it was noted by Sports Illustrated in June 2020 that she would be taking a break to undergo surgery, by December of the same year, The Mix reported that Charlotte was already teasing a comeback to the ring.
All those career accolades don't only add up on her résumé, but they've brought in some big bucks. So, what's Charlotte Flair's net worth in 2020? And how does her income compare to that of her famous father, as well as other well-known female wrestlers? Allow us to dive right in.
Wrestling runs in the Flair family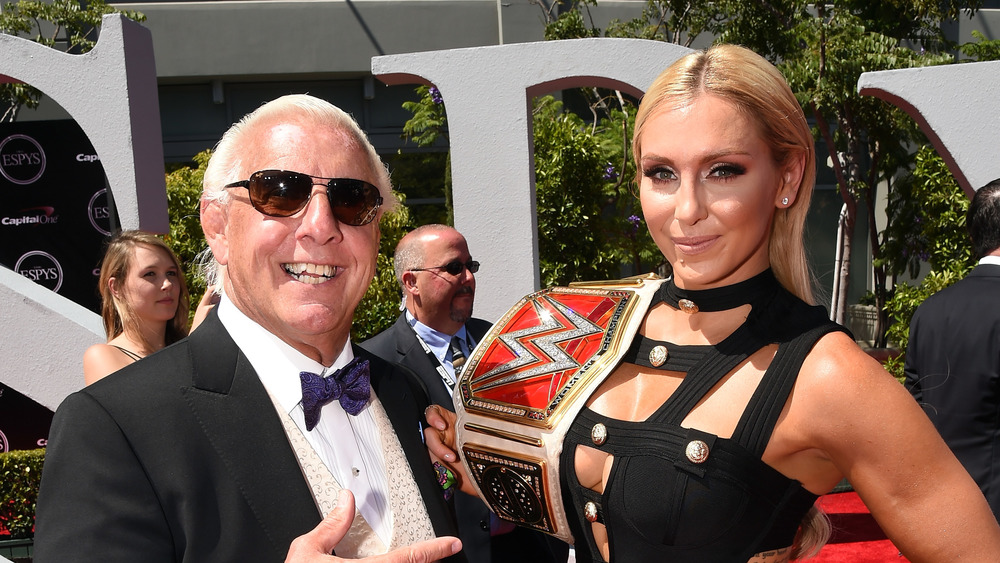 Kevin Winter/Getty Images
First things first, let's discuss Charlotte Flair's net worth. According to Celebrity Net Worth, the women's wrestling champ is worth an estimated $1 million. Meanwhile Sports Keeda says Charlotte is worth approximately $1.5 million. Either way, any income in that range is nothing to scoff at.
As for Charlotte's famous father, Ric Flair, his net worth has apparently declined a bit over the years. Celebrity Net Worth clocks him in at $500,000. While he's a 16-time world champ, Ric reportedly ran into some financial problems tied to unpaid taxes, per the same outlet. Perhaps that's why his income is currently half that of his daughter.
But how does Charlotte's bank account compare to that of her competitors? Irish wrestler Becky Lynch — who won the Match of the Year against Charlotte in 2018 — is worth $4 million, per Celebrity Net Worth. Charlotte's WWE rival Sasha Banks is reportedly worth $3 million, according to Sports Keeda. Nothing quite compares to another famous wrestling family, however. To put things in perspective, the Bella Twins, Nikki and Brie, have a combined net worth of $18 million.
Time spent in the wrestling ring really can bring in lots of moolah, huh?!