What You Didn't Know About Lilly Singh And Charlize Theron's Friendship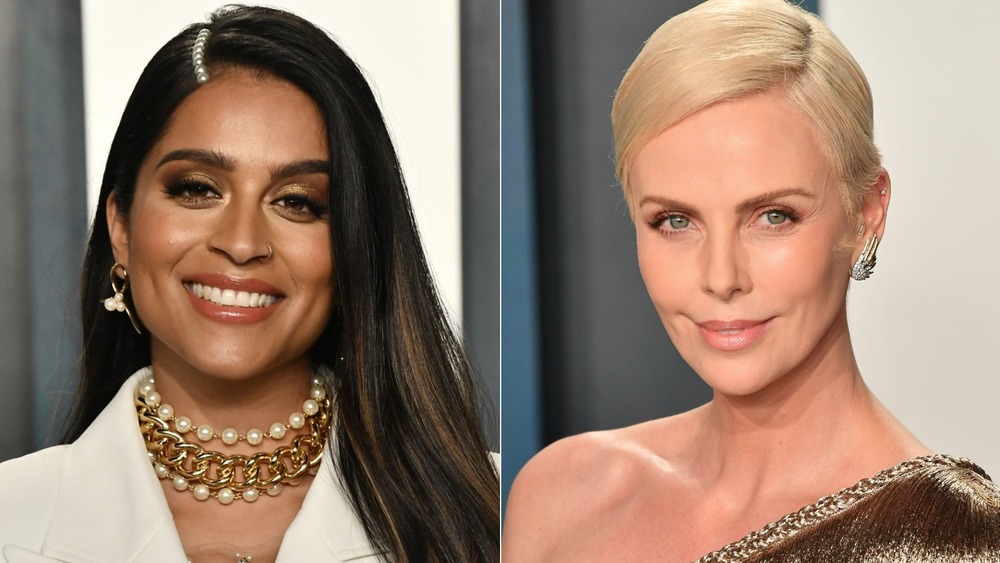 Frazer Harrison, Allen Berezovsky/Getty Images
Sure, you know Lilly Singh as a hilarious YouTuber and talk show host. But did you know that the A Little Late with Lilly Singh star calls Oscar winner Charlize Theron one of her "best friends?" Here's how Singh came to be besties with one of the biggest A-listers out there.
As she explained during a 2017 appearance on Chelsea Handler's Netflix show Chelsea, Singh met Theron because of the Monster star's charity, and they've been pals ever since. And it turns out, Theron was actually the reason Singh was on Handler's show in the first place! As soon as Singh sat down with Handler, the host explained that Theron told her that she had to "check out" Singh's work.
"I first met her for her Africa Outreach Project that she has going on," Singh said to Handler of the Old Guard star. "I went to a dinner with her to discuss all the amazing work she does. And I was randomly in Italy once for some Google stuff, and she was right beside me, and I was like, 'Charlize!' And we became best friends. I love her."
Singh has supported Theron's charity, the Charlize Theron Africa Outreach Project, since that initial meeting, traveling to South Africa with the actor and promoting the charity on Instagram for Giving Tuesday in 2020. And based on what Theron has said about Singh, we'd say the love is mutual. Here's what to know about the two stars' relationship.
Charlize Theron shared some funny stories on 'A Little Late with Lilly Singh'
Are you really Hollywood BFFs if you don't go on each other's talk shows? Charlize Theron went on Lilly Singh's NBC show in 2019 and shared the random tale of how she'd accidentally been following an Emily Blunt fan account.
"I was following 'Emily Blunt,' but I wasn't really following Emily Blunt. Somebody was like, 'no, Emily's not on social media.' And I was like, 'Oh, she is, I follow her!' That was a hard lesson to learn," Theron said to Singh. "I was like writing her... like, 'Hey Ems, what's up evil sister?' Writing to some crazy person who's like obsessed and probably stalking her in, like, a dangerous way." So if you've ever been duped by an impersonator account on Instagram, don't feel bad — it happens to stars, too.
The two also joked about how Theron didn't know how to use the animal-ear filters on Instagram, so Singh's internet-savvy definitely came in handy. But Theron's appearance on A Little Late with Lilly Singh wasn't her first video with the YouTube star; the pair also teamed up for a hilarious dating advice sketch for Singh's YouTube channel in 2017.
Singh seems to bring out Theron's playful side, and their friendship is a joy to watch. These celebs are two peas in a pod!