Inside Wendy Williams' Announcement About Losing Her Mom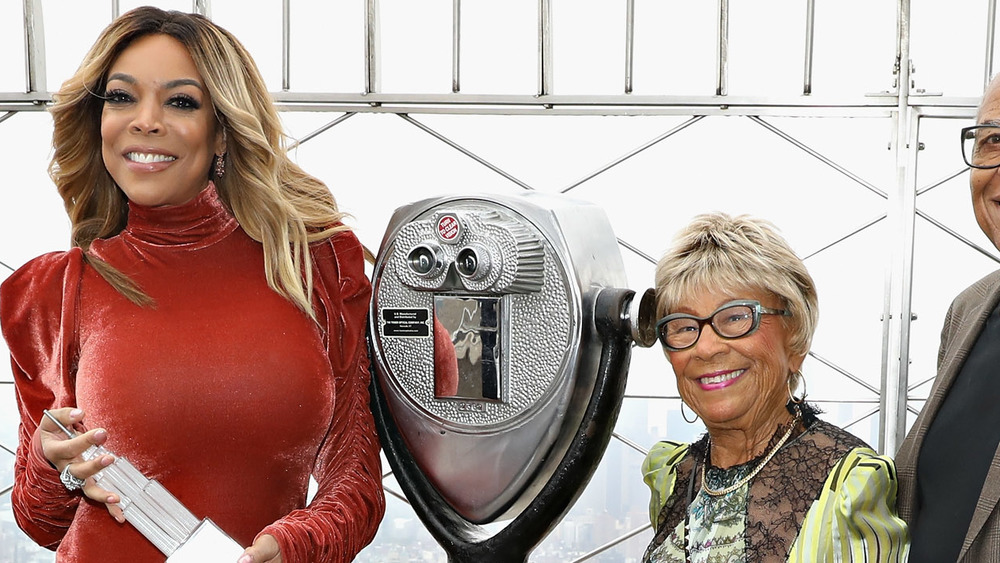 Cindy Ord/Getty Images
Fans of TV host Wendy Williams know that she and her mother (pictured right) have always had a tight bond. That's why it was so sad to watch the host of The Wendy Williams Show announce on a December 2020 episode of her talk show that her mother Shirley Skinner Williams had died. People reported that Williams revealed that her mom died "beautifully and peacefully and surrounded by love." Williams added, "She didn't suffer, not one bit."
According to Madame Noire, a journalist named Courtney Brown first broke the news on her Instagram, writing that Shirley and her grandmother were best friends. That post, however, has since been deleted. Williams confirmed the news on her show saying, "My mom passed away many, many, many, many weeks ago. You know how you lose track of the day and time? All I know was it was a long time ago. The five of us, my mom, dad, my siblings, the five of us — she will always be here." Fans of The Wendy Williams Show could often find Shirley filling in as co-host with her daughter, or in the front row in the audience with Williams' father if they were visiting her. 
Williams did not reveal the cause of her mother's death, but it's clear that the two were always very close — keep on reading for more information.
Wendy Williams' mother was her best friend
TV personality Wendy Williams announced her mother Shirley's death on her show The Wendy Williams Show while holding back tears. According to People, Williams talked about how important her mother was to her, sharing, "Gone is the best mother, the best girlfriend, that a girl could ever have. I feel fortunate that I had her in my life all of my 56 years." Williams described her relationship with Shirley as "that of two teenage girls" that had gotten closer ever since she left for college.
Shirley clearly felt just as strongly for her daughter. People reported that in 2010, in one of her many appearances on the Wendy Williams Show, Shirley described her daughter as "a ray of sunshine" who brought "hope and wonderful, bubbly personality into our lives." Before her death, Shirley worked as a learning disabilities resource specialist at a New Jersey school and leaves behind not only Williams but her siblings Wanda and Thomas. She also had a husband Thomas Williams, Jr., according to Madame Noire.
It's clear that Williams' mother was very special to her, and her announcement of her death reflected that bond.
Wendy Williams' mom was a community leader
Before making appearances on her daughter's talk show, Wendy Williams' mom Shirley Skinner Williams was also a special education teacher at Bradley Elementary School in Asbury Park, according to NJ.com. The outlet reported that she was also well-known and beloved in her community, working as a Girl Scout leader, leading the  Central Jersey chapter of the National Association of Negro Business and Professional Women's Club, and one time even winning the Now Black Woman Award from The Drifters, a national group of Black women that supports educational opportunities for youth.
If you want to know why Williams is so fierce, it's clear where she got her drive from. Shirley also dealt with a lot of personal strife, saying once on her daughter's show that her own mother died after battling colon cancer right around the time that Wendy was born in 1964. "It was not a good time for my family, but then a ray of sunshine came into our lives. Wendy was born in July," Shirley said from her daughter's set in 2010. Wendy added, "Her summer work was to take care of a new baby and drive up and down the Turnpike from Ocean Township to Elizabeth to see her dying mother and take care of me at the same time. So while one life was lost, one life was gained."
Wendy's mom was also obviously a ray of sunshine that will be missed.