What You Don't Know About Dog The Bounty Hunter's Daughter-In-Law
Even though she married into quite a quirky family, Jamie Chapman — daughter-in-law of reality star Dog the Bounty Hunter, aka Duane Chapman — has a way of sticking out and making headlines.
The 32-year-old is married to Leland Chapman, son of the famous bail bondsman who starred in his eponymous A&E show from 2004 to 2012. The tattoo model, who has also worked as a civil servant, worried fans in September by posting a song lyric stating "it hurts" on her Instagram story, according to the Mirror, and then sparked divorce rumors when she removed the words "Leland's wife" from her Instagram bio, according to The Sun.
It's not all bad news, though. Earlier this year, Chapman seemed to be loving life, showing off her tattoos and flaunting her weight loss in a black bikini on Instagram, as reported by The Sun. Let's look beyond the headlines, dive into Chapman's history, and discover all the things you didn't know about this reality star.
Dog the Bounty Hunter's daughter-in-law doesn't identify with her birth state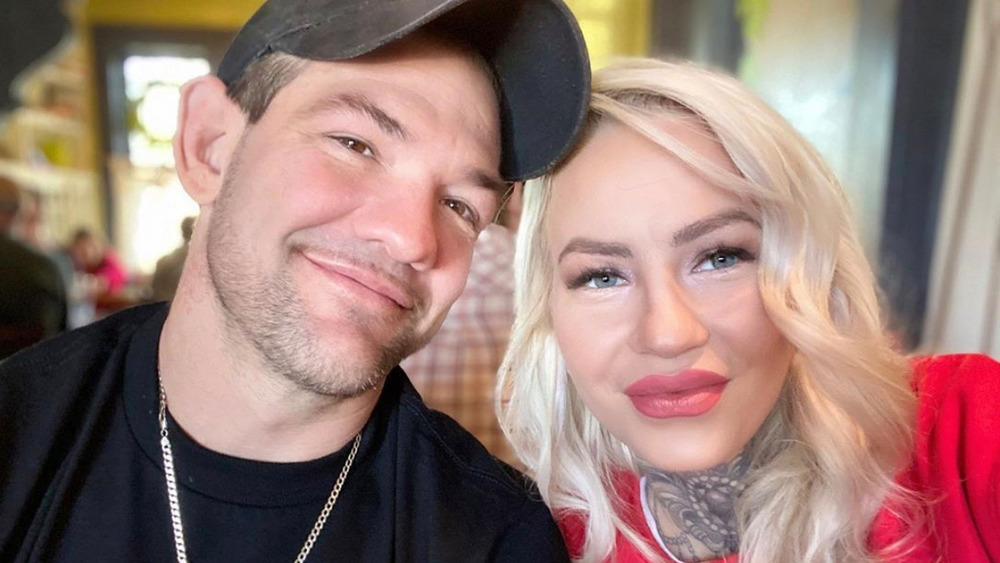 Instagram
Although she was born and raised in Hunstville, Alabama, Chapman doesn't completely identify with her home state.
"All my life I was told I didn't seem to fit the profile of a small town Alabama girl. That I didn't belong here. That I seemed to have a big city personality and style," she shared on Instagram. "I always thought that was someone's nice way of saying how different I am. But hey, I am me. I'm not everyone's cup of tea, & I don't want to be. However, my longest relationship in life is with myself."
Chapman also told The Vault (via All Stephen Moyer) that while growing up, she wanted to become famous, but recalled, "growing up in Alabama....that was very far fetched!" After a stint in Monterey, California, Champan (née Pilar), returned to Hunstville. She and Leland, who married in 2016, now live in Hawaii with their fur baby, Kona, according to The Sun.
Jamie Chapman's tattoos are quite distinctive and cover most of her body
Chapman began modeling at age 13 and is a tattoo model today. Most of her tanned and toned physique is covered in grayscale ink, according to PopCulture.com, including a distinctive chest piece of curling script that melds into her jewelry-like neck piece, which stretches from ear to ear.
She also has intricate tattoos on her hands, fingers, thighs, arms, calves, and upper abdomen. Although her tattoos cover a range of themes, Chapman seems to enjoy incorporating pop culture references, like the Wednesday Addams portrait on her hip.
Images from the vampire show "True Blood" make up a complex tattoo sleeve on her left arm, and Chapman has said that she identifies with the protagonist. "I related to Sookie," Chapman told The Vault (via All Stephen Moyer)." A girl confused about where she belongs in life. Trying to discover who she is as a person. Then finding love in 2 wrong people."
We hope, despite the recent divorce rumors, that Chapman has found her forever love in Leland — and that she's finally found her happy place.