Inside Princess Diana And James Hewitt's Relationship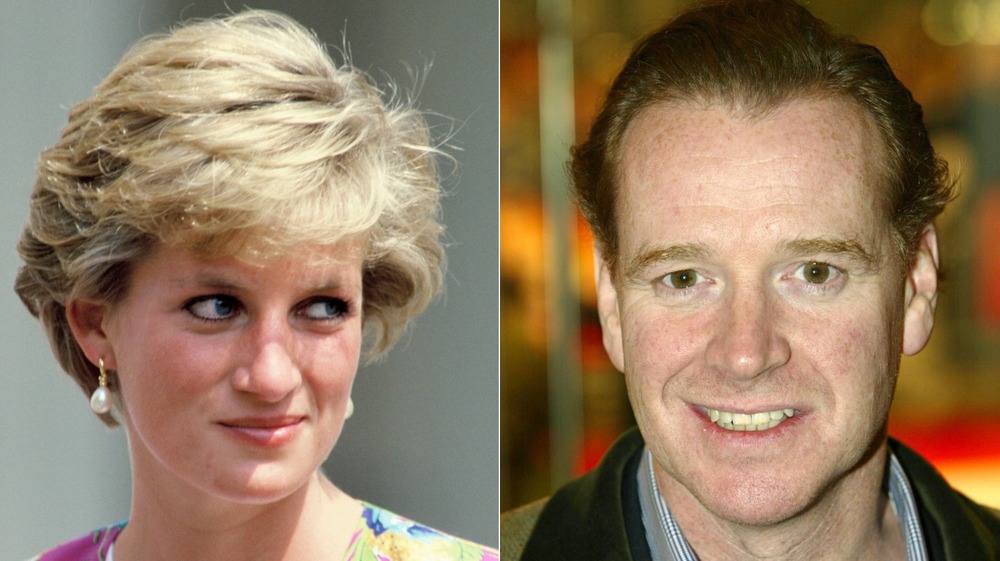 Georges De Keerle, Dave Hogan/Getty Images
Princess Diana's legacy is shaped by the way she weathered the many betrayals she faced, including Prince Charles' affair with Camilla Parker Bowles. However, multiple betrayals of the princess came as the result of a lesser-known affair: her own, with Major James Hewitt.
According to Anna Pasternak's 1994 book Princess in Love, Hewitt's affair with the princess began in 1986 and ended in 1991, per OprahMag.com. The pair reportedly met at a cocktail party, and shortly thereafter, the princess enlisted Hewitt to teach her how to ride a horse. "Only one thing went wrong," Hewitt wrote in his 1999 memoir, Love and War. "We fell in love." The affair ended shortly after Hewitt was posted to Germany to serve in the Gulf War.
When Princess in Love — which detailed Princess Diana's alleged affair with Hewitt — was published, the public perception was lukewarm; it was seen as a royal romance novel at best, and baseless tabloid fluff at worst. However, Hewitt himself served as a source for the book, and even gave Pasternak 64 letters the princess had written to him while he was serving in the war, according to Pasternak's 2020 essay in Tatler. Though Pasternak has since claimed Princess Diana knew about and even encouraged the book's publication, Hewitt's testimony to Pasternak was not the last time he aimed to exploit his affair with the princess.
James Hewitt tried to cash in on his affair with Princess Diana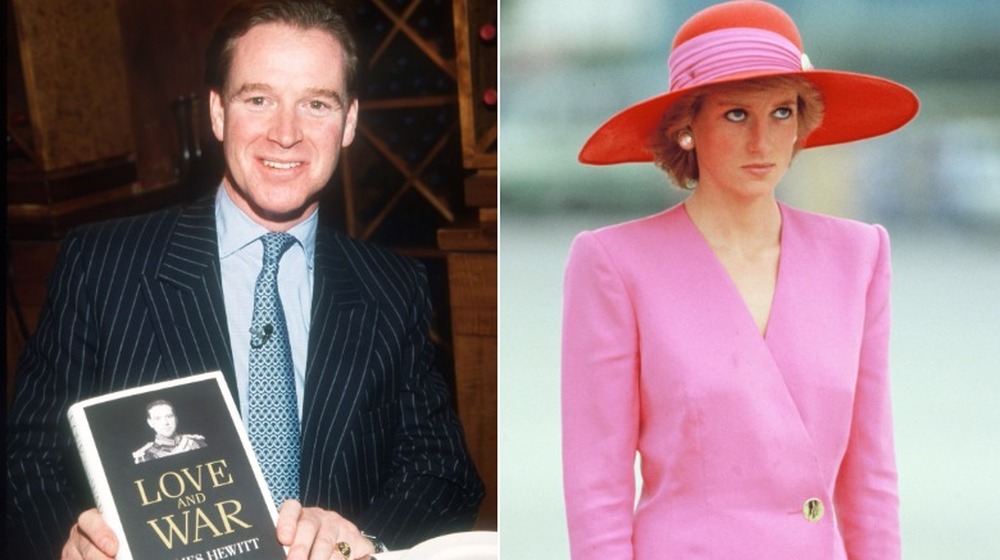 Evan Agostini, Georges De Keerle/Getty Images
Princess Diana discussed Anna Pasternak's Princess in Love and Major James Hewitt's role in it in her infamous 1995 Panorama interview. "There was a lot of fantasy in the book," she said, "and it was very distressing for me that a friend of mine, who I had trusted, made money out of me." Despite the princess' distress, Hewitt went on to publish his own tell-all memoir, Love and War, in 1999, which further detailed their five-year affair.
In 2003, Hewitt announced that he was prepared to sell the letters he exchanged with the princess for the right price. "I was interested when someone offered me a large sum of money," he told Larry King of CNN. "I think it's important to understand that they are or will become important historical documents." By 2015, Hewitt was still attempting to sell his private correspondence with the princess to the "highest bidder," per the Daily Mail. He was reportedly prepared to sell the entire collection, including two notes from a six-year-old Prince William, for the equivalent of approximately $13 million. Ultimately, Hewitt got "cold feet" and dropped the sale.
The affair and its aftermath are perhaps best summed up in Princess Diana's own words. "Yes, I adored him. Yes, I was in love with him. But I was very let down."