Michelle Obama Reveals The One Thing That Made Her Love Barack Obama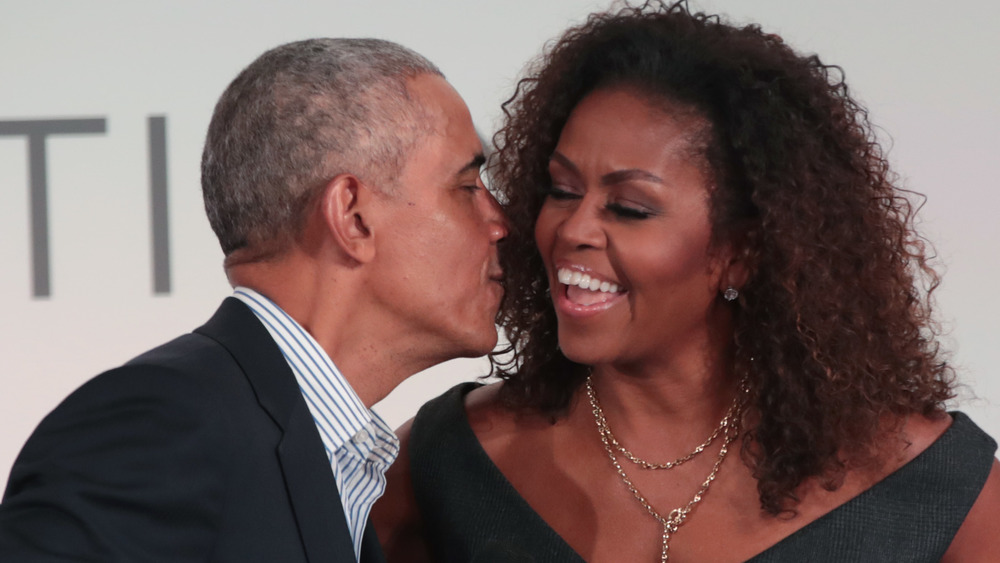 Scott Olson/Getty Images
As one of the youngest presidents to assume office, Barack Obama has had plenty of time to pursue his interests since leaving office in January 2017. For him, this means tackling issues of voter reform and education, following in the footsteps of activist ex-presidents like Bill Clinton and Jimmy Carter. But beyond the political sphere, both he and wife Michelle Obama have taken on a much broader portfolio of projects in the post-White House years.
In addition to high-paid speaking engagements (which are somewhat par for the course for former presidents), the pair inked a deal with Netflix in 2018 to produce content for the streaming service under their new production company, Higher Ground Productions. But that was just the tip of the iceberg! Also on the table was a joint $65 million advance from Penguin Random House's Crown Publishing Group for their respective memoirs. (Barack's A Promised Land dropped in November 2020 to rave reviews.) 
In 2020, Michelle launched her eponymous podcast, The Michelle Obama Podcast, in which she sat down with family, friends, and celebrities for intimate conversations that ran the gamut on topics. Fittingly, the first episode, which debuted July 2020, starred her husband and offered unique insight into the couple's often-idolized relationship. It was also during this episode that Michelle revealed the one thing that made her fall in love with Barack.
Michelle Obama appreciated Barack Obama's love for community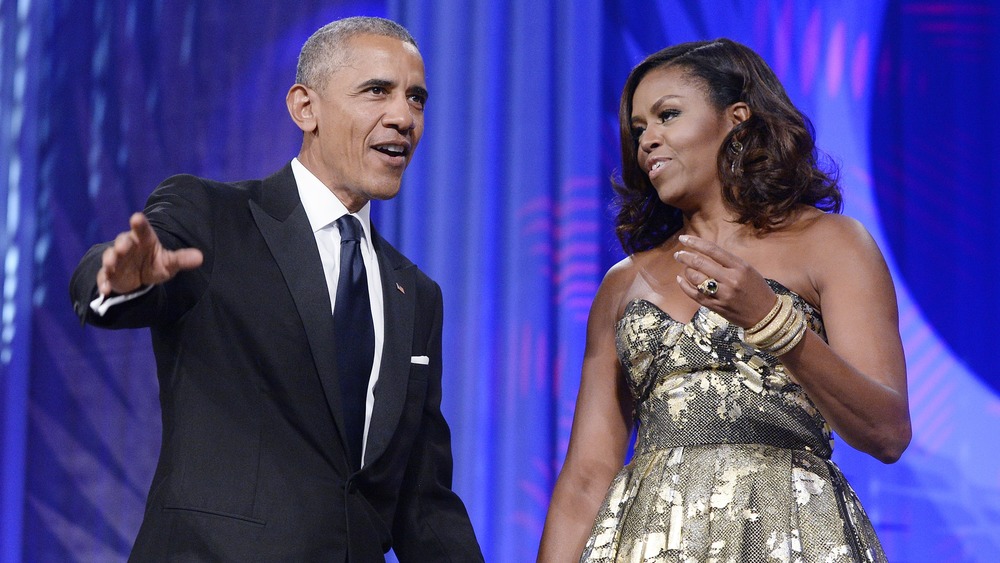 Pool/Getty Images
The former first couple has been open about the beginning of their relationship, which inspired the film Southside With You, but Michelle and Barack Obama took a different approach to their love story on the inaugural episode of The Michelle Obama Podcast. Early on in the interview, Michelle kicked things off by sharing one of the reasons she first fell in love with the 44th President of the United States. "It was just because of my looks," Barack interjected jokingly, and Michelle was quick to correct him. 
"You're cute, but no," the Becoming author admitted. As she saw it, it was Barack's strong sense of community that first allowed her to open her heart to him, as she felt she could relate to it. "You are guided by the principle that we are each other's brothers' and sisters' keepers. And that's how I was raised," Michelle explained on the podcast. "I can say that my family, my neighborhood, my notions of community growing up shaped that view, and shaped the choices that I made in life as I felt your experiences shape yours." 
An emphasis on community values is also a part of the legacy that Barack and Michelle would like to leave to their two daughters, Malia and Sasha Obama. "The inheritance we'd like to leave Malia and Sasha ... is that they're living in a country that respects everybody and looks after everybody. Celebrates and sees everybody," Barack concluded. How could you not fall in love with that mentality?