Why Connie Chung's Latest Tell-All Interview Is Turning Heads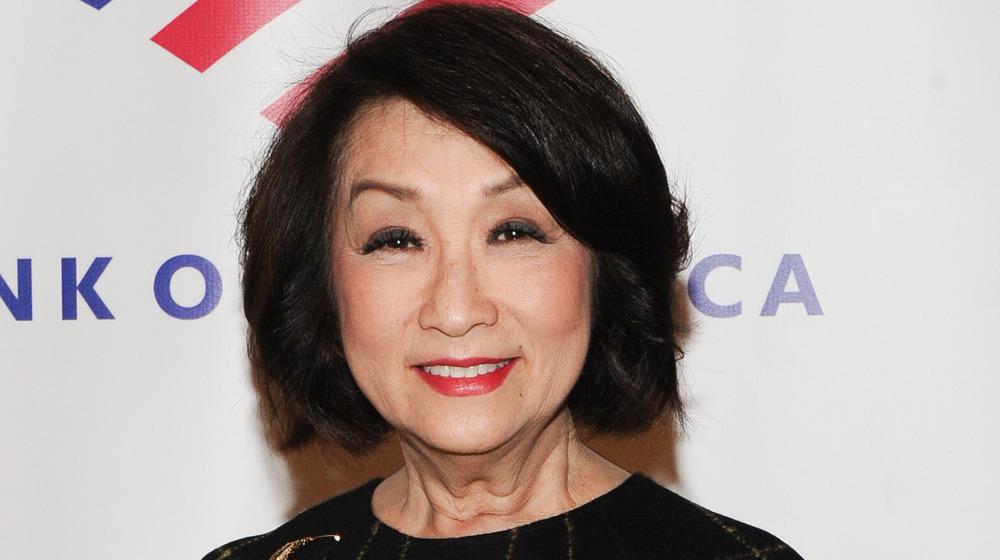 Daniel Zuchnik/Getty Images
Connie Chung is famous for her interviews with celebrities and other public figures. She always knows just what to ask to get the best tea and inside scoop. The roles were reversed, however, when she appeared on Andrew Goldman's The Originals podcast for Los Angeles Magazine. According to Page Six, Chung didn't hold back about her experiences working at CBS and ABC. She described her CBS co-anchor Dan Rather as "very Texas gentlemanly," but that wasn't always the case. Chung divulged, "If I turned my back, I felt like I might be in a scene of Psycho in the shower."
Chung recalled, "When I went to ABC news, I joined with both Barbara Walters and Diane Sawyer there and I thought, 'Oh, this is going to be great. It'll be three women who get along.'" Unfortunately, Chung's vision of three strong women working side by side and empowering each other did not come to fruition. 
She even compared the dynamic to "what Tonya Harding did to Nancy Kerrigan," referencing the infamous incident that involved a hitman named Shane Stant hit Kerrigan in the leg with a collapsible baton. Chung explained, "When I got to ABC, both Diane and Barbara were in the same sort of arena of trying to get these big interviews. So when I tried to go after them, I was told I could not. That Barbara and Diane were the only ones who could compete for the interview and I had to stand down. And I said, 'Really?'" Chung didn't stop there, though. 
Connie Chung slammed Hugh Grant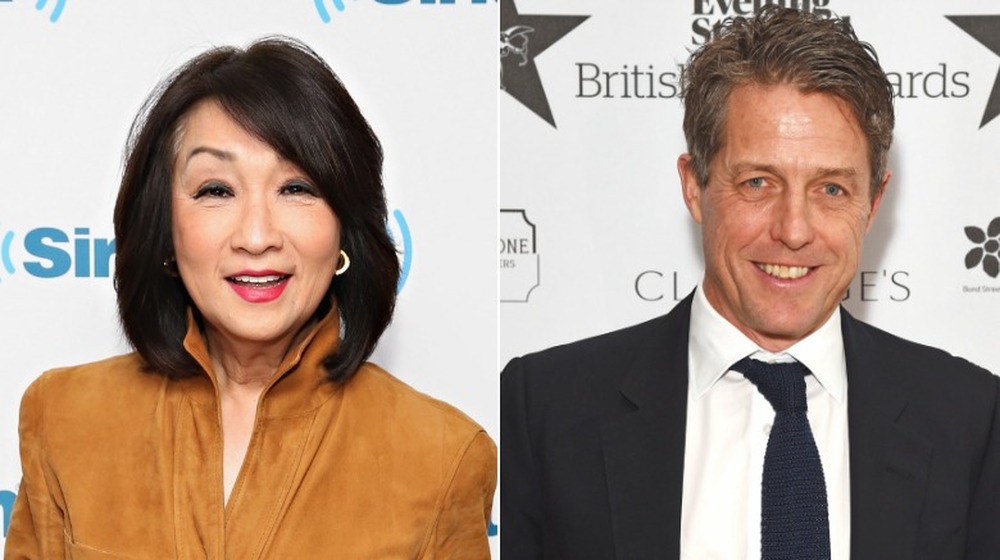 Jason Kempin/Getty Images
Connie Chung played a role inspired by her real-life career on the HBO miniseries The Undoing. Her character interviewed Hugh Grant's character, Jonathan Fraser, about his upcoming murder trial. This setup seemed like it would have been an easy experience given her extensive career doing interviews in real life, even with Grant himself. However, she didn't love Grant, which she revealed on Andrew Goldman's The Originals podcast for Los Angeles Magazine. 
Per Page Six, Chung said, "When Hugh Grant sat down, he was looking all rumpled. He's one of those British rumpled fellows." Specifically, his tie was "askew," which bothered Chung, who described herself as "very OCD." Chung shared that she told him to fix his tie, but, when he did, it was still not completely straightened out. She claimed that when was about to say even more about the tie, Grant had asked her "Now what?" which didn't really sit well with her. 
Overall, Chung described Grant as "not very friendly," which was surprising since she's met him before. Chung recalled, "I had interviewed him right after 'Four Weddings and a Funeral' for his next movie. So when I saw him, I said, 'Oh, hi. I interviewed you ... do you remember?' And he said, 'No.'" Chung assumed "he was getting into his acting zone." She also slammed The Undoing director Suzanne Bier for giving her "an evil eye," and solely referred to her as "the Danish director." Bier is from Copenhagen.
Next, Chung took aim at a famous late-night host. 
Connie Chung says David letterman is "anti-social"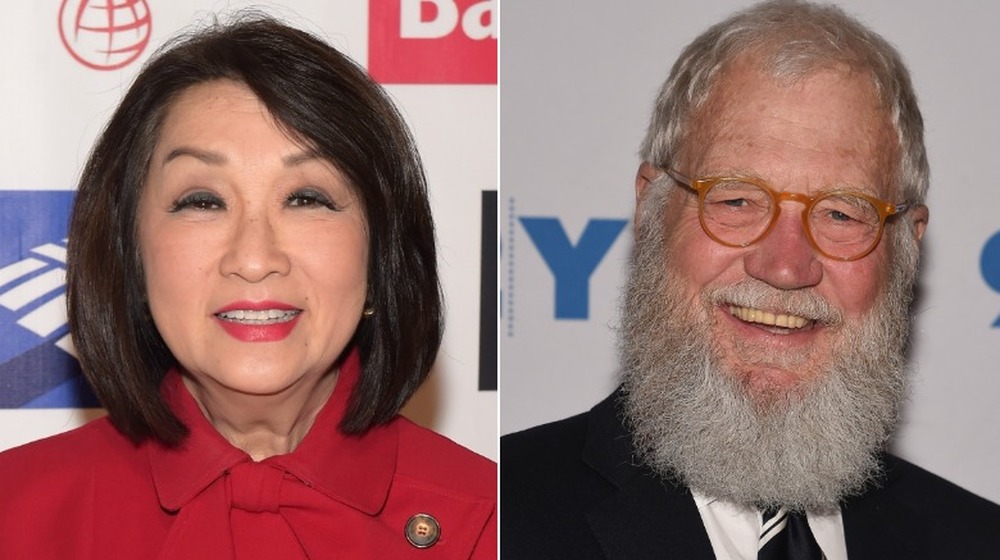 Connie Chung and David Letterman had years of documentary chemistry. In fact, she was one of his most frequent guests on Late Night With David Letterman. Chung discussed their famous rapport when she was a guest on Andrew Goldman's The Originals podcast for Los Angeles Magazine. According to Page Six, Chung said, "I had this thing for him, and he had a thing for me, and I really think it was inexplicable in that respect."
She went on to clarify, "And yet I really didn't have a thing for him. Do you know what I mean?" For the record, Chung has been married to legendary talk show host Maury Povich for decades.  Chung said, "I love people who have a sense of humor and who are charming, and [Letterman] was that when he was on the air." However, she did not feel the same way about Letterman outside of filming his talk show. Chung said, "Off the air, he's dark ... he's a dark, unhappy sort of, I don't mean he's unhappy. He is a kvetch. He's a goyishe kvetch." According to Mirriam-Webster, a "kvetch" is someone who is "a habitual complainer." When it comes down to it, Chung said, "He's anti-social is what he is."
After years of delivering some iconic moments through the interviews that she conducts, Chung definitely delivered when she started answering some questions herself. Now that she's spilled a bit of tea, we'll have to see if keeps it going.