Why Katherine Hepburn Wasn't A Fan Of Meryl Streep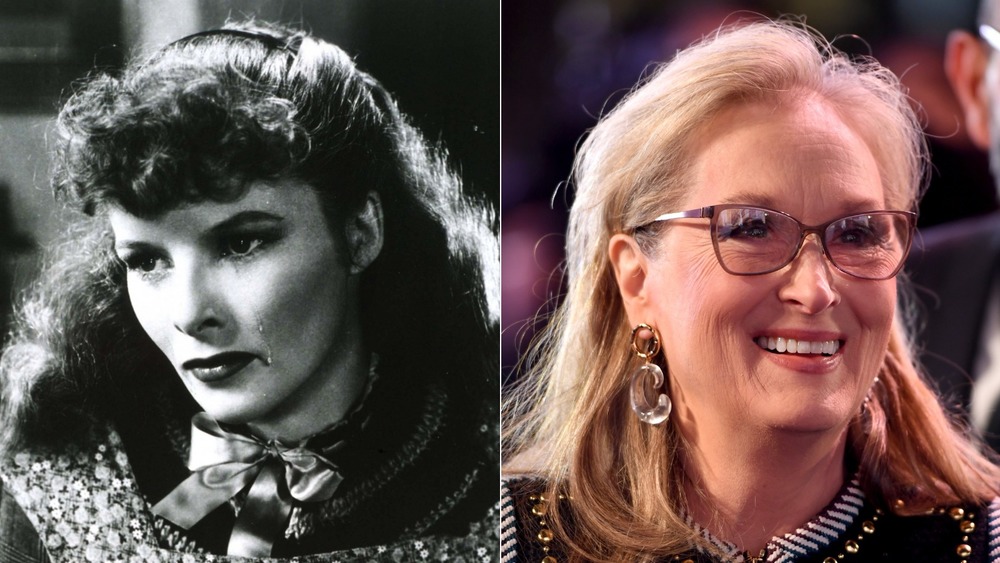 Getty Images, Ian Gavan/Getty Images
If Meryl Streep were British, the Queen of England would have made her a Dame by now. Stateside, awards show monologues are incomplete without the host or an ingenue making some reference, reverent or playfully ribbing, to Streep's universally agreed-upon greatness. When she rapped on the song "Wear Your Crown" in Ryan Murphy's 2020 musical comedy The Prom, public confusion made way for amused delight (questionable rap skills notwithstanding). But before Streep wore the crown as the Queen of Hollywood, Katharine Hepburn was widely considered to be the reigning actress of the 20th century, and she didn't see Streep as a worthy successor. 
Hepburn's distaste for Streep stewed in secret until her death. According to the Sydney Morning Herald, Hepburn had engaged in two decades of conversations with Pulitzer Prize-winning biographer A. Scott Berg, on the condition that the resulting biography be published after her death. She died on June 29, 2003, and 12 days later, Berg's book Kate Remembered unleashed the leading lady's thoughts on Hollywood and the people (and feet) in it. Here's what she said about Streep and other actresses.
Katharine Hepburn thought Meryl Streep used her brain too much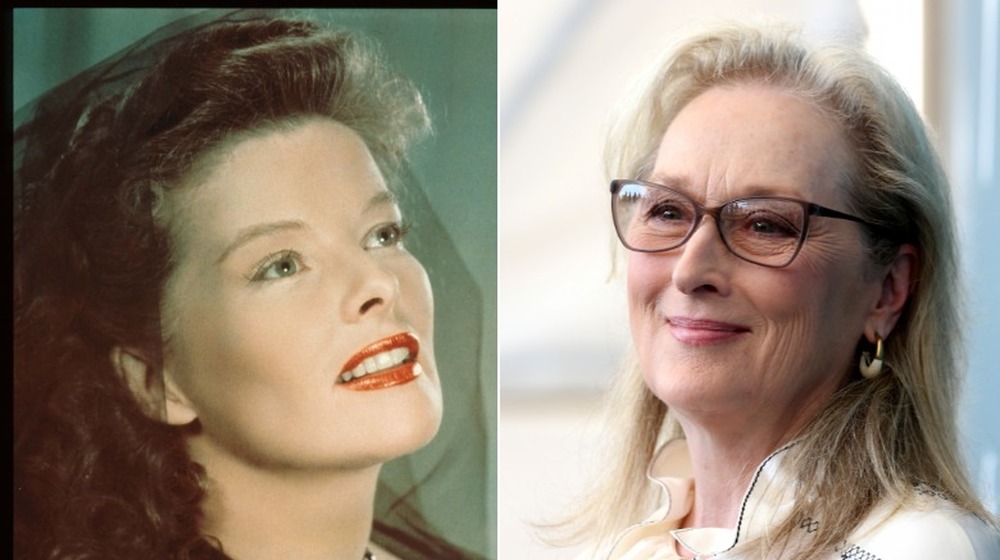 Getty Images, Franco Origlia/Getty Images
Just before Bette Davis died in 1989, she sent Meryl Streep a letter deeming her "a worthy successor." Many critics, with the exception of Joan Crawford, consider Davis the greatest actress of all time. She set the record for Academy Award nominations for acting with 10 in 1963, but was later succeeded by Katharine Hepburn with 12, who was later succeeded by Streep with 21. Hepburn was reportedly sour about the succession.
"Meryl Streep was [Hepburn's] least favorite actress onscreen," A. Scott Berg wrote in Kate Remembered (via Star News Online). "'Click, click, click,' she said, referring to the wheels turning inside [Streep's] head." According to the Sydney Morning Herald, Hepburn thought Streep "was too cerebral and over-reliant on technique." (Hepburn also reportedly thought Glenn Close had "big, fat, ugly feet.")
After Streep earned a Lifetime Achievement Award from the American Film Institute in 2004, she paid respect to the late Hepburn. "I don't want to spit in the eye of good fortune, but [winning the award] was weird," she said, per IMDb. "I felt like I'd butted in line in front of Lucille Ball, Audrey Hepburn, Katharine Hepburn. Hello? How did this happen? I was only the sixth woman to receive it, but they found 26 men to give it to." Streep seemed to be prematurely following the advice she would later rap in "Wear Your Crown": "If somebody starts in with new drama/Just go high like Michelle Obama."