Why Dolly Parton Uses eBay For Songwriting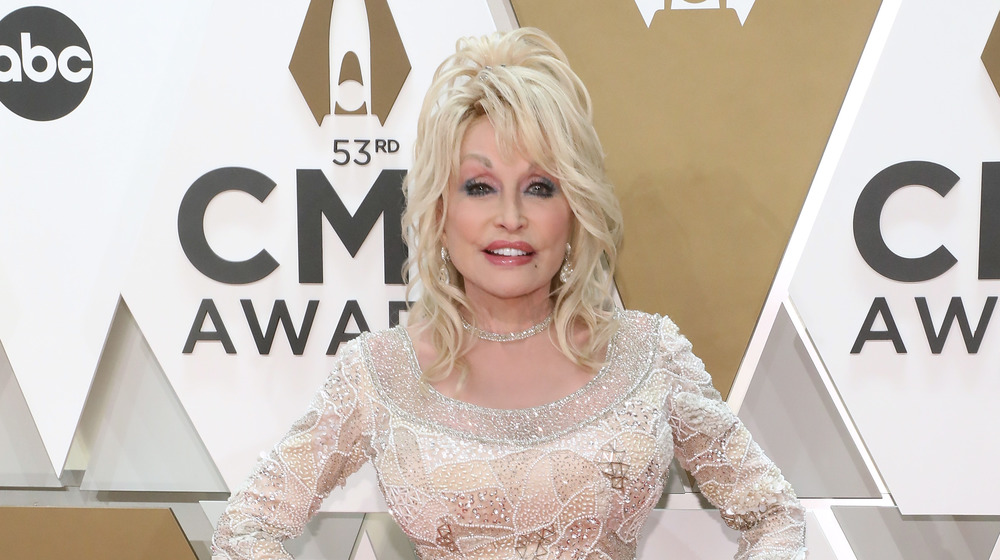 Taylor Hill/Getty Images
Since releasing her debut album Hello, I'm Dolly in 1967, Dolly Parton has become one of country music's prolific stars. She's a triple threat, having released over 90 albums, written thousands of hit songs, and acted in iconic films like Steel Magnolias and 9 to 5. Dolly is so iconic that she even has her own theme park, Dollywood, in Pigeon Forge, Tenn. She's also been inducted in the Country Music Hall of Fame and the Songwriters Hall of Fame for her contributions to the music industry. Simply put, Dolly is a legend.
Despite her impressive accomplishments, Dolly has never been one to boast about her success. In fact, she is refreshingly open about her life and has become a favorite guest to many talk show hosts. Even Stephen Colbert jokingly asked former president Barack Obama why Dolly wasn't awarded a Medal of Freedom in a Dec. 2, 2020 interview with People.
Although Dolly has yet to receive a Medal of Freedom, she's still an inspiration to many within the music industry for breaking barriers in a male-dominated genre and being an extraordinary songwriter — who also happens to use eBay.
Dolly Parton gets these songwriting tools off eBay
Terry Wyatt/Getty Images
As a natural-born storyteller, Dolly Parton writes a lot of songs about her life, including her family, her loved ones, and other people's struggles. Songs like, "Jolene," "I Will Always Love You," and "9 to 5" are country classics. However, if you were to ask Dolly how many songs she has written over a span of five decades, she wouldn't be able to tell you. In an interview with ABC News, Dolly said she doesn't know how many songs she has written. "When people say 'How many' I say, 'I don't know. I don't count them,'" recalled Dolly. "I've written thousands of songs."
While most songwriters nowadays write their lyrics on their phones or computers, Dolly still writes songs the old-fashioned way and buys equipment off eBay. Yes, you read that right.
"Everything was music to me... if someone was hammering on the other hill at the sawmill, I'd start writing a song with that rhythm," Dolly told ABC News. "I still write [songs]. I still have to have my yellow legal pads and my cassette player, and I have to order them off eBay."
For many, the equipment that Dolly uses may sound obsolete, but it speaks to her uniqueness. Dolly, while a trendsetter herself, doesn't conform to expectations and we love her for it. Hopefully, eBay never runs out of yellow legal pads or cassette players so Dolly can continue to write songs that make people happy.