The Truth About Meghan Markle And Kim Kardashian's Relationship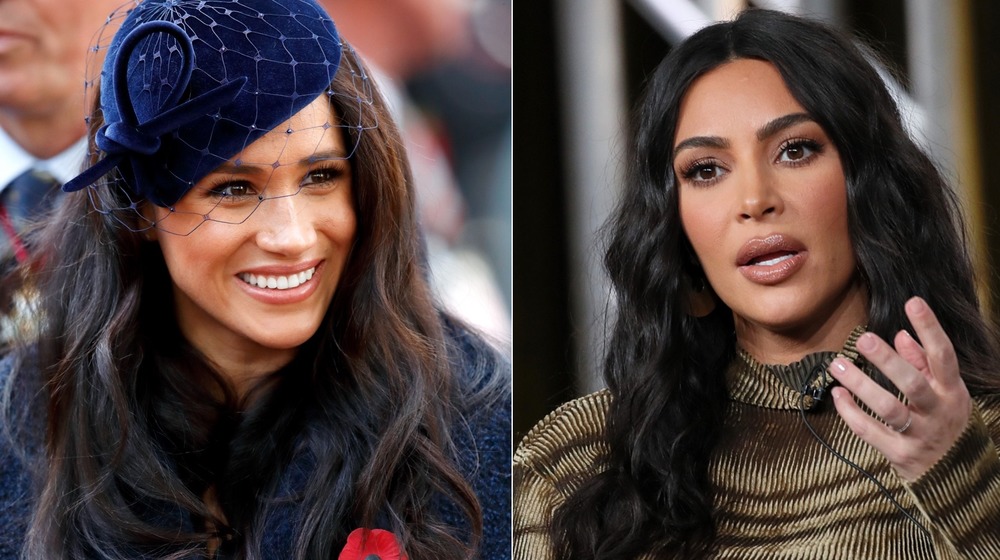 Max Mumby/indigo, David Livingston/Getty Images
Meghan Markle's investment in Clevr Blends just got another celebrity supporter! According to People, reality star Kim Kardashian promoted Clevr Blends, a vegan coffee brand that sells instant oat milk lattes. The Duchess of Sussex became a private investor in the sustainable brand and the environmental advocate's friends are helping raise awareness for the coffee brand. Kardashian posted an Instagram Story on Dec. 21, 2020, spreading the word about a basket she received with Clevr Blends products. It is lovely of Kardashian to help the Duchess out, but how do they know each other?
According to InStyle, the queen of the Kardashian family and the Duchess of Sussex are connected through Chrissy Teigen. Both Teigen and Markle were "suitcase girls" on the game show Deal or No Deal together. The two then reunited in 2014 to compete as part of DirecTV's Beach Bowl. As any Keeping Up with the Kardashian fan knows, Teigen and husband John Legend are friends with Kardashian and her husband, Kanye West, making them closely connected, if not friends.
Kardashian joins former talk show host Oprah Winfrey in an effort to help Markle promote Clevr Blends. Winfrey shared a video about Clevr brands to her 19 million Instagram followers, which she captioned: "My new drink of choice for the morning and night. Wish I had @clevrblends sooner cause I would've added it to my Favorite Things list."
Meghan Markle and Kim Kardashian share the same passion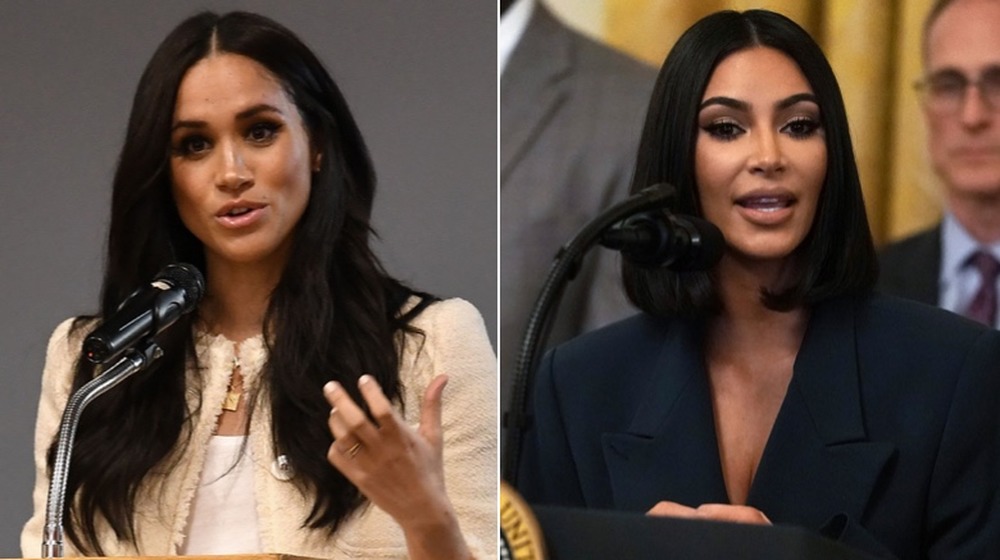 Wpa Pool, Alex Wong/Getty Images
Kim Kardashian and Meghan Markle share a passion for social justice, which may be why Kardashian wants to help promote Markle's investment —  and why the two women could become good friends over time. 
According to its website, Clevr Blends is a woman-led, mission-driven company. "We provide ongoing support to organizations fighting for the wellbeing of our community," its website describes. "We are currently collaborating with El Centro SB — a queer, BIPOC lead group that focuses on regional mutual aid and community resilience — to uplift their emerging food justice projects."
According to People, Markle's outlined her decision to support Clevr Blends and leader Hannah Mendoza in a release: "This investment is in support of a passionate female entrepreneur who prioritizes building community alongside her business. I'm proud to invest in Hannah's commitment to sourcing ethical ingredients and creating a product that I personally love and has a holistic approach to wellness. I believe in her and I believe in her company."
Kardashian, on the other hand, has become a powerful advocate for prison reform. The reality star went to President Donald Trump to talk about needed changes in the U.S. prison system. According to Vogue, Kardashian's efforts helped to release 20 wrongfully imprisoned people over three months. As for use, we will keep watching Clevr Blends and a possible growing friendship between Kardashian and Markle!