The Heartbreaking Final Request Nick Cordero Had For Zach Braff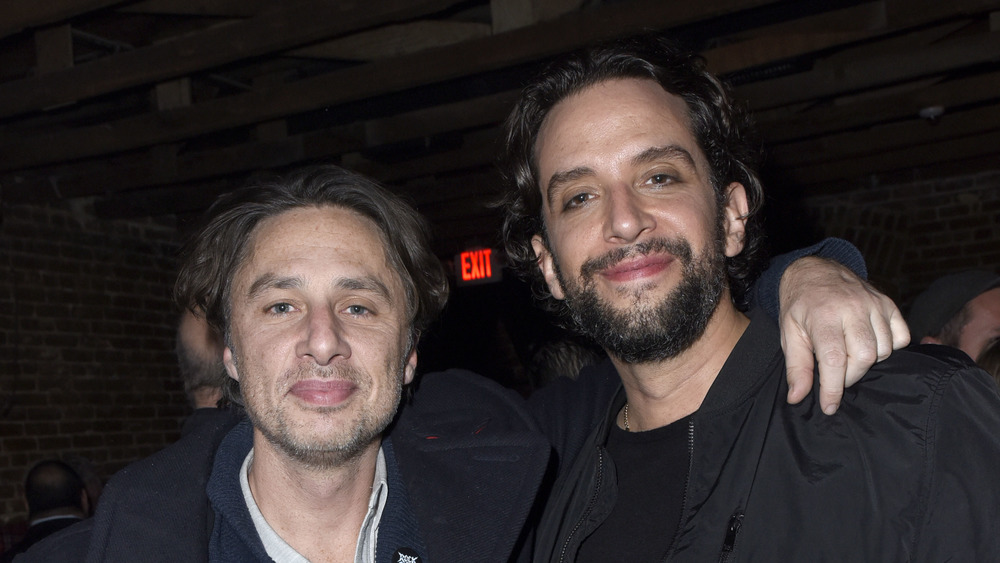 Vivien Killilea/Getty Images
During a July 2020 episode of his podcast Fake Doctors, Real Friends with Zach + Donald, Zach Braff revealed what his late friend Nick Cordero requested during his final moments on Earth, per People. And brace yourself, cause it's pretty heart wrenching.
As you may recall, Cordero tragically passed away from complications due to COVID-19 in July 2020. The talented Broadway star spent over 90 days at Cedars-Sinai Medical Center in Los Angeles as he bravely fought for his life. The husband and father-of-one was only 41 years old at the time of his death.
"The last thing Nick texted me before he went unconscious was, I said, 'Is there anything I can do?' And he said, 'Please look out for Amanda and Elvis,'" Braff revealed. "And I promised that I'm going to do that for the rest of my life," the actor remembered. "And I want to make him proud."
And it appears that Braff has every intention of making good on that promise.
Zach Braff is committed to giving Nick Cordero's son 'an extraordinary life'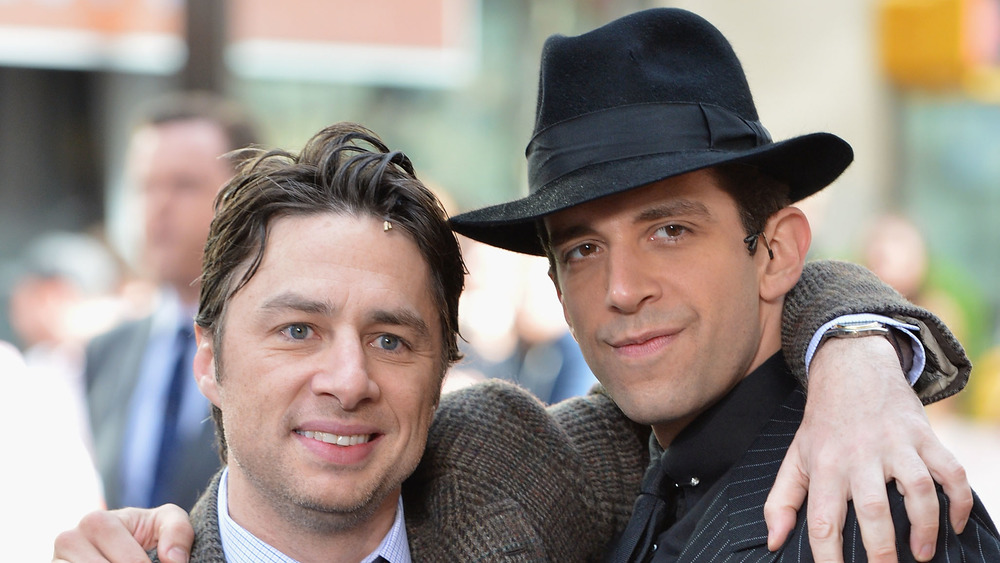 Slaven Vlasic/Getty Images
During the podcast episode, Zach Braff elaborated on how he intended to fulfill his promise to his late best friend and take care of Nick Cordero's widow, Amanda Kloots, and their son, Elvis, as reported by People. "There's so many people that love Amanda and Elvis and we're all going to be doing our part to help give this child an extraordinary life. He just started walking and he's just the cutest kid ever. He's so cute," Braff gushed.
Braff, however, was already playing an integral role in the family's life even before Cordero was diagnosed with coronavirus. "I'm very close to this because one of my best friends in the world, Nick Cordero, and his wife [Amanda Kloots] and baby have been living in my guest house for seven months as they were house-shopping in L.A. to make the move out here," Braff told The Hollywood Reporter during an interview in April 2020. Braff went on to explain that during a trip back home to pack their belongings, Cordero sadly contracted the virus.
Unfortunately, in the end, the battle proved to be more than Cordero could handle. Following the news of Cordero's death hitting the media, Braff honored his late friend via Instagram. "I have honestly never known a kinder person. But Covid doesn't care about the purity of your soul, or the goodness in your heart," Braff penned in the somber post.