The Truth About Jessica Chastain And James McAvoy's Relationship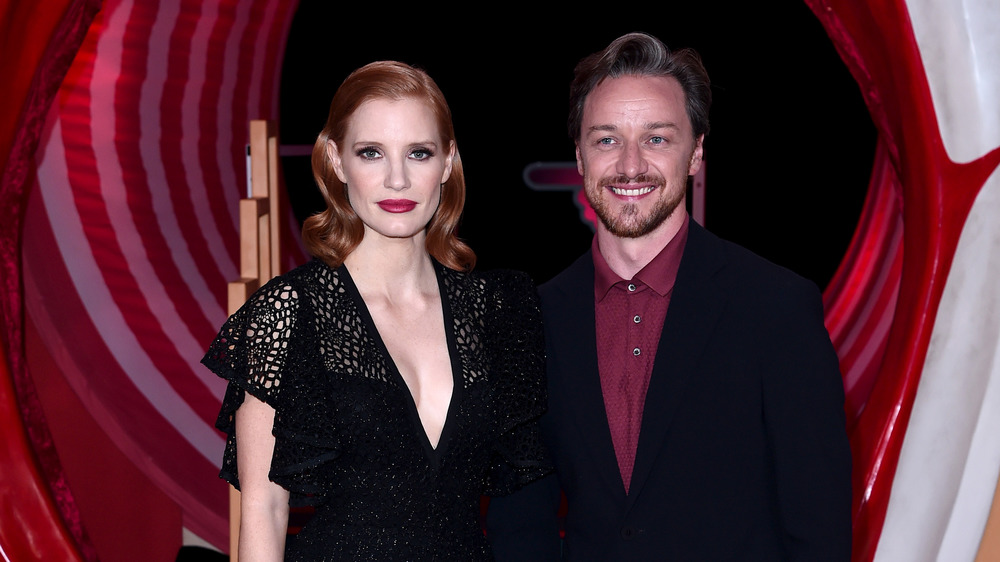 Eamonn M. Mccormack/Getty Images
Often in Hollywood, two actors will find themselves working together on the same film time and time again. Specifically, three seems to be the magic number for many of these frequent collaborators. Cinema pairings who have achieved this trifecta of shared projects include the likes of Jennifer Lawrence and Bradley Cooper (who co-starred in Silver Linings Playbook, American Hustle, and Serena), Scarlett Johansson and Chris Evans (The Perfect Score, The Nanny Diaries, and six of the Marvel Cinematic Universe films counting as one), and Kevin Hart and Dwayne "The Rock" Johnson (Central Intelligence, Jumanji: Welcome to the Jungle, and Jumanji: The Next Level).
After the release of their blockbuster X-Men: Dark Phoenix (2019's installment of Fox's mutant superhero franchise), acting virtuosos Jessica Chastain and James McAvoy joined that list. In fact, Chastain, an Academy Award nominee for her lead role in 2012's Zero Dark Thirty and McAvoy, a Golden Globe Award nominee for the 2007 period drama Atonement, have actually co-starred in five films, if one was to speak technically. Their first project together, The Disappearance of Eleanor Rigby, was actually a collection of three films, which explored the same story from different perspectives. It was released over the course of two years (2013-2014). The two were also co-leads in the star-studded ensemble cast of 2019's horror sequel It: Chapter 2.
Jessica Chastain and James McAvoy may be gaining traction as a burgeoning on-screen duo, but how do they really get along in real life? Read on to find out.
Jessica Chastain lauds James McAvoy for supporting equal pay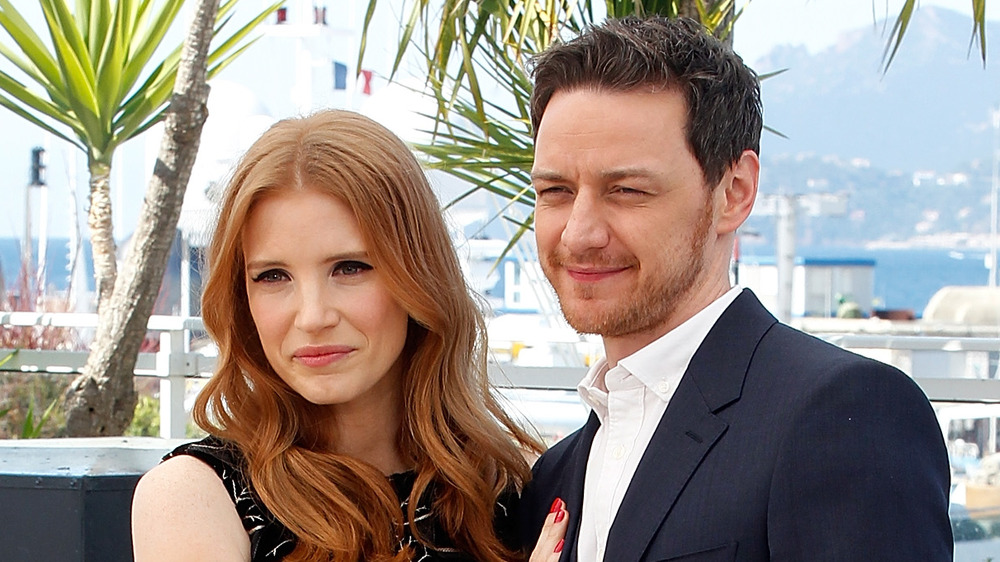 Michel Dufour/Getty Images
Jessica Chastain, as it turns out, is a huge fan of her repeated co-star James McAvoy. In 2019, Chastain told OK! (via the Daily Mail) that the Scottish actor was "an incredible human being." According to Chastain, McAvoy championed equitable pay for women in Hollywood before it became the trendy cause du jour.
"Before the #MeToo movement, before Time's Up, before anything like that, James was always a proponent of equal pay," Chastain told the British magazine. "Even when we did The Disappearance of Eleanor Rigby, he and I were doing the same amount of work, the same everything, and we got equal pay for that movie," she continued, adding, "He's always been a proponent of that. He's posted about it on his Instagram before it was the cool thing to do."
Chastain also revealed her close personal rapport with McAvoy in responding to his casting in It: Chapter 2 in April 2018. She took to Twitter to joke that McAvoy was following her from project to project. The Ava star posted a tongue-in-cheek caption, "Stalker. #JamesMcAvoy #IT," with a still from The Disappearance of Eleanor Rigby, in which McAvoy's character is closely eyeing her character from behind side-by-side with a still from It: Chapter 2, in which his "Bill" is doing the same to her "Beverly."
We cannot help but love when co-stars exude the same chemistry off-screen as they do on-screen! Now, how does McAvoy feel about Chastain in return? Keep scrolling to find out.
James McAvoy thinks he and Jessica Chastain could be the next 'Laurel and Hardy'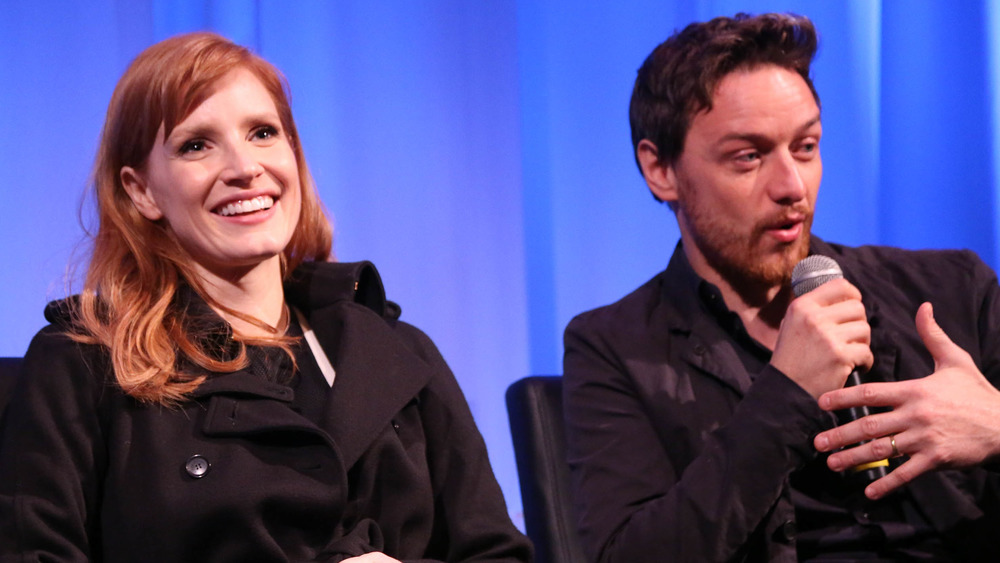 Rob Kim/Getty Images
James McAvoy, for his part, did not hold back his own praise for Jessica Chastain in an X-Men: Dark Phoenix cast interview on Coco with Conan O'Brien in 2019. "She's really difficult to work with. I'm probably the only guy in the industry willing to do it," McAvoy said jokingly about why he and Chastain have worked together so persistently. "Honestly, she's seriously brilliant, and I love working with her," McAvoy added.
However, McAvoy observed during the interview that he and Chastain, despite their three shared projects, did not share enough actual on-screen time. "In the last five years, we've worked, what, three times together — We got two scenes in each film that we've done," he complained jocularly with Chastain sitting right beside him, before turning to O'Brien's audience and saying, "Please, if there's anybody out there that wants to hire us and give us a lot of work together, I'm in."
O'Brien asked the Split star if he foresaw him and Chastain undertaking even more joint endeavors in the future. McAvoy affirmed wholeheartedly, "Yeah," before asking the host, "What other acting couple does that, that you can think of?" When O'Brien half-facetiously replied, "Uh, Laurel and Hardy," McAvoy smilingly enthused, "There we go. [Jessica Chastain and I] are the next Laurel and Hardy!"
Given their obvious rapport, we hope McAvoy gets his wish and the future sees a whole lot more of Chastain and McAvoy's on-screen chemistry.