The Real Reason MF DOOM Wore A Mask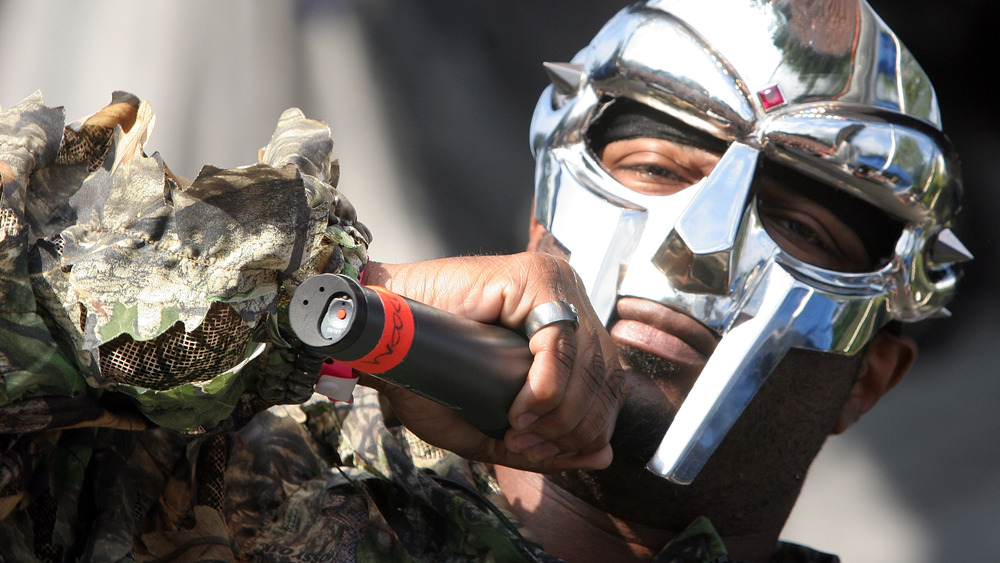 Roger Kisby/Getty Images
Rapper MF DOOM, known for always performing in his mysterious mask, has died at the age of 49, per Rolling Stone. His wife posted the news to his Instagram on Dec. 31, 2020, to reveal that he had passed away two months earlier on Oct. 31. A cause of death has not been publicly released.
"The greatest husband, father, teacher, student, business partner, lover and friend I could ever ask for," DOOM'S wife, Jasmine Dumile, began with a photo of the hip-hop star. "Thank you for all the things you have shown, taught and given to me, our children and our family," she continued. "My world will never be the same without you. Words will never express what you and Malachi mean to me, I love both and adore you always. May THE ALL continue to bless you, our family and the planet," she concluded. Their son, Malachi, passed away in 2014 at the age of 14, per Billboard.
DOOM entered the rap scene in the 1980s using the stage name Zev Love X with the hip-hop group KMD, which included his younger brother, DJ Subroc (per People). The group released music together into the 1990s until Subroc was tragically killed. Consequently, DOOM traded Zen Love X for the new moniker MF DOOM and re-emerged into the music scene in the late '90s with his new persona that always performed in a mask. Years later, DOOM explained the real reason he chose to wear the head-turning piece. Here's why. 
MF DOOM modeled his new persona off of a super villain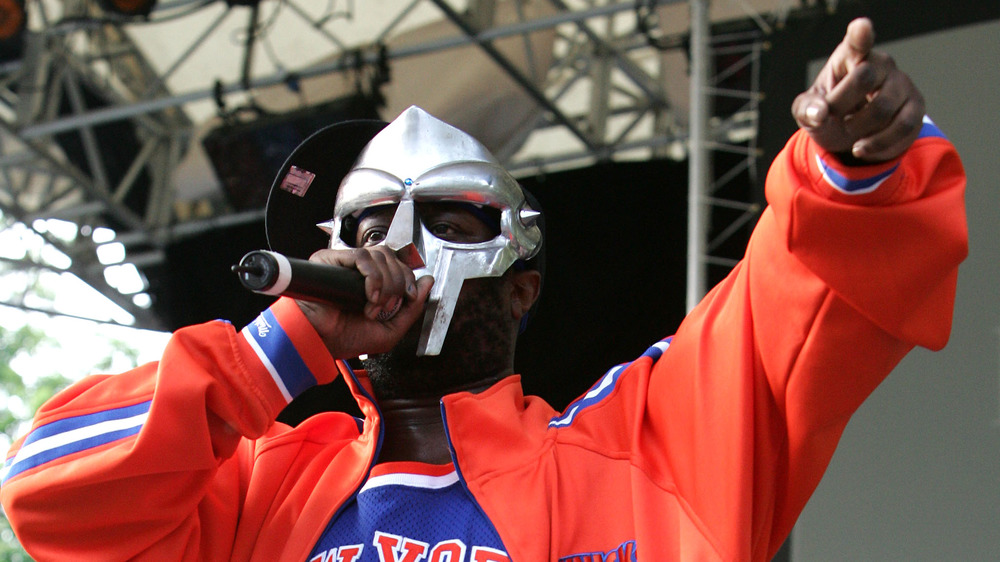 Peter Kramer/Getty Images
MF DOOM told The New Yorker in a 2009 interview that wearing a mask "came out of necessity."
"I wanted to get onstage and orate, without people thinking about the normal things people think about. Like girls being like, 'Oh, he's sexy,' or 'I don't want him, he's ugly,' and then other dudes sizing you up," he explained. "A visual always brings a first impression. But if there's going to be a first impression I might as well use it to control the story. So why not do something like throw a mask on?" DOOM also said his goal was to use the facade as a character he could bring through many different stories throughout his career. His mask was modeled after Marvel super villain Doctor Doom, per Rolling Stone.
DOOM released six studio albums following his musical comeback in the late '90s. His last full length project, Born Like This, was released in 2009, per Billboard.