The Truth About The Bachelor's Rachael Kirkconnell
If spoilers aren't your thing, this is your fair warning to click the exit button on your browser now. But if you're like the rest of the world and already dying to know who Bachelor Matt James picks as the last lady standing on his season of ABC's The Bachelor, then you can sit with us.
Once again, blogger Reality Steve has outdone himself by giving Bachelor stans a breakdown of Matt's season of The Bachelor — along with three out of the final four picks, including the woman rumored to have won it all. To which we are left to sit back and wonder, "How does this man do it??"
As it turns out, Reality Steve is pointing his magic finger at contestant Rachael Kirkconnell as the woman who takes home Matt's heart. So, what is there to know about the potential winner of Season 25 of The Bachelor? And why is Reality Steve so sure that Rachael is the one? Keep reading after the jump to find out.
Reality Steve says the rumor mill is working overtime in Rachael Kirkconnell's hometown
Per the show's website, 24-year-old Rachael Kirkconnell hails from the South — Cumming, Ga., to be exact — where she works as a graphic designer. The self-professed "hopeless romantic" enjoys "a good movie, good wine and charcuterie boards." Her bio also states that she enjoys doodling, hates slow drivers, and is a bit of a clean freak, but more lax when it comes to scheduling and planning. 
But why does the reality television guru, a.k.a. Reality Steve, believe Rachael is the winner? It's simply because her friends and family can't keep a secret (via Cosmopolitan). "I was told 'Michelle and Rachael were final 2, and Rachael wins.' Well, if you believe everything coming out of the small town of Cumming, GA, then it's Rachael Kirkconnell. Because for the last month, all I keep being told out of Cumming is that Rachael won, and all her friends and family know and they're telling everyone," the spoiler blogger prophesied.
However, Steve is getting a bit of déjà vu to Pilot Pete's season, so he's not 100% sure: "Problem is, I heard the same exact thing about Madi during Peter's season. And I never ran with it because I was never convinced it was that easy. And it ended up being wrong anyway."
Rachael Kirkconnell has a reportedly problematic past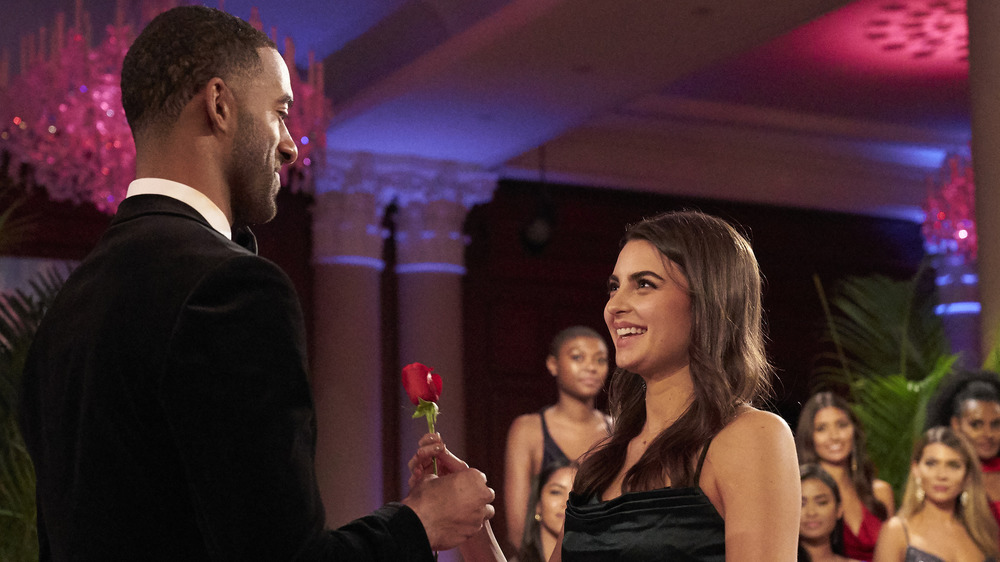 ABC
Unfortunately, shortly after the premiere episode of The Bachelor aired and Reality Steve predicted contestant Rachael KirkConnell as the winner, some came forward alleging that Rachael has a rather sordid past, specifically a pattern of racist behavior.
As reported by Screen Rant, many viewers took to Reddit and TikTok to air out their past grievances with the new Bachelor contestant. In a post that later spread like wildfire, one TikTok user alleged that Rachael bullied her. "Remember when you bullied me in high school for liking black guys???," the user asked. YIKES.
Reality Steve, however, is choosing to take all of the chatter with a grain of salt. "Think it's all fun and games and IG shilling being a contestant on this show? Not necessarily when anyone from your past can throw out accusations and you won't be able to defend yourself for a while," the blogger tweeted. 
So what's Reality Steve getting at, exactly? Basically, even if Rachael vehemently denies all of the allegations being tossed her way right now, she simply isn't allowed to do so. Think of it as a Bachelor gag order, if you will. Upon joining the show, contestants sign a contract stating that they will refrain from commenting on anything until after the season wraps. Guess we may have to wait until that final rose ceremony for Rachael to be able to explain, defend herself and/or apologize for the current allegations.