The Real Meaning Behind Call Me Maybe By Carly Rae Jepsen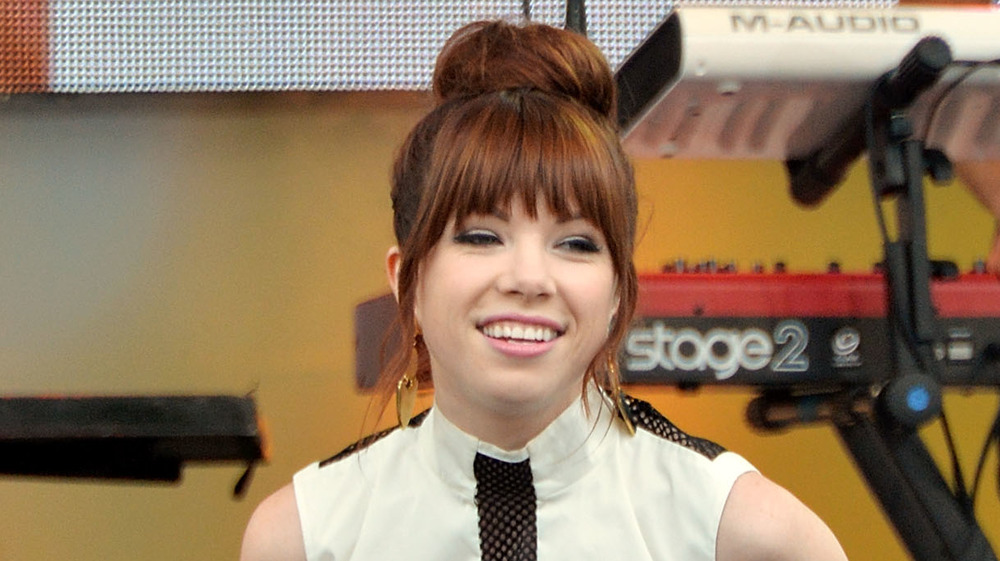 Andrew H. Walker/Getty Images
If you know the name Carly Rae Jepsen for anything, it's probably for her song "Call Me Maybe." The artist has become a cult figure in the years since she released her most famous single, releasing critically acclaimed albums and spawning memes, but it's still her 2011 track that is her most widely remembered hit, inspiring lip-sync challenges, spending nine weeks atop the Billboard Hot 100, and becoming the best-selling single in the world in 2012.
The instrumental for the song is a hit all on its own, at once modern and classic, taking the popular sounds of 2012 and imbuing them with some disco strings. The music video for the track was also acclaimed, following Jepsen as she pines over her male neighbor, but with a twist ending. For 2012, the twist was still a bit groundbreaking and added a new layer of meaning to an instant-classic pop song.
Of course, the "Call Me Maybe" would be nothing without its lyrics. The hit song is most recognized for its chorus, which sees Jepsen singing a sort of call-and-response with her violin track, asking, "Hey, I just met you/ And this is crazy/ But here's my number/ So call me maybe." It's a chorus so simple that it's genius, but while that may be the most famous part of the song, it's hardly the only deft lyricism in the track. Let's take a deeper look at the meaning behind Carly Rae Jepsen's "Call Me Maybe."
"Call Me Maybe" captures Carly Rae Jepsen's romantic pining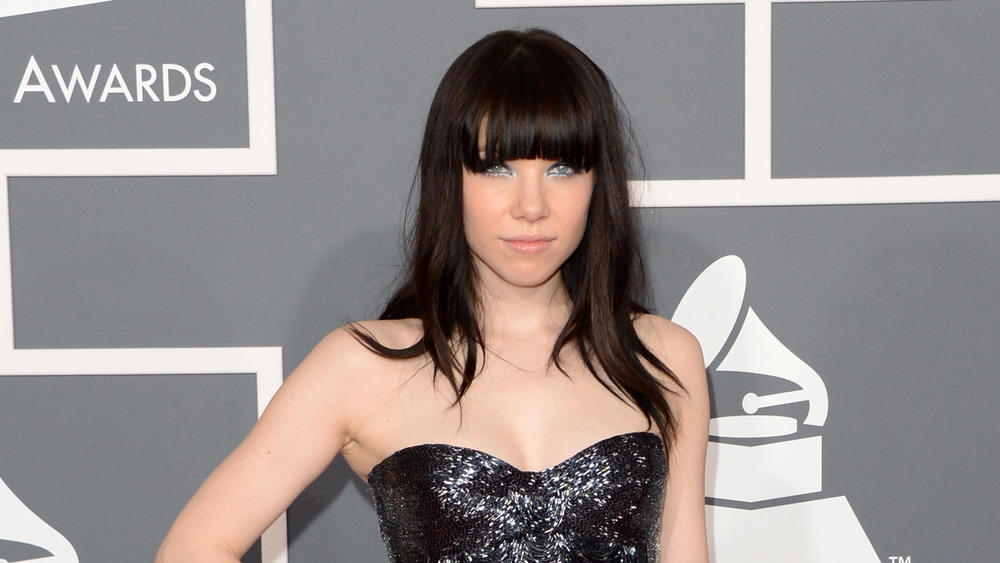 Jason Merritt/term/Getty Images
"Call Me Maybe" remains such a beloved song because Carly Rae Jepsen's lyrics perfectly capture the feeling of meeting someone for the first time and imagining the rest of your life with them. Jepsen begins the song with the lyric "I threw a wish in the well," and before you can ask what she wishes for, she sings, "Don't ask me, I'll never tell."
It's still pretty clear what she wishes for; she sings, "I looked to you as it fell/ And now you're in my way." Jepsen goes on to sing, "I'd trade my soul for a wish/ Pennies and dimes for a kiss," but then immediately changes her story and claims, "I wasn't looking for this/ But now you're in my way." To be honest Carly Rae Jepsen, it sounds like you kind of were looking for this! She captures the exact feeling of pining after someone for a long time, finally catching their attention, then playing it cool.
The second verse covers similar terrain, where Jepsen sings, "You took your time with the call/ I took no time with the fall," implying that despite her efforts to remain cool, she is totally head over heels. The pièce de résistance, however, comes in the refrain, where Jepsen sings "Before you came into my life/ I missed you so bad," inverting the "you don't know what you've got til it's gone" expression. The subject of the song was the piece Jepsen didn't even know she was missing.
The "Call Me Maybe" music video adds another layer
While the lyrics of "Call Me Maybe" are pretty straight-forward on their own, it's Carly Rae Jepsen's music video that adds more depth to the bubblegum pop song. The video follows Jepsen as she pines over the literal boy next door as he does sexy suburban activities like mowing the lawn and fixing his car, while her attempts to capture his attention fall flat. She attempts a sexy car wash (most sexy suburban activities are car-related, apparently) but ends up on the ground, hitting her head.
As our heroine sings the bridge, she imagines herself and the man on the cover of a romance novel. She eventually snaps out of her daze, though, and performs the song in her garage for an audience of one: the neighbor. He seems to be enjoying it, and when the song ends, Jepsen goes to write down her number, only for him to hand his number to Jepsen's guitar player, leaving both him and the singer shocked.
While the lyrics of the song find Jepsen pining over a mystery suitor, the video makes it explicitly clear why he was unable to return her affections. Holden Nowell, who played the neighbor in the video, told iHeart Radio Canada that he actually came up with the idea to hand the guitar player the phone number, but only because it was supposed to end with a kiss, and he was "not going to kiss a guy, especially for $500." The phone number fits the song better anyway.