John Harbaugh: The Ravens Head Coach Earns More Than You Think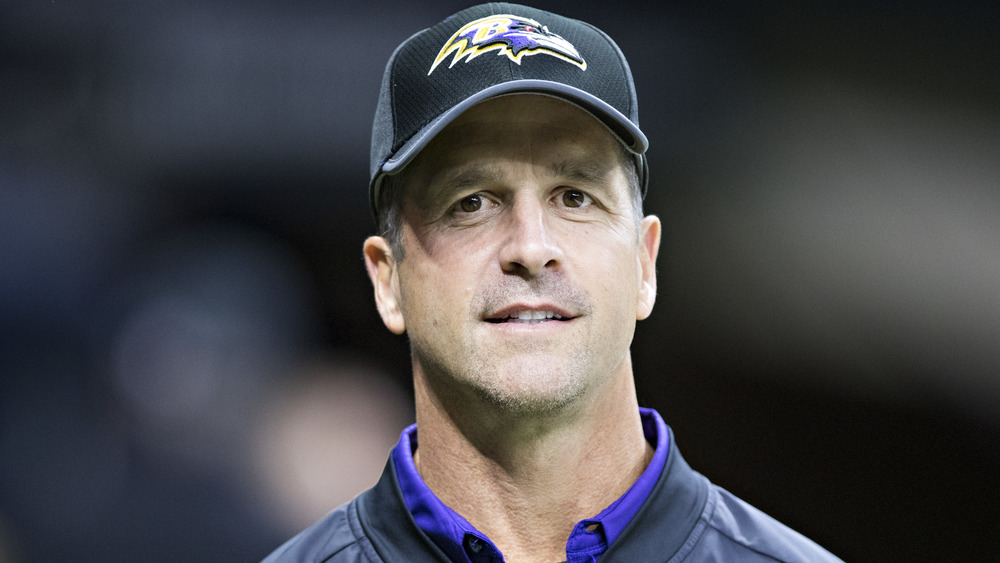 Wesley Hitt/Getty Images
Baltimore Ravens head coach John Harbaugh was on cloud nine after the Ravens beat the Tennessee Titans on Jan. 10, 2021, allowing the team to advance to the divisional round of the NFL playoffs. "Right now, it's the No. 1 best win," Harbaugh said in a press conference following the game (via NBC Sports). "In perspective, it's gonna be a Top 5 for sure, but right now for me, it's the best win ever. Not just because of what was at stake, but because of the guys and what it meant to our team, to our guys. This may be the best win I've ever been associated with." That's a huge statement to make considering the fact that Harbaugh has a Super Bowl win under his belt.
Harbaugh became the head coach of the Ravens in 2008 and, as of this writing, he's led the team to eight playoffs and landed the team its second Super Bowl win in 2013, per his official team biography. He also won the NFL Coach of the Year award in 2019. With a résumé like that, it's safe to assume he makes a decent amount of money, but the Ravens head coach earns more than you probably think.
John Harbaugh makes some serious dollar signs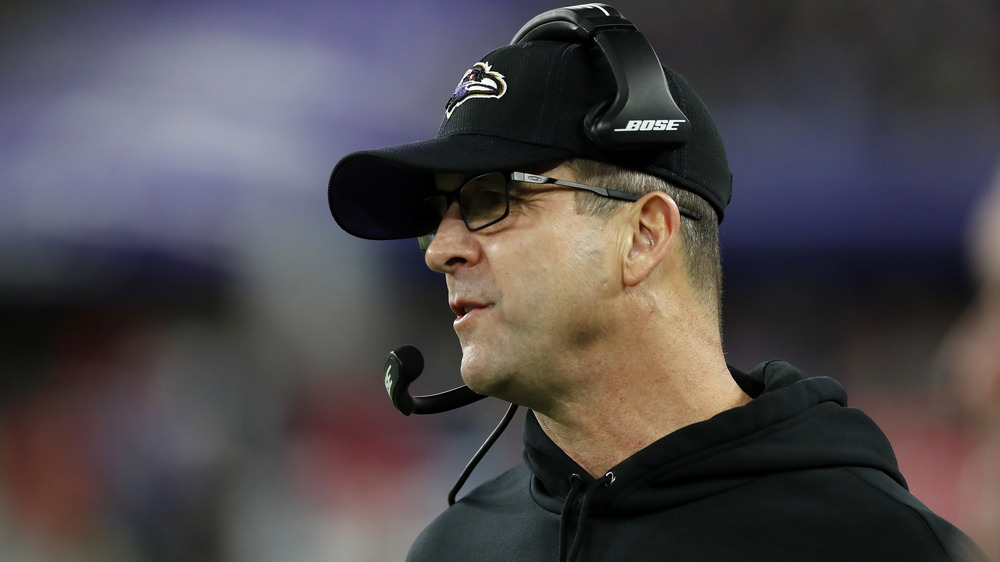 Todd Olszewski/Getty Images
John Harbaugh re-signed with the Baltimore Ravens in 2019, further cementing his spot as the fourth-longest tenured coach in the NFL, according to The Baltimore Sun. Harbaugh was already one of the highest paid coaches in the NFL, and his current salary further solidifies that status. In January 2020, CBS Sports reported that Harbaugh makes a whopping $9 million per year while heading the Ravens, which put him in the Top 10 for NFL coaching salaries.
"I'm very excited with this contract, the opportunity to continue our work here, and I'm humbled by it," Harbaugh said in a statement after his contract was made official (via The Baltimore Sun). "We have an excellent team foundation, and we have a great organization with smart, hard-working people," he concluded.
According to Celebrity Net Worth, as of this writing, John Harbaugh's net worth is $16 million. It seems like he definitely enjoys the fruit of his success considering his former Baltimore-area home sold for just over $2 million and sprawled over 6,500 square feet, per The Los Angeles Times. Fans got a peak at his new residence in June 2019 when the Ravens' Twitter account posted photos of the team enjoying some bonding time at Harbaugh's house, which showed a spacious back yard and a basketball court. 
Considering Harbaugh is signed on to head the Ravens through 2022, it looks like he will be financially set for quite some time.