Why Dolly Parton Always Goes To Bed With Makeup On
Taylor Hill/Getty Images
During a 2019 interview with The New York Times, country music legend Dolly Parton presumably had dermatologists everywhere up in arms while they clutched their proverbial pearls. Why, you ask? During the interview, Parton admitted that she prefers to sleep in a full face of makeup — EVERY SINGLE NIGHT. Ruh-roh! 
But it appears Parton's not alone. Famous makeup artist Charlotte Tilbury is also known to sleep in her makeup. During an interview with The Cut in 2016, Tillbury explained that she always goes to bed sporting eyeliner and mascara, aptly referring to it as her "bedroom eye." 
"I always have a bedroom eye. I clean my skin, put my Magic Night Rescue Cream on, my Magic Eye Rescue, and then Wonderglow — it softens everything. But I take off all my eye makeup, and then I reapply it," Tillbury confessed.
So why does Parton opt to sleep in a full face of glam? Keep reading to find out!
Dolly Parton wears makeup to bed in case of an emergency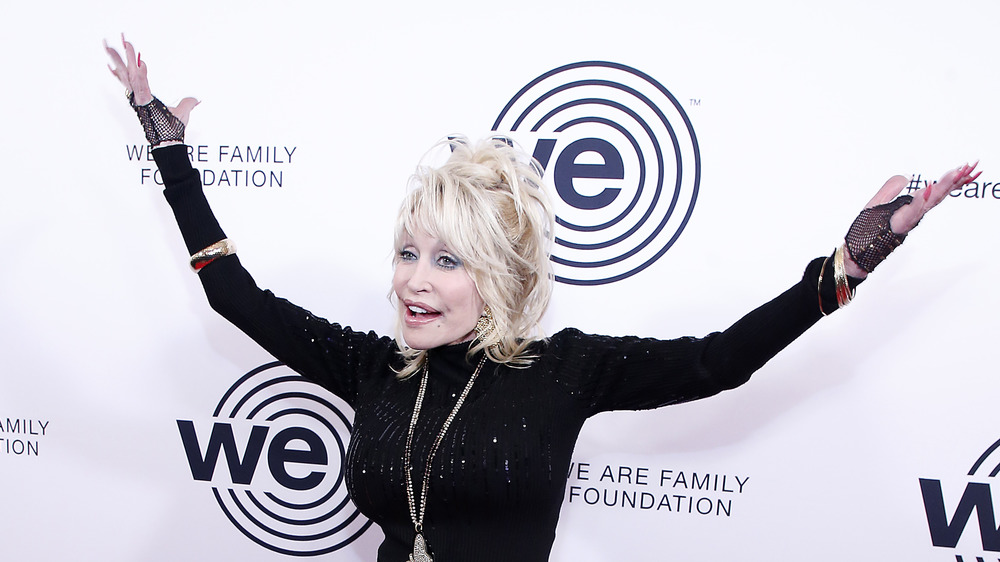 John Lamparski/Getty Images
As it turns out, Dolly Parton prefers to be ready for any situation — including a rogue emergency that might pop up in the middle of the night. "You never know if you're going to wreck the bus, you never know if you're going to be somewhere in a hotel and there's going to be a fire. So I leave my makeup on at night and clean my face in the morning," Parton matter of factly explained to The New York Times. Well, that's one way of looking at it, we suppose.
Dermatologist Dr. Sue Ann Wee of Schweiger Dermatology group in New York City is adamant, however, that sleeping in your makeup is no bueno. "Makeup can trap dirt and environmental pollutants inside the skin, and this type of environmental stress can result in increased free radicals which can cause DNA mutations, collagen degradation, and, over time, can result in premature aging," Dr. Wee explained to the beauty publication Byrdie. 
Dr. Wee also warned that "prolonged wearing of makeup during sleep can clog pores, resulting in acne" and that making a habit of sleeping in your makeup "can result in a duller, dry, coarse complexion." YIKES!
So while sleeping in a full face of makeup works for Dolly Parton, that doesn't mean it will work for us ordinary mortals. It's best we probably resign ourselves to scrubbing our makeup off before bed!