Details You Should Know About Tiger Woods And Phil Mickelson's Relationship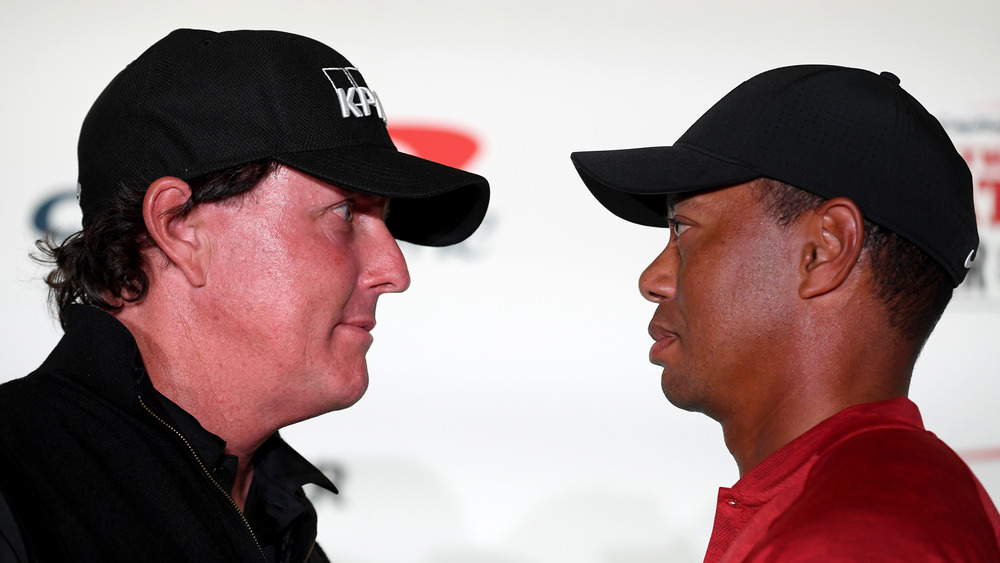 Harry How/Getty Images
Move over Brad Pitt and Leonardo DiCaprio — there's a new bromance in town. After years of a rather tense and icy relationship, it appears the snow caps are melting around the hearts of golf competitors Tiger Woods and Phil Mickelson.
As ESPN reported in May 2020, you would be hard-pressed to find either of these two players partnering up for anything in the past, let alone trading friendly jabs, palling around on the golf course, or teaming up to raise $10 million in funds for COVID relief — and yet that's exactly what these two former arch-rivals are up to these days. And to think poor Hal Sutton nearly got eviscerated for even attempting to bring the pair together in 2004 for the U.S. Ryder Cup. Justice for Hal!
So, how did the two manage to become as thick as thieves (or at least a couple of golf greats on a mission) after more than a decade-long rivalry? Keep reading to find out!
Tiger Woods acknowledged Phil Mickelson's support during his injuries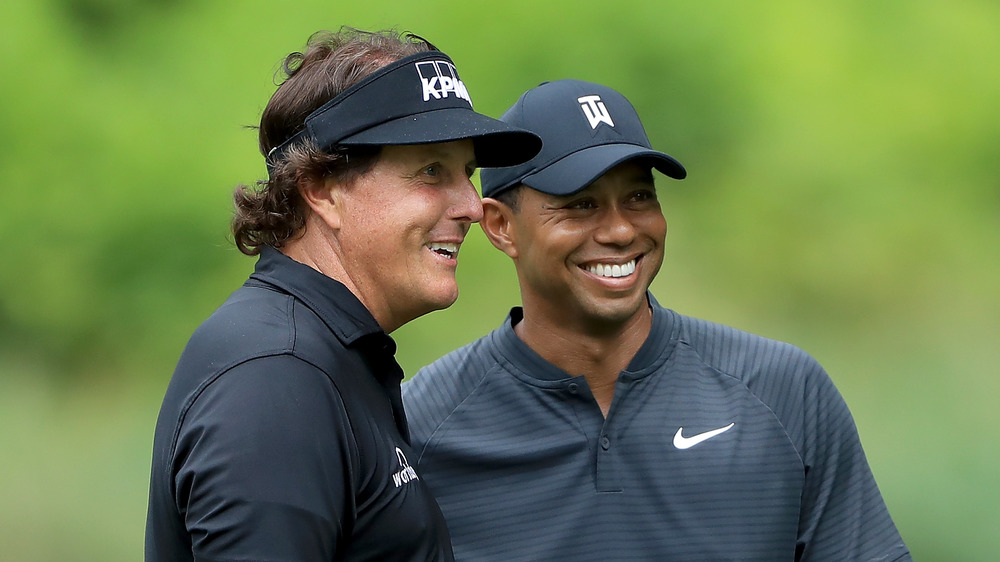 Sam Greenwood/Getty Images
Per ESPN, the disdain professional golfer Tiger Woods and competitor Phil Mickelson had for one another was painfully palpable as recently as 2013, when the two competed against one another in the Open at Muirfield. Mickelson managed to take home the W and simply put: Woods was not here for it. Instead of congratulating Mickelson on a hard-earned victory (even managing to pull ahead after starting out five strokes back — not an easy feat), Woods refused to pay his opponent any compliments. 
But all of the contention took a turn in 2016 when the two geared up for the Ryder Cup together. "Our relationship turned around in 2016 when we were working together for the Ryder Cup. He was an assistant captain. We spent a lot of time on the phone. When we worked together for a common goal, it brought us closer," Mickelson revealed on Dan Patrick's radio show in March 2018.
Woods, however, credits Mickelson's support during his injuries for the pair's newfound camaraderie. "When I was trying to deal with the nerve [pain] in my back, trying to come back and trying to play and I wasn't very good, he always texted me some very encouraging words," Woods revealed at the Players Championship in May of 2018, per Sports Rantz.
Cheers to this newfound friendship — a match made in golf world heaven!