The Truth About Barron Trump Missing Out On Major Events During His Dad's Presidency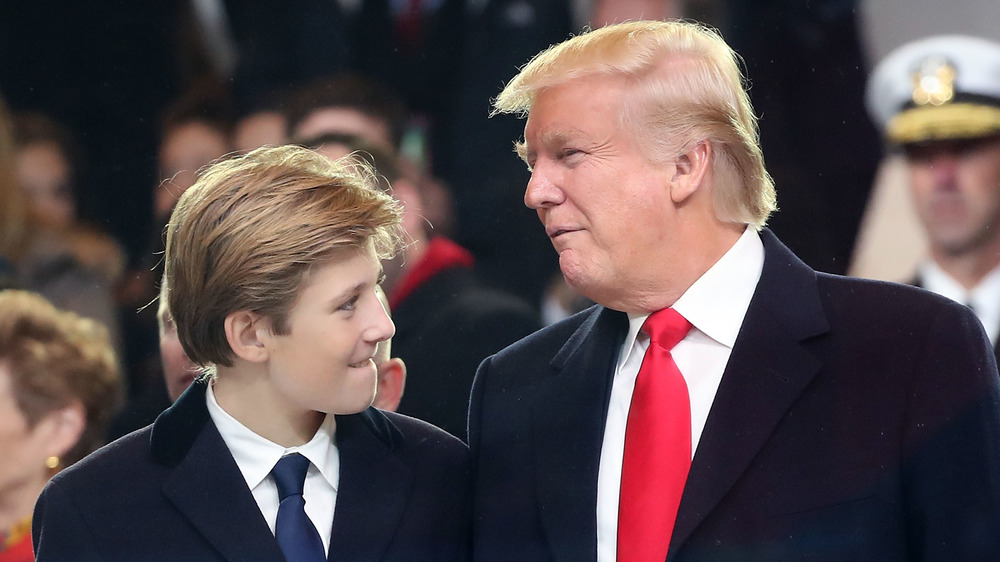 Mark Wilson/Getty Images
Was Barron Trump snubbed when it came to being on the White House Christmas card? Some people on Twitter appear to think so, per East Bay Times. Others, however, simply cite his mother and former first lady Melania Trump for being ultra-resistant to forcing her young teenage son into the spotlight and, instead, being especially strict about maintaining his privacy — a far cry from her stepdaughter Ivanka Trump, who is widely known for thrusting her children onto the campaign trail and regularly featuring them on her social media. (It is worth noting that Ivanka has drawn much criticism for, what some consider, capitalizing on her children for both political and business gain.) 
Barron's absence was probably most palpable when his father gave his final speech as President of the United States on the tarmac before boarding Air Force One for the last time on Jan. 20, 2021, as reported by Daily Mail. While the rest of the brood was front and center for the speech — including Don Jr., Ivanka, Eric, and Tiffany — Barron was nowhere in sight. Hmm... a bit suspicious, no?
People also reported that Barron was noticeably missing during his parents' departure from the White House, a very peculiar break from what is usually a time honored tradition: watching the entire first family exit the White House together.
So what's with Donald's youngest son missing out on all of the major events of his former presidency, specifically his final moments? Keep reading after the jump to find out!
Barron Trump's absence might have been strategic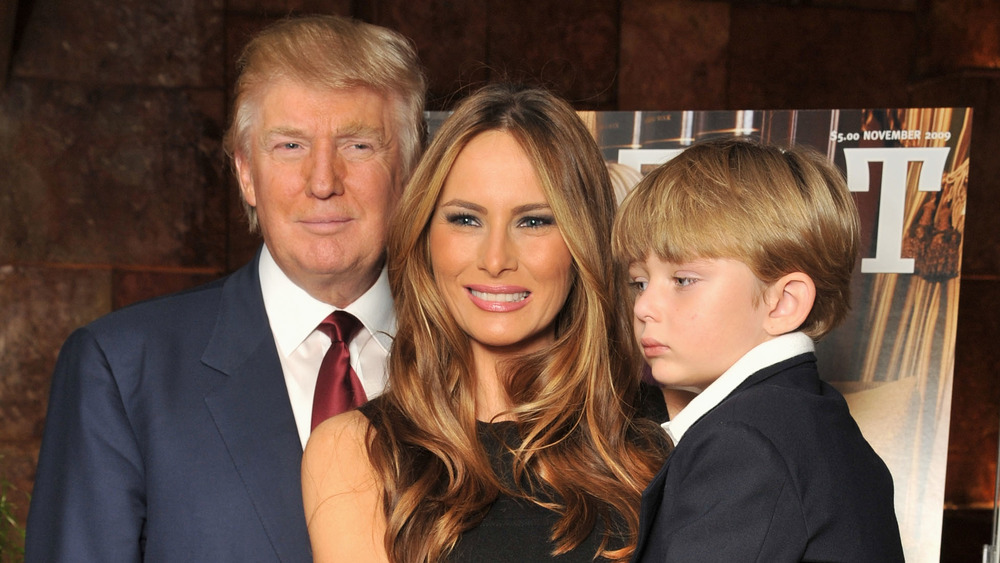 Andrew H. Walker/Getty Images
Perhaps Donald and Melania Trump's son, Barron Trump, was not so much missing from such high profile events for his father, but rather hidden away from harm's reach.
It's possible that Mama and Papa Bear Trump learned that lesson the hard way in December 2019 when Professor Pamela Karlan opted to use their son Barron and his name as an analogy while testifying during the House impeachment hearings, as reported by Fox Business. In what appears to have been an effort to explain that Donald was a president and not a king with the power to do whatever he wanted, Karlan made the remark: "The president can name his son Barron, he can't make him a baron." Shots fired. WE REPEAT, SHOTS FIRED.
This ruffled even the seemingly calmest of feathers, including those of then first lady Melania Trump, who immediately rose her son's defense via Twitter. "A minor child deserves privacy and should be kept out of politics. Pamela Karlan, you should be ashamed of your very angry and obviously biased public pandering, and using a child to do it," Melania fired out in the tweet. 
A short time later, Karlan did go on record and apologized for her words. "I want to apologize for what I said earlier about the president's son. It was wrong of me to do that," Karlan said. "I wish the president would apologize, obviously, for the things that he has done that's wrong, but I do regret having said that."
Melania Trump is reportedly already planning Barron Trump's next moves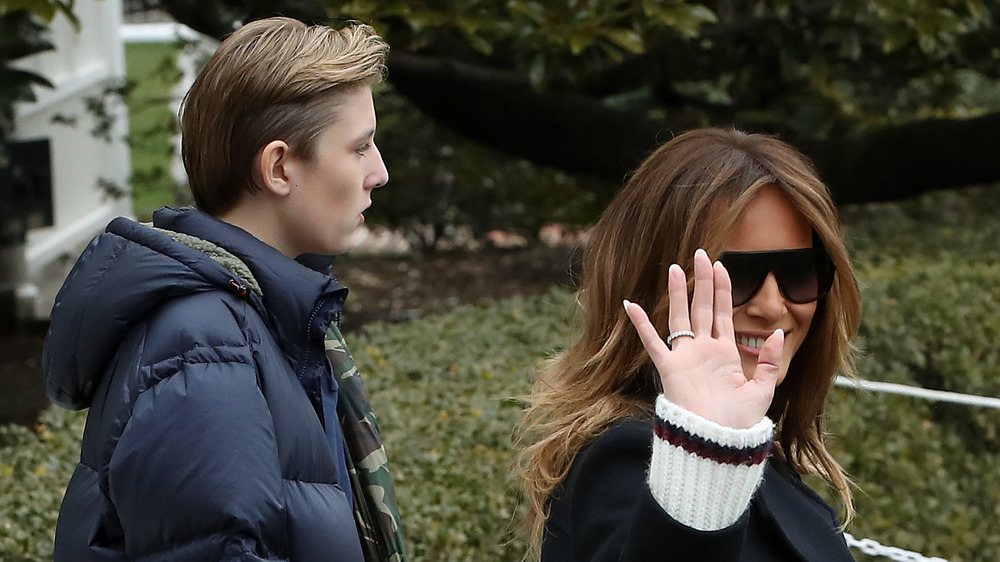 Mark Wilson/Getty Images
But maybe the explanation is a bit more simple. Perhaps Barron Trump is simply over it.
As reported by the Washington Post, while Donald Trump was reportedly brooding in the West Wing over his final days in office, Barron's mother, Melania Trump, was already planning her next steps, which include finding a new school for Barron. No small feat, we can imagine. "Hey headmaster, I need to find a spot for my son Barron, who also happens to be the son of the United States' 45th president, Donald Trump."
While Ivana Trump, Donald's first wife and mother of Ivanka, Don Jr., and Eric, went on the record in November 2020 stating that she is very glad that her children will once again be able to resume their normal lives, maybe Melania is quietly celebrating that for her son, as well. "I just want them to be able to live their normal lives — normal lives. Not the Washington life and all that, just in New York or wherever they're going to be and just live their normal lives," Ivana told People. "I think they enjoyed being around Donald and running the election and seeing what will happen, but now it is — thank god — over."
Could it be that Melania and Barron had their own private farewell celebration in which they bid adieu to the White House and all of the responsibility and the (potentially unwanted) attention that came with it? The world may never know...