What Clare Crawley Just Said About Her Split From Dale Moss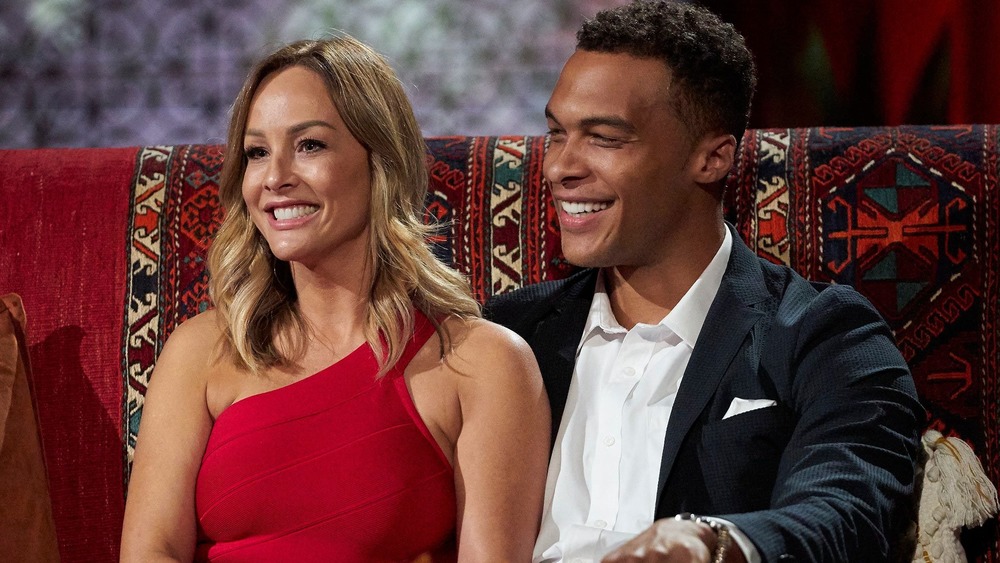 ABC
And just like that, another one bites the dust. Bachelor Nation relationships have not been faring well as of late. On Jan. 19, 2021, Dale Moss announced that he and fiancée Clare Crawley split in an Instagram post. Aside from sharing the breakup news, he said, "We appreciate the love and support we've received from so many people, but this is the healthiest decision for both of us at this time." He even declared, "We strongly believe in leading with love and always remaining true to oneself — something our families have taught and instilled in us throughout our lives. We only hope the best things for one another." And, of course, he asked for privacy. 
Considering the wording of the statement, it would be logical to assume that Clare would just immediately copy and paste that same joint statement, turn off the option to comment on her Instagram post and call it a day. However, she didn't do that. In fact, she didn't speak out on the end of their relationship until days later. On top of that, Clare actually denied having anything to do with the "mutual statement" that Dale posted. Uh oh. Could this be the most dramatic breakup in Bachelor franchise history?
Clare Crawley was reportedly blindsided by Dale Moss' breakup statement
When Clare Crawley shared her take on the end of her engagement, she also called out Dale Moss, admitting, "I was made aware of a 'mutual' statement at the same time you all were, so I've needed some time to really digest this." Clare was very forthcoming with her emotions, sharing, "Speaking for myself, my intentions with this relationship have always been very clear, so the truth is I am crushed. This was not what I expected or hoped for and am still trying to process this."
She mentioned her struggles with "severe anxiety post-show, balancing a public new relationship, all while slowly losing [her] mother," who has Alzheimer's disease and dementia. Despite all of that, she said, "I have been looking forward to the light at the end of the tunnel." She concluded her statement with a nod to her Bachelorette catchphrase about "showing up," writing, "Our relationship was not perfect, but I can say that I was genuinely invested with all of my heart. I may not have the answers, but I do know this — I will continue to show up, stand by my word and be committed to love."
Is this the last that fans will hear about Clare and Dale's split? Or will this "he said, she said" continue in the media?