How Prince Harry Ended The Rumor That He Quit Social Media With Meghan Markle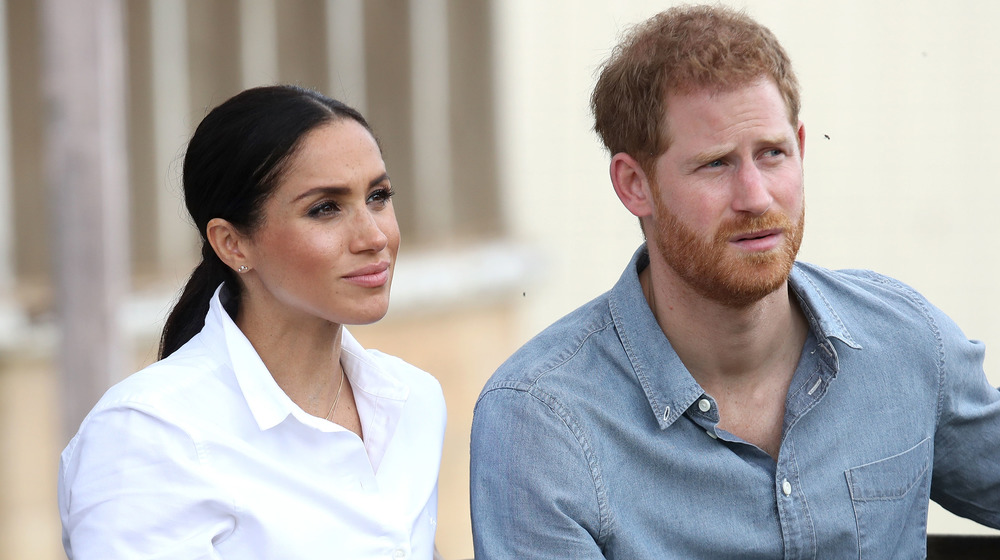 Chris Jackson/Getty Images
Activating and deactivating social media accounts are common for celebrities who want to take a break from posting or dealing with negative comments. Depending on the celebrity, social media breaks can be short or indefinite. One couple who knows this all too well? Prince Harry and Meghan Markle supposedly quit social media for good due to online "hate," The Times reported. As of this writing, the last time Sussex Royal posted anything on Instagram was on March 30, 2020.
Before Prince Harry and Markle stepped down as senior royals in March 2020, they promoted their initiatives through their official pages on Facebook and Instagram. They have not yet set up new social media accounts for the Archewell Foundation or Archewell Audio/Productions, which has seen them sign podcast and television and film deals in 2020, per Harper's Bazaar. Despite their lack of social media presence, Prince Harry has clarified his stance on social media, making it seem like the rumor of them swearing off social media entirely isn't completely accurate.
So what happened here? We reveal the truth after the jump.
Prince Harry and Meghan Markle aren't ruling social media out
Wpa Pool/Getty Images
During an interview with Fast Company, which was published on Jan. 22, 2021, Prince Harry said reports of him and Meghan Markle supposedly "quitting" social media were inaccurate. The Duke of Sussex was discussing social media reform with the business magazine when the topic came up. "It's funny you should ask because ironically, we woke up one morning a couple of weeks ago to hear that a Rupert Murdoch newspaper said we were evidently quitting social media," Prince Harry responded when asked of his personal views towards social media. "That was 'news' to us, bearing in mind we have no social media to quit, nor have we for the past 10 months."
Although Prince Harry and Markle have spoken out about the negative aspects of social media in the past, including how the former was "the most trolled person in the world" in 2019, Prince Harry told the magazine that social media "can offer a means of connecting and community, which are vital to us as human beings."
Prince Harry then revealed that there is a possibility of them returning to social media in the future when the culture isn't as toxic. "We will revisit social media when it feels right for us—perhaps when we see more meaningful commitments to change or reform — but right now we've thrown much of our energy into learning about this space and how we can help," Prince Harry said. Fair enough.