Mitt Romney's Latest Statement About The 2021 Olympics Is Turning Heads
Drew Angerer/Getty Images
The 2020 Summer Olympics in Tokyo got postponed in March 2020 due to the coronavirus pandemic, which has since killed more than 2 million people globally as of this writing, according to NPR. The postponed games are currently scheduled for July 2021, but with rising COVID-19 cases and the ongoing spread, the Tokyo Organizing Committee is in a difficult situation.
The Wall Street Journal reported on Jan. 27, 2021, that Japanese citizens are growing more concerned about the safety complications of hosting such a large event during a deadly pandemic. In response, Tokyo Organizing Committee member Haruyuki Takahashi has spoken out to garner support from international allies, including the United States. "Mr. Biden is dealing with a tough situation with the coronavirus, but if he makes a positive statement about the Olympics going ahead, we'd gain strong momentum," Takahashi told the WSJ. According to Reuters, the U.S. contributes the highest amount of competitors to the Olympics and brings in the most profitable television deal. "It's up to the U.S.," Takahashi confirmed.
Although President Joe Biden has not addressed the Olympics as of this writing, another high-ranking politician, Utah Sen. Mitt Romney, has spoken out. Keep on reading to find out why his latest statement about the 2021 Olympics is turning heads.
Mitt Romney wants the 2021 Olympics to go forward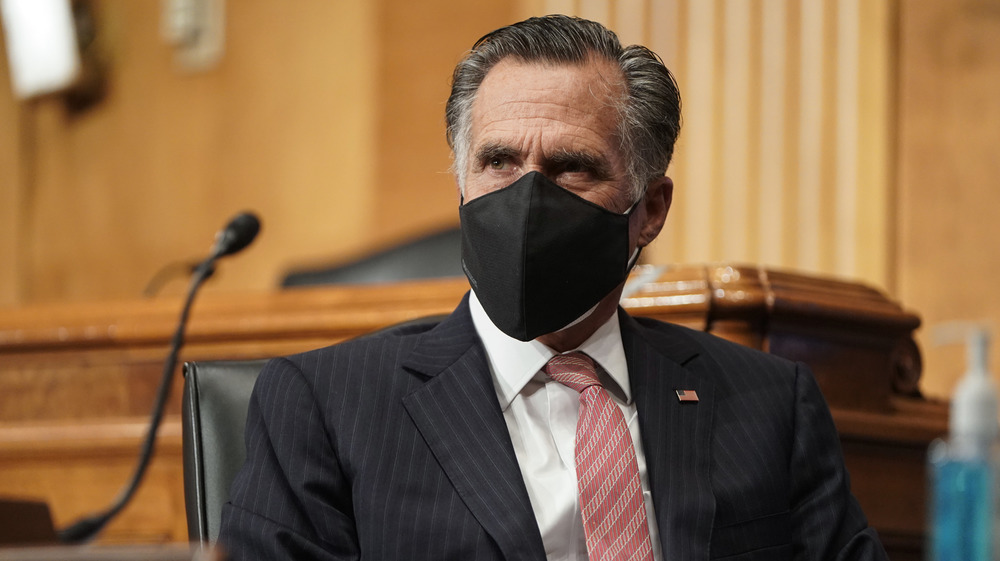 Pool/Getty Images
Mitt Romney quoted the above mentioned Wall Street Journal article via his Twitter account on Jan. 27, 2021. In his message, he showed his support for the games to go on as planned. "Hold the Tokyo Olympic Games. Athletes have trained a lifetime to be at their peak. Limit in-person spectators—most of us watch the Games on TV anyway," he urged. "The world awaits the inspiration of great competition and global sportsmanship," he added.
His tweet turned the heads of many who thought it would be irresponsible to hold the Tokyo Olympic Games amid the coronavirus pandemic. "You realise how many staff are needed and involved? It's not just athletes, and to put that many people in danger in unconscionable. You can wait for your inspiration Mitt," one user replied. Another agreed, saying the Olympics would be a "super spreader event" and a "terrible mistake. However, others appreciated Mitt's sentiment, saying athletes "trained and sacrificed far too much" to not compete. Other supporters likened the event to the success of the NBA. "Agree. make a bubble, or a few separate bubbles. If the NBA could do it for months, the Olympics can do it for a few weeks," one person tweeted. 
Meanwhile, Florida chief financial officer Jimmy Patronis pitched the idea that Florida is the ideal place to hold the Tokyo Olympics should they be postponed again, per The New York Post. Hmm.