The Real Meaning Behind The Weeknd's 'Can't Feel My Face'
If you are a fan of The Weeknd's music, then you've likely sung along to songs like "Lost In The Fire" and "Too Late" as well as "Save Your Tears" and "Blinding Lights." There's also a good chance that you're familiar with "Can't Feel My Face," which The Weeknd released back in 2015 with his Beauty Behind the Madness album. While "Can't Feel My Face" features a "catchy beat and the Weeknd's smooth voice," as Maggie Malach of Bustle notes, the outlet also notes that "despite the innate sing-ability" of the song, "some of the lyrics are downright confusing." 
See for yourself: "She told me, 'don't worry about it' / She told me, 'don't worry no more' / We both know we can't go without it / She told me, 'you'll never be alone'...," The Weeknd sings in the super popular tune. He then adds, "I can't feel my face when I'm with you / But I love it, but I love it, oh."
On top of that, the video — which focuses on the singer delivering a concert on a small stage while directing most of his attention to one woman in the audience — "doesn't offer much insight." Apparently, "it's sweet, but not exactly revealing or particularly reflective of the song's meaning."
So, what does the song really mean? Read on to find out what others — including a philosopher — think about the truth behind the lyrics.
Is The Weeknd's 'Can't Feel My Face' about Bella Hadid?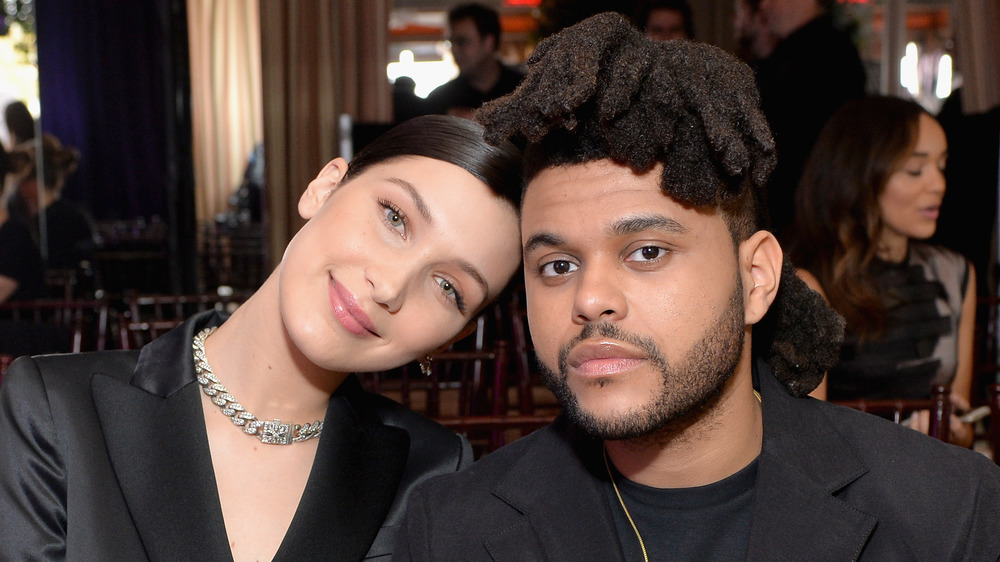 Stefanie Keenan/Getty Images
If the name of The Weeknd's song "Can't Feel My Face" sounds familiar, that may be because it's a line that can be heard in 2001's Blow, a film that features a lot of cocaine use. After doing a line of cocaine, Bobcat Goldthwait's character Mr. T tells the other men that he's with, "I can't feel my face. I mean, I can touch it but I can't feel it inside." Does that mean that The Weeknd's song is about cocaine? Some people think so... Sort of.
Perhaps due to the fact that The Weeknd has been open about his own drug use, there are those who think that "Can't Feel My Face" is, per Genuis, a song that "personifies drug addiction, likening it to the love of a woman..." On the other hand, philosophy graduate Martin T. Hadley broke things down for Vice by claiming that the song "is about dependence, desperation, a lack of inhibition, isolation, and relatedly, self-esteem, anxiety, misery, and ultimately, a pained and inauspicious death." Hadley suggests that the song is an "extended metaphor" of the artist's devotion to a lover.
The Weeknd happened to be with model Bella Hadid around that time, but when she was asked if any of his music was about her, she told Entertainment Tonight, "There's a lot that goes on his mind, so I don't know if it's about me..."