How Matthew Perry Got Julia Roberts To Appear On Friends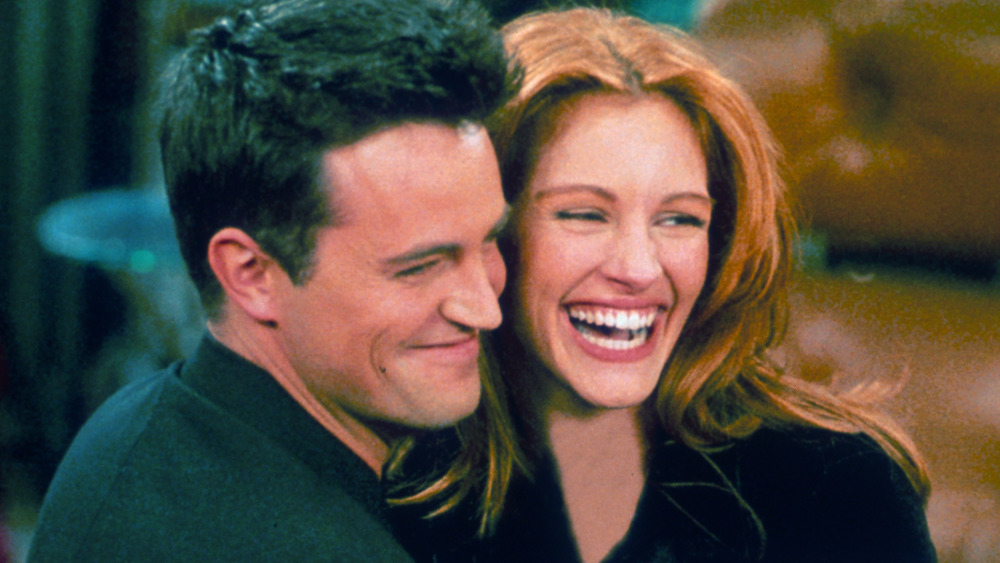 Getty Images/Getty Images
For a die-hard fan, it may seem like all of Hollywood's biggest stars eventually made their way onto hit sitcom Friends. Brad Pitt, Reese Witherspoon, Bruce Willis, Gabrielle Union, and Winona Ryder are among the long list of celebs to make an appearance alongside Chandler, Monica, Ross, Rachel, Joey and Phoebe.
Although celebrity appearances have played a role in plenty of fans' picks for favorite episodes, the one episode to make history was "The One After the Superbowl," which featured Brooke Shields, Jean-Claude Van Damme, and Julia Roberts. The episode, which aired appropriately right after Super Bowl XXX in 1996, is the highest-rated episode of Friends' ten-season run, according to The Hollywood Reporter, and is still the highest-rated post-Super Bowl TV episode. 
Speaking to The Hollywood Reporter, writers and creators of the show revealed it was actor Matthew Perry's flirtatious efforts that convinced Julie Roberts to join the cast for the famous episode. Here's how it went down. 
Matthew Perry faxed Julia Roberts to ask her out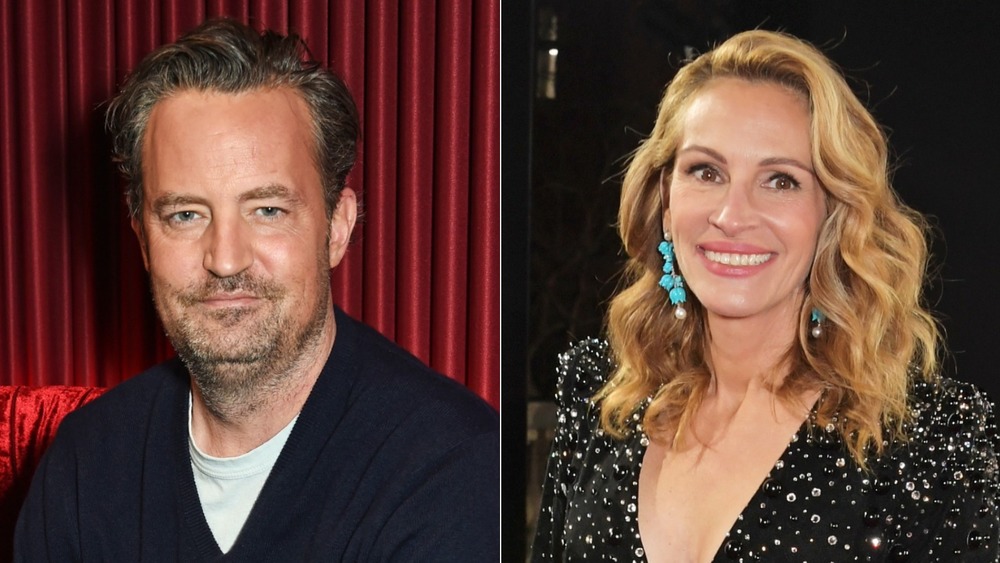 David M. Benett, David M. Benett/Getty Images
As the story goes, Matthew Perry had a big crush on actress Julia Roberts during the actor's time on NBC's sitcom Friends. To ask her out, the actor would send Roberts faxes with notes asking the actress out on a date.
"Matthew asked her to be on the show," said the show's co-creator Kevin Bright to The Hollywood Reporter. "She wrote back to him, 'Write me a paper on quantum physics and I'll do it.' My understanding is that Matthew went away and wrote a paper and faxed it to her the next day."
Another writer from the show, Alexa Junge, added, "there was a lot of flirting over faxing," revealing that Roberts would test Perry with questionnaires that the writers on the show helped him respond to when they weren't shooting. "He could do pretty well without us, but there was no question we were on Team Matthew and trying to make it happen for him."
According to E! News, the writers succeeded as Roberts told David Letterman in 1996 that she was "dating this Matthew Perry guy." Though their relationship was short-lived, it was immortalized in one incredibly popular episode of Friends.