The Real Reason Trump Dumped His Impeachment Lawyers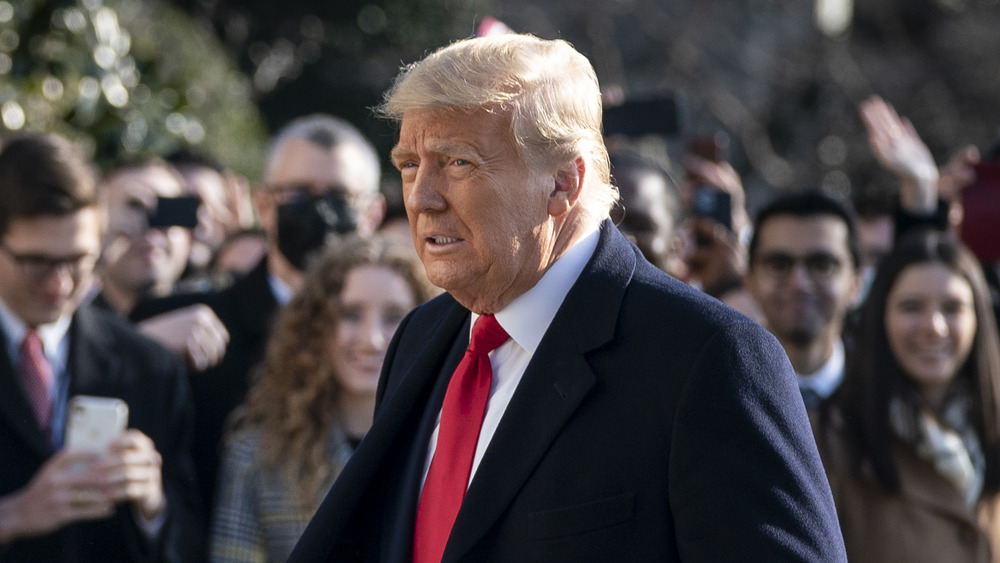 Drew Angerer/Getty Images
Donald Trump is set to take the stand at his upcoming impeachment trial, but the list of his defense is slowly dwindling. The former United States president has all eyes on him as he prepares to argue over his involvement in the deadly insurrection at the U.S. Capitol on Jan. 6, 2021.
Trump was delivered the articles of impeachment for a historic second time during his presidency on Jan. 14, 2021 (via NBC News). House Democrats charged the TV star-turned-commander in chief with "incitement of insurrection" for his role in the violent protest by Trump supporters, just weeks before President Joe Biden was set to make his transition into the White House.
Trump's trial is expected to begin the second week of February 2021, and the Senate set a deadline of Feb. 2 for the former leader's lawyers to submit a preliminary memo laying out his defense (via PBS). However, the schedule has been thrown into question after five of Trump's lawyers resigned less than two weeks before he's expected to stand trial (via CNN).
With Trump's defense team, as well as his once-long list of reliable and loyal Republican companions, quickly diminishing, the businessman will have to come up with a new team of legal advisors before he takes the stand at his highly anticipated impeachment trial. Keep scrolling to find out the real reason Trump ditched his five lawyers.
Donald Trump parted ways with his impeachment lawyers because they didn't agree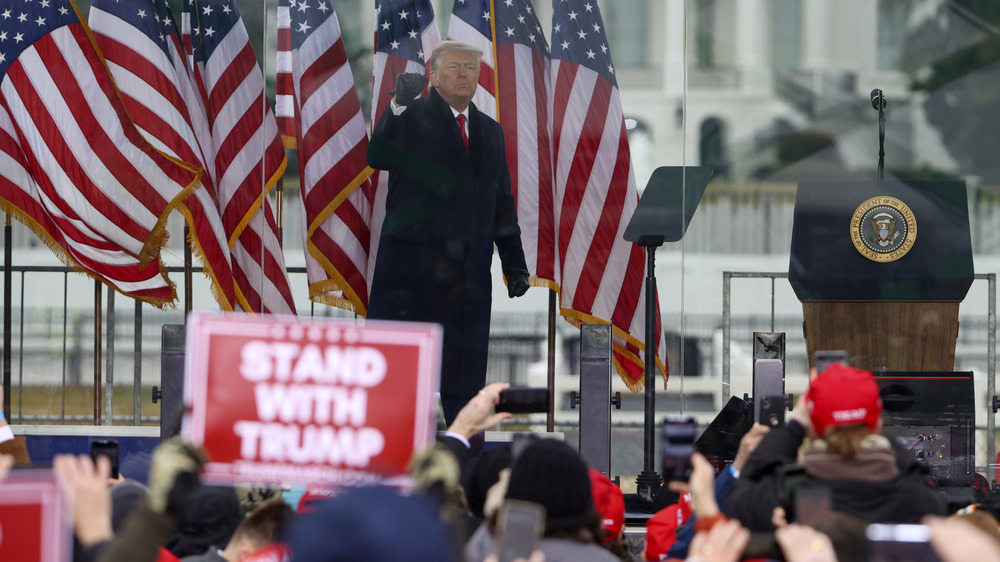 Tasos Katopodis/Getty Images
Just as Donald Trump prepares to provide his defense in his impeachment trial, the former president is finding himself with less and less support. According to CNN, five of the politician's lawyers parted ways with a little more than a week to go. The outlet reports Butch Bowers and Deborah Barbier, both of who were expected to be lead attorneys — as well as Josh Howard, Johnny Gasser, and Greg Harris — have left the team.
Though a source told CNN that it was a mutual decision for the attorneys to leave, it appears their unaligned expectations of the trial led to the departure. A separate insider claimed Trump wanted the lawyers to argue over the basis of mass election fraud, rather than the legality of impeaching a president following the end of his term. Per CNN, "Trump was not receptive to the discussions about how they should proceed in that regard."
Trump's trial is expected to move forward in the coming weeks, but as of right now, no new attorneys have announced they are working on the ex-president's case. While it's unclear the future of Trump's trial, there's no doubt he's going to stick by his baseless claims of voter fraud. "I hope the Democrats are looking at the thousands of people pouring into D.C," he proclaimed ahead of the deadly insurrection in early January 2021 (via CNN). "They won't stand for a landslide election victory to be stolen."