Rob Kardashian Shows Off His Weight Loss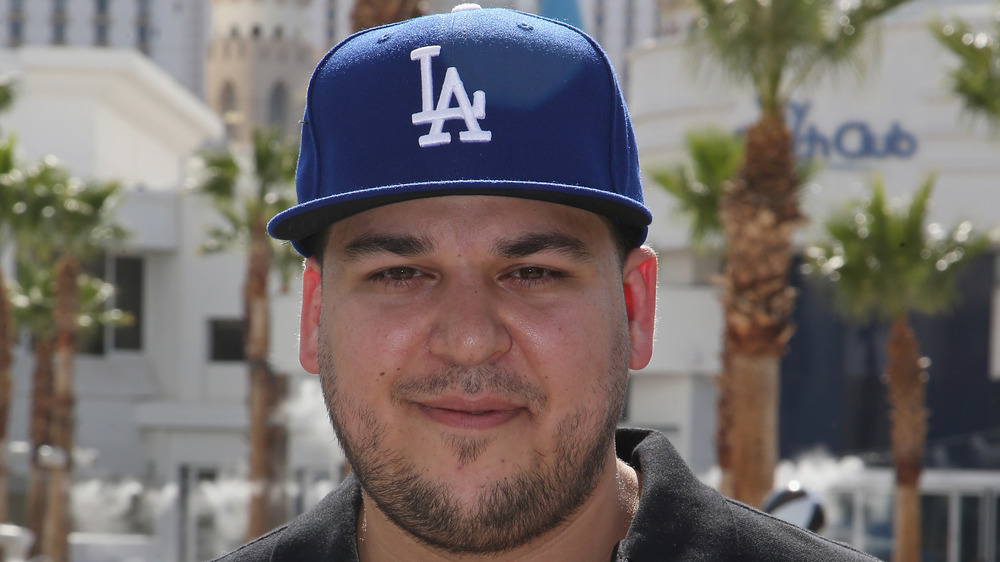 Gabe Ginsberg/Getty Images
When the trailer for the final season of  Keeping Up With the Kardashians was released in January 2021, fans were excited — but also sad — to see what the 20th and ultimate season of the hit E! reality series had in store for them. The decision to end the show was announced by the famous family in a joint statement in September 2020. "It is with heavy hearts that we say goodbye to Keeping Up With the Kardashians. After what will be 14 years, 20 seasons, hundreds of episodes, and several spin-off shows, we've decided as a family to end this very special journey," they wrote at the time (via Variety). "We are beyond grateful to all of you who've watched us for all of these years — through the good times, the bad times, the happiness, the tears, and the many relationships and children."
As expected, the KUWTK teaser featured a lot of tears, as well as a moment between Kourtney Kardashian and Scott Disick and a glimpse at Rob Kardashian, who has become known for being one of the only Kardashians to keep their life away from the cameras. In the promo, a smiling Rob made his rare appearance during a scene in which he's sitting at an outdoor dining table with his family. He was noticeably slimmer and his hair was much longer.
A few days later, Rob shared a new photo that showed off his weight loss even more. Keep scrolling to see his transformation.
Rob Kardashian's latest Instagram photo has people talking
Rob Kardashian celebrated his niece Stormi's third birthday by posting a new Instagram photo of himself, giving fans a rare glimpse of his weight loss. In the pic, the famous Kardashian is seen cuddling the little one as they sit on a sofa together. "Happy Birthday STORMi," he lovingly captioned his tribute post. This was the first time Rob had shared a photo of himself months; the previous time fans saw his transformation was on his sister Kim Kardashian's 40th birthday, in which he and the rest of the KarJenner family flew to a remote island with a bunch of their friends amid the pandemic. 
Over the years, Rob's sisters have opened up about his struggle with his weight. Kim told Today's Matt Lauer (via People) that her brother was "working really hard to get back to where he really wants to be" in 2015, after explaining that he was not "comfortable in his own skin." A year later, Entertainment Tonight reported Rob shared some before-and-after pics of himself in a since-deleted Instagram post, writing, "Still got a lot of work to do and weight to lose but glad I'm getting better."
The years that followed saw his weight continue to fluctuate, but in 2020, E! News reported Rob was so serious about getting healthy again that he was considering moving into a "live-in facility" to help him with his weight loss goals. In any case, it seems that Rob is now feeling more comfortable than he was years ago.