Eric Trump Has Something To Say About The Latest Donald Trump Investigation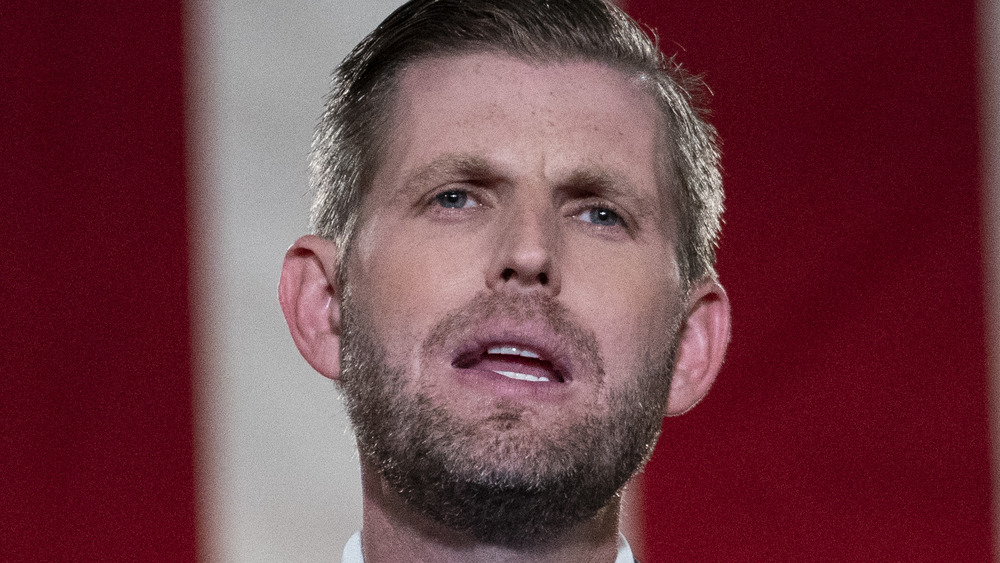 Drew Angerer/Getty Images
Eric Trump has responded to the Scottish government's proposed investigation of his father's finances, calling the suggested wealth probe "pathetic." According to the BBC, the Scottish Green Party raised the question of how Donald Trump funded the purchase of his golf courses, and they will lead a parliamentary debate about whether to investigate on Feb. 3, 2021. Greens' co-leader, Patrick Harvie, has claimed there are "serious concerns" about where the money came from.
Eric responded by criticizing the politicians involved in questioning the Trump Organization. "Patrick Harvie is nothing more than a national embarrassment with his pathetic antics that only serve himself and his political agenda," he said.
"If Harvie and the rest of the Scottish government continue to treat overseas investors like this, it will deter future investors from conducting business in Scotland, ultimately crushing their economy, tourism and hospitality industries," Eric added, per The Guardian. "At a critical time when politicians should be focused on saving lives and reopening businesses in Scotland, they are focused on advancing their personal agendas."
Keep reading for more details on this back-and-forth.
The Trump Organization is facing claims of money laundering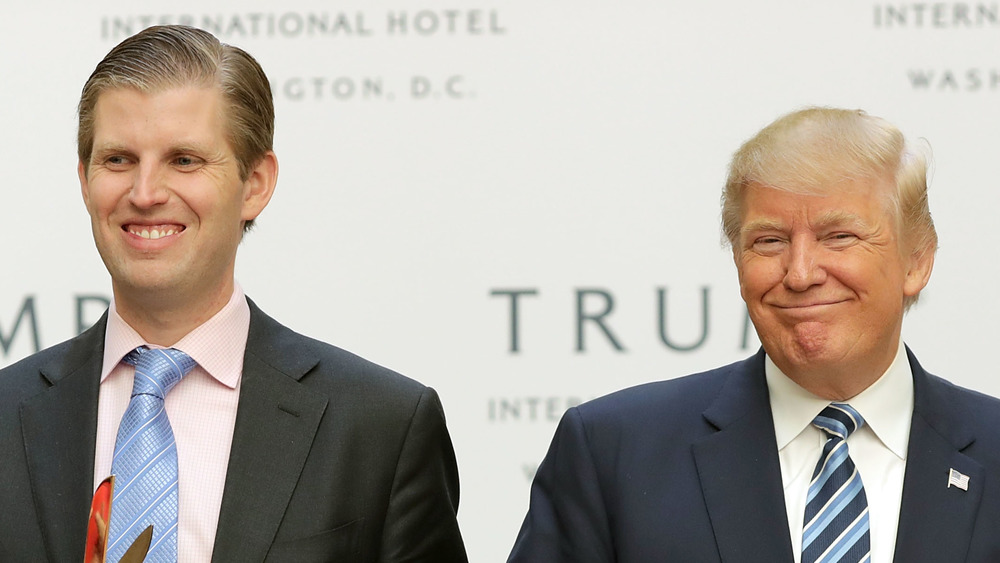 Chip Somodevilla/Getty Images
Eric Trump — who is a trustee and executive vice-president of the Trump Organization — declared that the organization had "invested hundreds of millions of dollars into the Scottish economy, rescued Turnberry, and rebuilt it into one of the finest resorts anywhere in the world" (via Newsweek).
"In both Aberdeen and Turnberry, the Trump Organization has created thousands of jobs and has made an overwhelming contribution to the leisure and tourism industry," Eric continued. As BBC explained, the Trump Organization claims it invested around £150 million (per Newsweek, that amount is "north of $150 million") into the Turnberry golf course in the first two years after it was purchased in 2014.
Patrick Harvie claimed that while the House of Representatives was looking into Donald Trump's ties to Russia, they heard testimony that observed "patterns of buying and selling" that were "suggestive of money laundering." The golf courses in Aberdeenshire and Turnberry, in particular, were the focus of this suspicion. Harvie also responded to Eric's comments, telling BBC: "As entertaining as Eric Trump's tantrum is, he doesn't say where his dad got the money to buy his Scottish golf courses, which is exactly why I'm calling on the Scottish Government to seek an unexplained wealth order."
Former President Trump is already being investigated in New York over his finances, as NBC reported. Court documents recorded that Manhattan District Attorney Cy Vance was looking into the Trump Organization specifically for "possibly extensive and protracted criminal conduct."