Brooke Shields' Daughter Now Looks Just Like Her Mom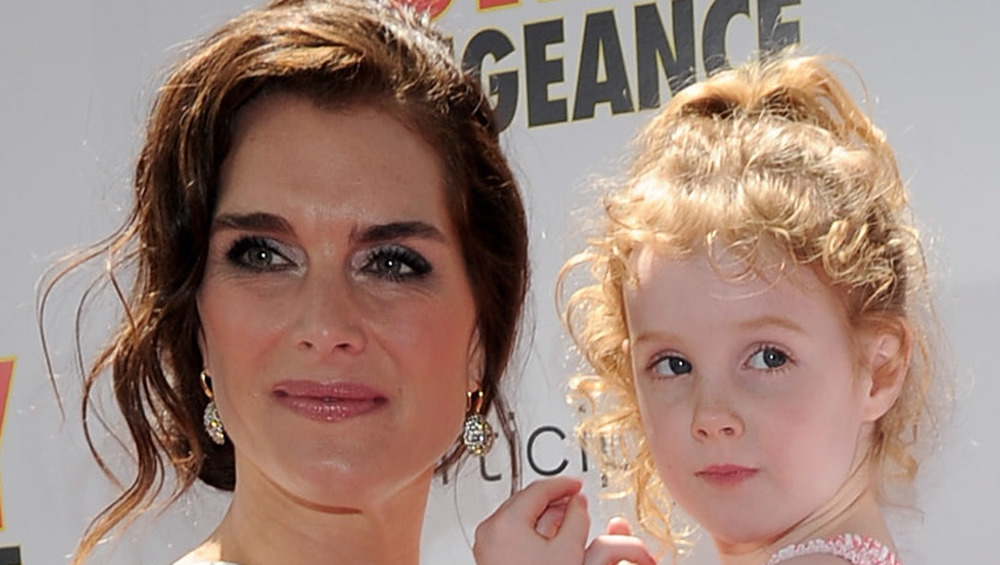 Alberto E. Rodriguez/Getty Images
To say Brooke Shields' youngest daughter, Grier Hammond Henchy, is her spitting image would be a total understatement. The Blue Lagoon actress passed down her best qualities to her youngest daughter, including her gorgeous blue eyes, stunning looks, and lovable personality. Shield's mini-me always resembled the icon — though the teen has fiery red hair — but the way Grier looks nearly identical to her mom nowadays is almost uncanny.
Shields shares her beautiful daughter with her husband, Chris Henchy. The Golden Globe nominee and the screenwriter married in 2001, and after two years, they welcomed their eldest daughter, Rowan Francis Henchy, on May 15, 2003. Grier made her arrival less than three years later on April 19, 2006 (via Today). Because of their mom's A-list celebrity status, Grier and her older sister were catapulted into the spotlight from an early age.
However, Shields did everything possible to give her girls the most normal upbringing possible. Even though juggling her many gigs throughout the years — including Flower Shop Mystery, Scream Queens, and Mr. Pickles — was difficult at times, Shields learned to manage the pressure. "I'm so appreciative of even the chaos," she once said (via HuffPost). "It's not about being perfect; it's about being engaged."
Nowadays, Rowan and Grier are on their way to becoming incredible young women, and Shields could not be more proud. Keep scrolling below to see the astounding resemblance between the actress and her youngest daughter.
Brooke Shields' daughter Grier is just as beautiful as the star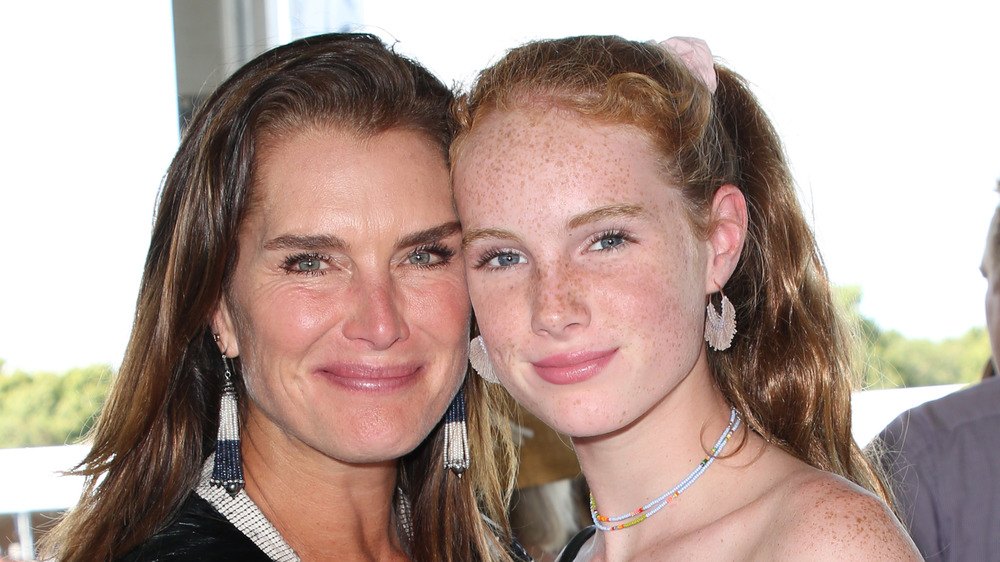 Sonia Moskowitz/Getty Images
After taking just one glance, it's evident Brooke Shields' daughter Grier Hammond Henchy is her spitting image! In addition to the captivating blue eyes, Grier inherited her mom's freckled skintone, beautiful smile, and enviable long legs. That's right, the auburn-haired beauty is around the same height as her mama, as visible in Instagram photos, which means Grier is around 6-feet tall (via RecordNet.com).
Shields and husband Chris Henchy have kept their daughters out of the spotlight for the most part, but now that they are grown, it's not rare for the actress to post photos with Grier on social media. While celebrating Thanksgiving in 2020, the That '70s Show alum uploaded a lovely family pic on Instagram with the caption, "Thankful for them."
Throughout the years, Grier has also attended plenty of red carpet events with her mom, including the Hampton Classic Horse Show in September 2018 (via SheKnows.com) and the Impractical Jokers: The Movie premiere in February 2020 (via People). Though Grier has yet to establish a showbiz career of her own, Shields dished the one requirement she has for her girl.
Because Hollywood is a "cutthroat and demoralizing" world, Shields wants Grier to go to college first. "Plus, they want you when they want you," she told Social Life in 2017 (via Page Six), "and you have to be there for auditions and work." With Shields as her mama, there's no doubt Grier is destined to go far.