False Facts About Brangelina You Always Thought Were True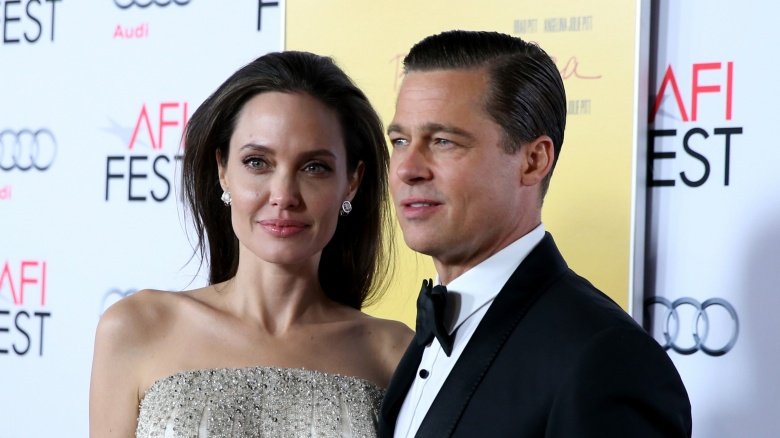 Getty Images
For the dozen or so years they were together, Brad Pitt and Angelina Jolie were the most A-list couple in all of Hollywood. Not only were they each accomplished and unfairly good-looking actors in their own right, but they steamed up the screen together in 2005's Mr. and Mrs. Smith, which meant that fans of their high-profile relationship didn't have to use too much of their imaginations to picture what their behind-closed-doors activities might be like. Not to mention, they sparked what is probably the most notorious love triangle in Tinseltown history by allegedly getting together while Pitt was still married to America's official sweetheart Jennifer Aniston.
Their love story has been bookended by jaw-dropping controversy, of course, since the final chapter of the saga has proven to be just as messy and rife with real gossip lines as the beginning, but there are still some rumors that have surrounded the former couple that were completely false, despite the fact that tabloids readers tended to accept them as legit. Here are some false facts about Brangelina you always thought were true.
The I Hate Rachel Green Club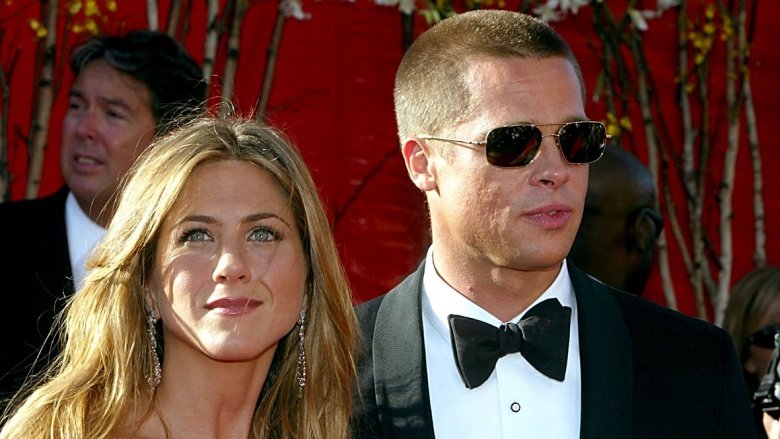 Getty Images
The timeline between Pitt and Aniston's split and the start of his tryst with Jolie is fuzzy enough to warrant some raised eyebrows about whether there was any shady overlapping going on, sure. But the subsequent decade of supermarket magazine covers that claimed Aniston was constantly warring with the pair took the fame train off course all together.
There were some legitimately awkward moments to be seen along the way, of course, like when Aniston presented at the 2009 Oscar's where Brangelina had prime seating and full view of her (plus, she was presenting with Jolie's Kung Fu Panda co-star Jack Black at the time, which made things extra uncomfortable). Or when Aniston got goaded into telling Vogue that she didn't appreciate hearing all the gritty details about their hook-up and that Jolie's comments about being excited to go to work with Pitt every day were "uncool." But the countless headline tales of dramatic in-feuding between the trio has been exaggerated to an unrecognizable degree.
Aniston's husband, Justin Theroux, called the constant scandal headlines a product of "an endless appetite for trash," and Aniston herself addressed the endless barrage of bylines in an op-ed for Huffington Post, writing, "From years of experience, I've learned tabloid practices, however dangerous, will not change, at least not anytime soon. What can change is our awareness and reaction to the toxic messages buried within these seemingly harmless stories served up as truth and shaping our ideas of who we are. We get to decide how much we buy into what's being served up, and maybe some day the tabloids will be forced to see the world through a different, more humanized lens because consumers have just stopped buying the bulls***."
Baby Smith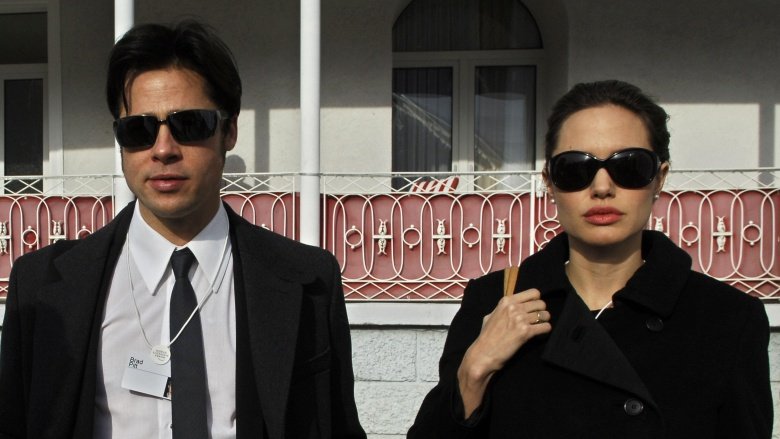 Getty Images
Even though the only two people who really know whether anything happened between them during Pitt's marriage to Aniston are Pitt himself and Jolie, what math can determine is that their daughter Shiloh was not conceived on the set of their movie, as some believed. Shiloh was born on May 27, 2006, nearly a full year after the release of Mr. and Mrs. Smith, which means that, unless the normal rules of pregnancy terms somehow don't apply to Brangelina, she was conceived months after the movie's release — and long after the movie was filmed, of course, since production on the pic ended after reshoots in March 2005.
They're trying to turn Shiloh into a boy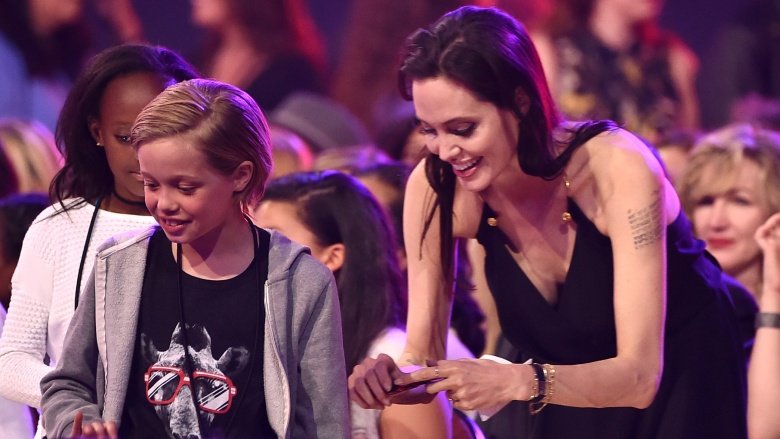 Getty Images
Thanks to the never-ending public interest in her parents' personal lives, Shiloh Jolie-Pitt has absolutely been growing up in the heat of the spotlight, and the peanut gallery has certainly not been shy about sharing their comments on her upbringing. One thing that seems to be a commonly held belief about Shiloh is that her tomboyish sartorial choices—like the fact that she wore a tux to her parents' wedding, while her sisters wore dresses—represent her parents' will to urge her to transition into a boy later in life.
Jolie, however, has denied that it was her or Pitt's decision to buck gender norms in their daughter's dress code, telling Grazia Magazine (via Huffington Post) that any haircuts or style choices have been made by Shiloh herself, who is "strong-willed" and Jolie "let[s] her be who she is." Jolie later added that she found Shiloh's clothing choices "fascinating" and said, "I would never be the kind of parent to force somebody to be something they are not. I think that is just bad parenting. Children should be allowed to express themselves in whatever way they wish without anybody judging them because it is an important part of their growth. Society always has something to learn when it comes to the way we judge each other, label each other. We have far to go."
Girl, Interrupted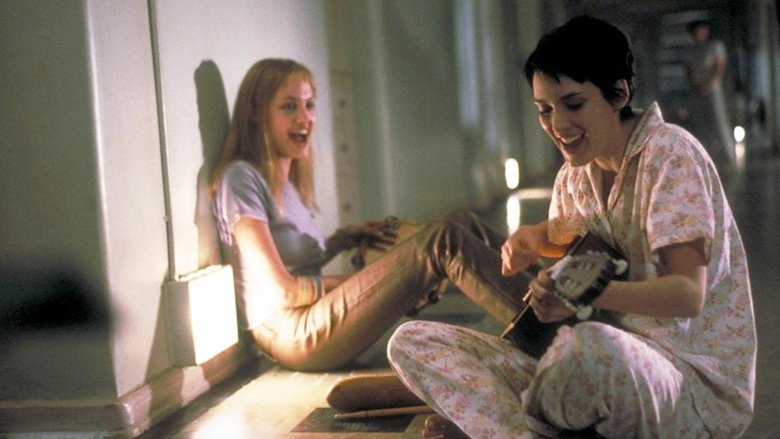 Getty Images
Jolie's history of drug abuse is well documented, including with her own candid words on the subject, but there's been a lot of speculation about her mental wellness that tends to make her Oscar-winning sociopathic role in Girl, Interrupted look like a breezy zen aficionado. Her father, Jon Voight, certainly didn't help matters by stating that she had untreated mental health problems in 2002, but those front-page claims that she's been institutionalized for all of those supposed breakdowns are unsubstantiated by any evidence and thus have to be dismissed as yet another installment of the phony news business that has surrounded Brangelina for so long.
Dun dun dun done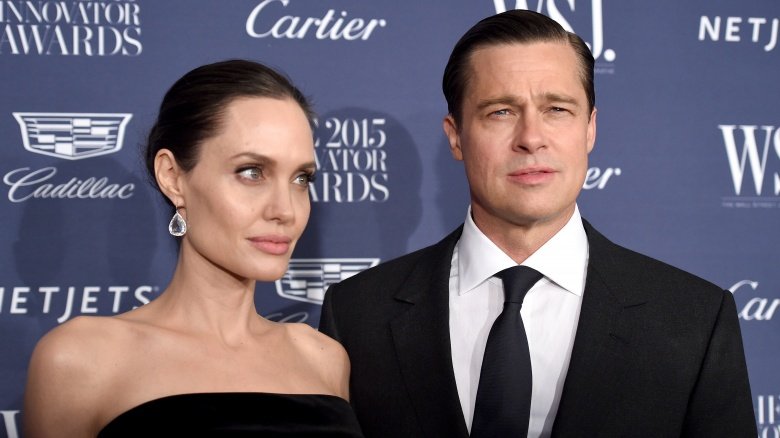 Getty Images
Brangelina made their 'ship name official in 2005 after they were spotted together on a Kenyan vacation with their eldest adopted son Maddox, just weeks after Aniston filed for divorce from Pitt. However, even after adding five more children to their brood—adopted daughter Zaharah, biological daughter Shiloh, adopted son Pax Thien, and biological twins Knox and Vivienne—they remained unwed partners until their engagement in 2012 and subsequent marriage in 2016. Rumors abounded that the reason Pitt and Jolie refused to get married was that Aniston was still in the picture somehow.
However, Pitt circuitously struck down that buzz in 2006 by telling Esquire magazine that it was more about the principle of marriage than the process which kept them at bay from the altar. He said, "Angie and I will consider tying the knot when everyone else in the country who wants to be married is legally able." Jolie offered a second layer of rationale to their wedding vow aversion in 2007, telling Marie Claire, "We're not against it. It just doesn't seem necessary. He and I have never discussed it in detail, but I would assume—because we [both] went down that road before—it's not that contract or that ceremony that makes you feel solid. We've gone the back way around, and maybe there is something to that – that it's the hard work and the exhaustion and the children that really do make you solid."
Pitt then reiterated his solidarity with the LGBTQ marriage rights momentum in a 2008 interview with Parade, and it wasn't until 2011 that the couple began to sing a different tune, when he told USA Weekend that their children were pressing for them to make their relationship matrimonial.
Incidentally, the couple got engaged in 2012 and married in August 2014. Same-sex marriage was legalized in America the following year.
Big-time BFFs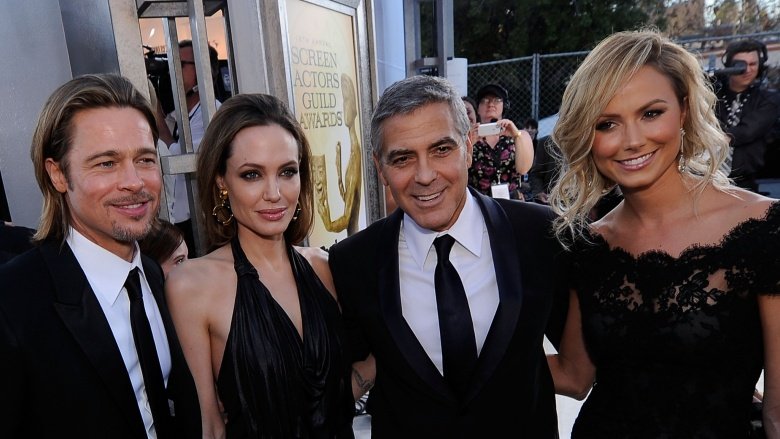 Getty Images
As fun as it is to believe that Pitt and his Ocean's Eleven co-star (and fellow Sexiest Man Alive double alum) George Clooney are the closest of pals, evidence simply doesn't support the theory that the hunks have been best friends all along. Consider how Clooney didn't even know about Brangelina's separation when interviewed on the subject in 2016. Or how, of all the people (including Aniston, by the way) who've been invited to his Lake Como vacation hotspot, Jolie has never been one of them. Or how Brangelina didn't make it to Clooney's wedding to Amal Alamuddin due to supposed scheduling issues. Rumor has it, the friendship fell apart after Jolie was unkind to Clooney's then-girlfriend Stacey Keibler on a private jet in 2012 (the same year the couples awkwardly posed together at the Screen Actors Guild Awards), but whatever the reason, Pitt and Clooney certainly haven't kept the bromance alive in recent years.
Cheaper by the dozen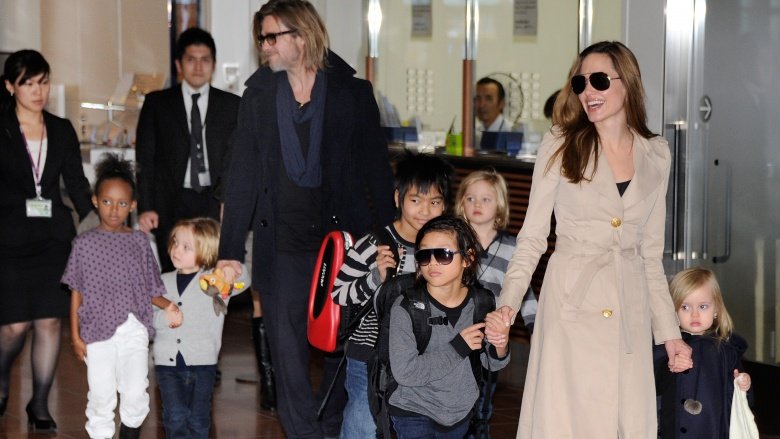 Getty Images
It is true that Jolie and Pitt were at one point considering having 12 children together, including adopting more from around the world, but they cried uncle after babies five and six arrived at one time—as he phrased it in an interview with The Telegraph, the pair "crapped out after six." He told the same publication, though, that the reason their family never expanded beyond the eight-is-enough scope had exactly nothing to do with any alleged fertility issues. After the twins were originally announced, endless tabloid covers presented it as fact that the pair had gone through in vitro fertilization to conceive them, and Pitt denied the truth of that gossip, saying, "If they had been conceived through IVF we would have been happy to discuss it. But we have been fortunate enough never to have had fertility problems."
The fourth wheel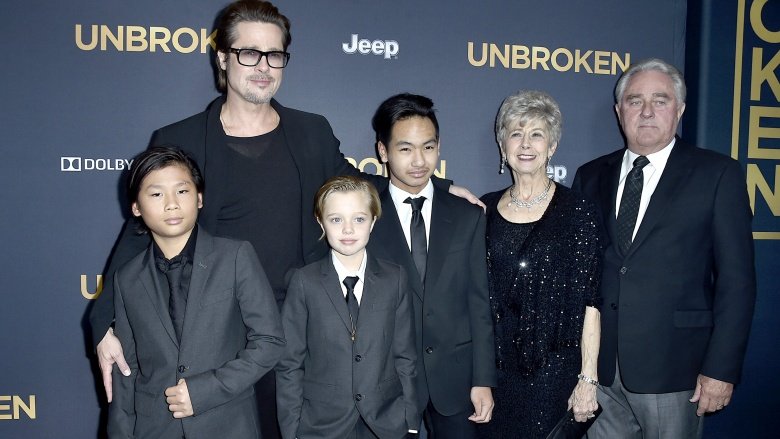 Getty Images
Another common thread of most love triangle stories involving Pitt, Jolie, and Aniston is the story that Aniston remained in close contact with her former in-laws long after she and Pitt split. Among the latest in that line of made-up madness is the rumor that Pitt's mother Jane has been turning to Aniston for advice on how to cope with his split from Jolie and what that might mean for her relationship with her grandchildren. Gossip Cop, however, diffused that bomb, citing sources who discounted the story as yet another bit of complete fiction from the tabloid machine ... of which there are many.
That viral love letter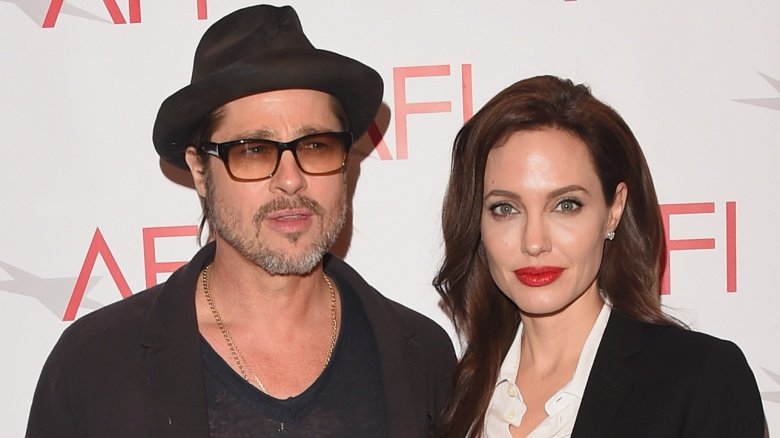 Getty Images
Jolie in particular has been known to tap out something for the crowd when the situation called for it—consider her dual op-eds in The New York Times detailing the difficult surgeries she chose to undergo to lessen her likelihood of getting cancer. However, there was one viral open letter attributed to Pitt that was completely fabricated. The 2013 Facebook post, which was proven to be a hoax, seemed like an open letter from Pitt about the dangers of depression and eating disorders and spread like wildfire among the sharing community.
The letter read: "My wife got sick. She was constantly nervous because of problems at work, personal life, her failures and children. She lost 30 pounds and weighted about 90 pounds. She got very skinny and was constantly crying. She was not a happy woman. She had suffered from continuing headaches, heart pain and jammed nerves in her back and ribs. She did not sleep well, falling asleep only in the mornings and got tired very quickly during the day. Our relationship was on the verge of a break up. Her beauty was leaving her somewhere, she had bags under her eyes, she was poking her head, and stopped taking care of herself. She refused to shoot the films and rejected any role. I lost hope and thought that we'll get divorced soon... But then I decided to act."
"After all I've got the most beautiful woman on earth," it continued. "She is the idol of more than half of men and women on earth, and I was the one allowed to fall asleep next to her and to hug her. I began to shower her with flowers, kisses and compliments. I surprised and pleased her every minute. I gave her a lot of gifts and lived just for her. I spoke in public only about her. I incorporated all themes in her direction. I praised her in front of her own and our mutual friends. You won't believe it, but she blossomed. She became better. She gained weight, was no longer nervous and loved me even more than ever. I had no clue that she CAN love that much. And then I realized one thing: the woman is the reflection of her man. If you love her to the point of madness, she will become it."
Despite proof that it was a hoax, it can still be found circulating on various share feeds from time to time.
The gist
Getty Images
When it comes to Brangelina, truth is sometimes stranger than fiction, and they've given their fans more than enough drama and quotables (and tribute tattoos, to boot) to obsess over. But even with such a glamorous yet still imperfect family as theirs floating around the fishbowl of fame, you can't believe everything you read, especially when it's in big, yellow, all-caps print at the checkout aisle.