Denny Hamlin's House Is Way Bigger Than You Think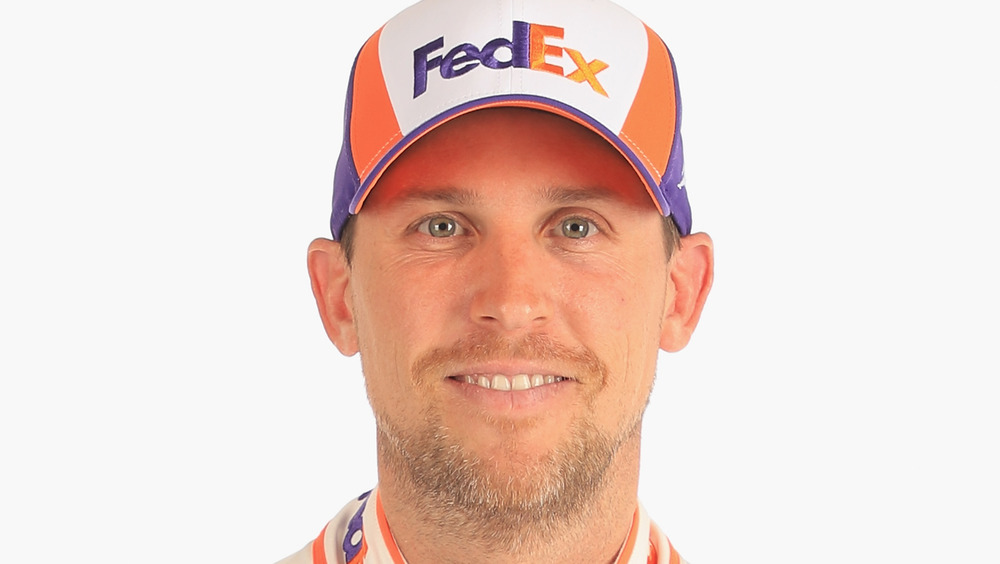 Streeter Lecka/Getty Images
Calling all real estate fans! NASCAR champion James Dennis Alan "Denny" Hamlin aims to win the Daytona 500 for the third year in a row in February 2021, but regardless of whether he takes home the title, he has built quite a trophy: a sprawling estate! 
The Florida native moved into his new Lake Norman property in North Carolina in 2017, per Racing News. The father of two and his wife Jenny Fish occupy the 30,000 square-foot home that Hamlin designed alongside Thompson Custom Building Group in 2016. They sold their previous Lake Cornelius home in 2008 for $4.9 million, according to Variety. So what does Hamlin's current, custom house look like? Let's just say, with his estimated net worth of $65 million, it's clear that Hamlin's new home doesn't disappoint. 
Denny Hamlin's home is the ultimate entertainment center
Jason Kempin/Getty Images
Racer Denny Hamlin's house is "far more than a 30,000-square-foot man cave," per Charlotte Magazine. He quickly sped past design expectations and embraced a self-described "more modern, more West Coast" aesthetic for a "timeless design." 
The master bedroom has lakefront views, and rooms are laid out with an open floor plan loft-style in mind. A full-length indoor basketball court, two-lane bowling alley, and trophy room all incorporate Hamlin's FedEx racing sponsor colors of purple and orange for accent hues. The ELAN-brand smart home is equipped with TVs, lighting, a top-tier security system, and 32 "audio zones" that can all be controlled via smartphone. Even though he has 25 TVs in his residence, Hamlin opted to go old school for the crown jewel of entertainment: a projector room that also houses his 2016 Daytona 500-winning race car. 
Add in a golf simulator and infinity pool, and the Hamlin family has plenty of options for fun and games at home. Can we just quarantine with them?!