Bob Dole Reveals Some Sad Health News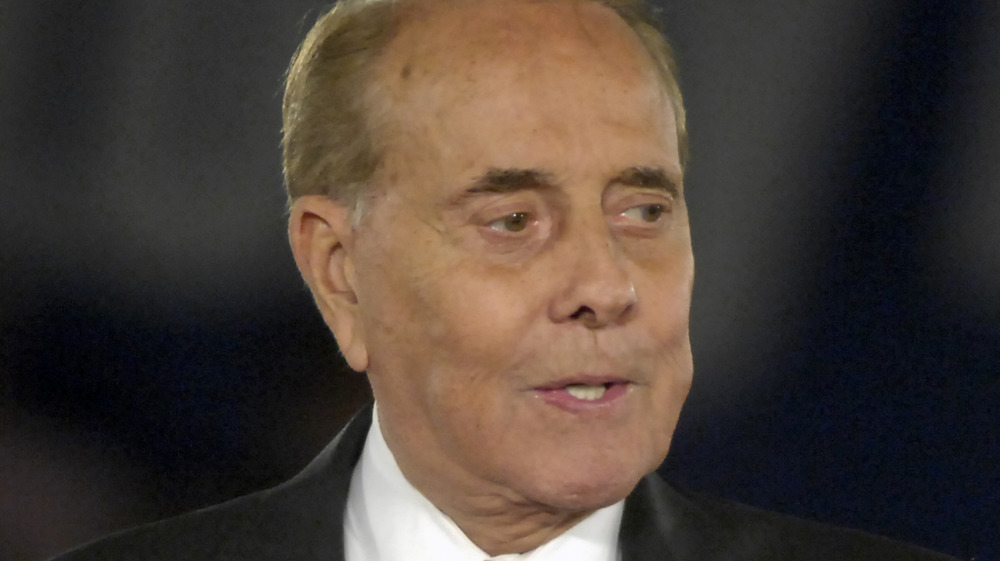 Sara D. Davis/Getty Images
Former Kansas Sen. Bob Dole has announced that he has been diagnosed with stage 4 lung cancer. The Republican, who from 1969 to 1996 served in the Senate, announced his diagnosis via Twitter on Feb. 18, 2021. Dole is best known for running against Bill Clinton for president in 1996 as the GOP nominee. He had resigned from Senate to focus on the election, but of course, Clinton went on to serve a second term. Long before that, in 1976, Dole was the Republican party's vice presidential nominee, running alongside President Gerald Ford, according to his official website. However, Democrat Jimmy Carter went on to win that election.
More notably, the former senator has been a big supporter of former President Donald Trump. Dole endorsed Trump before he won in 2016 and continued to support him during his presidency. In October 2020, he even tweeted, "I know all of the Republicans and most are friends of mine. I am concerned that none of them support President Trump." However, in December 2020, he admitted that Trump lost the presidential election, telling The Kansas City Star, "It's a pretty bitter pill for Trump, but it's a fact he lost."
Although Dole remains active on Twitter, he hasn't made too many public appearances due to health problems, which see him using a wheelchair. But it appears now that Dole is ready to address his cancer diagnosis — here's what we know about the situation.
Bob Dole will undergo treatment for lung cancer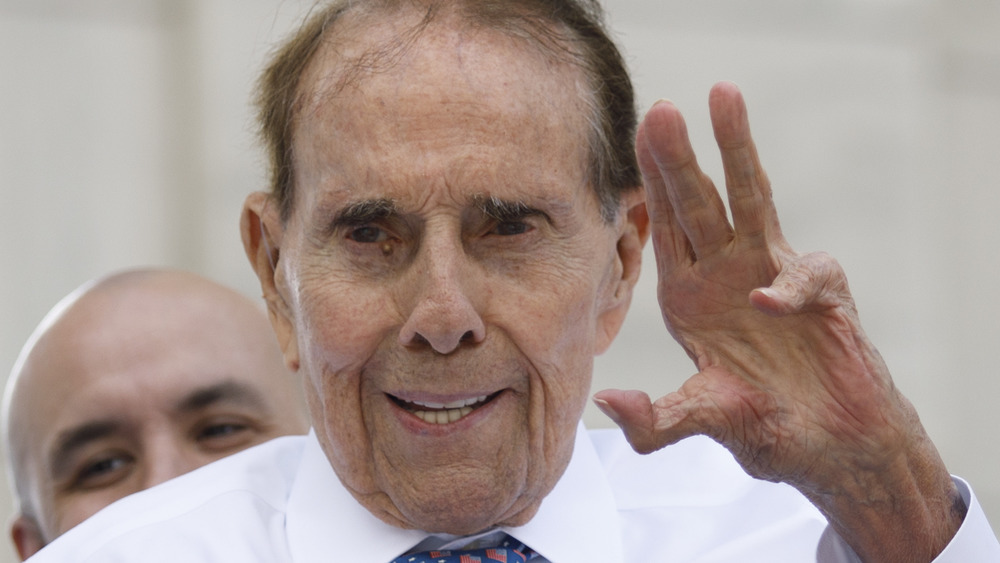 Tom Brenner/Getty Images
Former presidential nominee Bob Dole announced via Twitter that he was "recently diagnosed with stage four lung cancer" and that he will receive his first treatment on Feb. 22, 2021. The 97-year-old added, "While I certainly have some hurdles ahead, I also know that I join millions of Americans who face significant health challenges of their own."
It isn't the first health issue that the husband of Elizabeth Dole has faced. In 1945, while serving in the army during WWII, Dole got struck by machine-gun fire in his upper back and right arm, according to The Hill. That left him numb in his left arm and with limited mobility in his right arm. Of course, the former spokesperson for Viagra (yes, you read that right) didn't let his health struggles interfere with his plans for public office. Only a few years later, in 1950, he served two years in the Kansas state House.
After hearing of Dole's cancer diagnosis, Kansas Sen. Roger Marshall, a Republican, tweeted, "I have zero doubt in my mind Senator Dole will take this challenge head on the same way as other challenges he faced in his life. Just as he did as one of the heroes from our greatest generation, in this battle, Senator Dole will continue to show us the way through hope, resiliency, and perseverance."