The Truth About Bradley Beal's Wife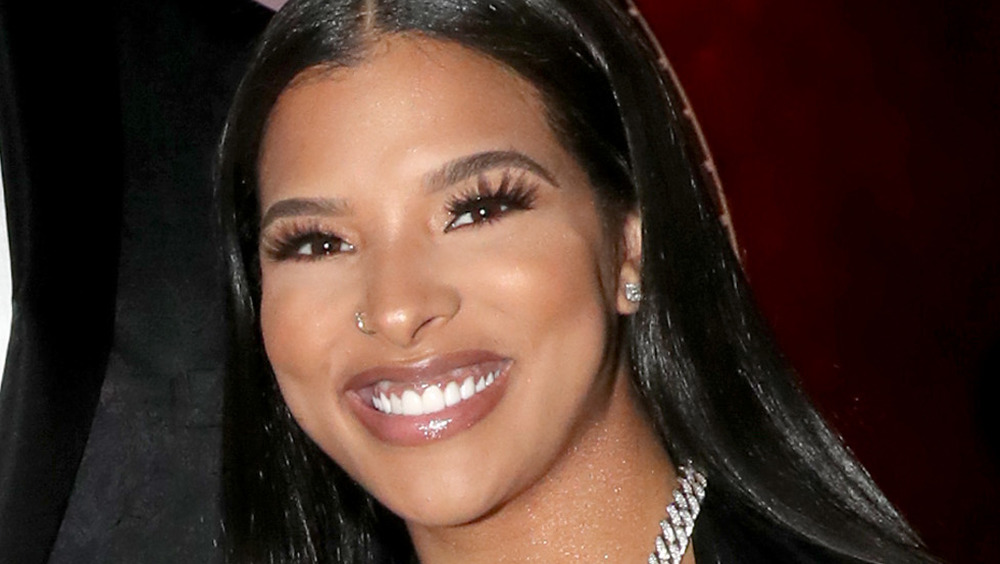 Johnny Nunez/Getty Images
In the words of R&B singer Nivea, "Don't mess with my man, I'ma be the one to bring it to ya" — and that's exactly what NBA player Bradley Beal's wife, Kamiah Adams, is singing these days to all of her husband's haters.
As reported by Republic World, the WAG has found herself in a bit of a Twitter war recently as she's taken many of her husband's naysayers to task. After what appeared to be a slow and sluggish start for the Washington Wizards player during the first half of the team's game against the Brooklyn Nets in late January 2021, NBA Twitter personality Rob Perez, better known as "World Wide Wob" took to Twitter to heckle Beal by compiling a highlight reel showcasing what some argue is simply a lack of interest from the player during the first half. SHOTS FIRED.
Immediately, Beal's wife ran defense and fired out a couple of tweets of her own defending her husband. "Slow start? Sure.
Night off? Never. My husband leaves is ALL on the court every time he steps out there," Adams hastily sent out in the first tweet. After some backlash, Adams fired out a yet another tweet in which she let her husband's stats do the talking. "My response to all my mentions. 34.9ppg Enjoy y'all night arguing with yourselves," she penned in the second tweet. 
But besides being a very protective wife, who is Kamiah Adams? Keep reading after the jump to find out!
Kamiah Adams says Bradley Beal helped her 'evolve into the woman' she is today
As reported by NBC Sports, NBA player Bradley Beal popped the question to model and actress Kamiah Adams on Jan. 19, 2020. Shortly after, Adams took to social media to share the news and show off her stunning new ring. In the lengthy caption Adams penned a tribute to her new fiance. "No one else id rather spend my life with. Thank you for helping me evolve into the woman I've become, and for constantly challenging me to become better each and everyday. I did then, I do now, and I will FOREVER. YES YES YES!!!!!!!!!!!," Adams wrote alongside a photo of the giant sparkler. 
While it's unknown if the couple have any plans to expand their family anytime soon, it should be noted that they already share two children together — sons Bradley, Jr. and Braylon. 
According to Celebrity Net Worth, Adams was very busy establishing a career for herself before becoming a mother and a wife. The television personality was born in Puerto Rico in 1993. In 2015, she appeared on VH1's hit reality show, Love & Hip Hop: Hollywood. It's also reported that prior to her relationship with Beale she was involved with rapper Lil' Fizz.