Alan Thicke: Things You Didn't Know About The TV Star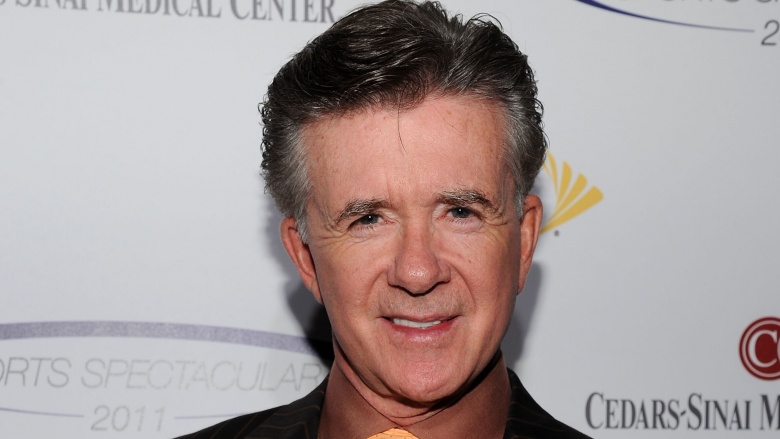 Getty Images
There was sad news for millennials the world over on Dec. 13, 2016, when news broke that Alan Thicke, the beloved dad from Growing Pains (1985-92), had passed away suddenly at the age of 69. Thicke, who has been a friendly face on television since the early 1980s, will be dearly missed by those who grew up watching him. While perhaps best known for his family-friendly sitcom work, Thicke had a long and varied show business career that spanned nearly five decades. Let's take a look back at his life and learn more about the man who always knew how to make us smile.
Early years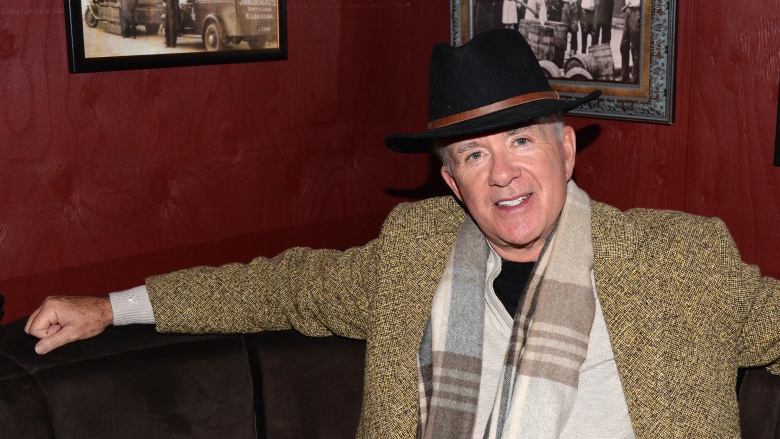 Getty Images
Before becoming a star, Thicke was a popular and talented student in his native Ontario, Canada. He skipped grades twice while in school, became the 1965 Elliot Lake Secondary School Homecoming king, and entered college at the University of Western Ontario at age 16. While the new student didn't really know how to live on his own just yet—even mailing home dirty laundry to his mother—Thicke soon prospered at the campus, joining a fraternity and completing a bachelor of arts degree in 1967. A few years later, he landed a job with the Canadian Broadcasting Corporation under the tutelage of Lorne Michaels, who would go on to create Saturday Night Live (1975-).
Songwriting
In addition to his acting chops, Thicke was a prolific songwriter, composing theme songs for many successful television programs. He wrote and sang in the opening number for the 1970s sitcom Diff'rent Strokes (1978-86) and collaborated with then-wife Gloria Loring to pen the equally catchy theme to the Diff'rent Strokes spin-off, The Facts of Life (1979-88) with Loring singing the theme after the first season. He definitely had a knack for writing lyrics that stuck. Decades later, we still know what to say after someone begins, "You take the good, and take the bad, you take them both and there you have..."
Thicke also dabbled in popular music. He co-wrote a song named "Sara" which became a hit for Chicago guitarist Bill Champlin on his 1981 solo album Runaway.
In addition to these eternally catchy lyrical hits, Thicke was also responsible for the theme music for numerous TV game shows, including the original Wheel of Fortune theme, The Wizard of Odds, The Joker's Wild, Celebrity Sweepstakes, The Diamond Head Game, Animal Crack-Ups, Blank Check, Stumpers!, and Whew!.
Game shows
In addition to penning songs for game shows, Thicke frequently appeared as a game show host. One of his earliest stints was with the Canadian series First Impressions, which paired contestants with complete strangers before asking them questions about their partner—with sometimes hilarious results. Thicke later hosted the aforementioned Animal Crack-Ups. In the '90s, he captained a televised version of the board game Pictionary, and he was tapped by the Game Show Network to host a revival of the classic game show 3's a Crowd in 2000.
Breaking into the business
After working as a producer on numerous TV series and specials during the '70s, Thicke scored his first vehicle to on-camera fame—his own daytime talk show. From 1980-83, he hosted The Alan Thicke Show. The program was successful with its Canadian audience, but when Thicke tried to make the transition to nighttime TV in 1983 via the syndicated Thicke of the Night, he discovered that competing with the ever-popular Johnny Carson was a tough nut to crack. While Thicke of the Night only lasted a single year, it launched the career of Thicke's on-air sidekick, Arsenio Hall, gave us the television debut of the Red Hot Chili Peppers, and propelled Thicke toward his budding sitcom career—landing him the part of work-from-home dad, Dr. Jason Roland Seaver, on Growing Pains.
Growing Pains
Growing Pains launched Alan Thicke to superstardom and changed how we think about traditional roles in families. On the show, Seaver moves his psychiatry practice into the family home in order to also take care of the kids when his wife goes back to work full-time as a reporter. Various high jinks ensue, which Seaver usually smooths over with dad powers and a little moral homily for his kids. Even though the show would forever pigeonhole Thicke with the "great dad" persona of Seaver, he credited the long-running series with saving his career after the abysmal performance of Thicke of the Night: "It sort of saved my life," he told his university's Alumni Gazette. "I was on a dramatically, universally hated talk show when I first went public in the States. I was so happy to recover from that career suicide with a sitcom. I will always be happy for that."
Cameos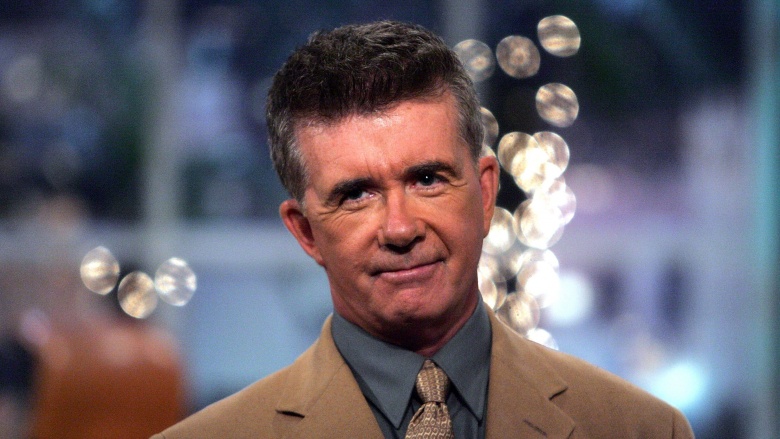 Getty Images
After Growing Pains ended in 1992, Thicke appeared on shows all over the airwaves. His cameo credits during the '90s include appearances on Murder, She Wrote (1984-96), Married...with Children (1987-97), and The Outer Limits (1995-2002). Thicke also hosted numerous beauty pageants and variety TV specials during this period. In more recent years, he was spotted—usually playing himself—on shows such as How I Met Your Mother (2005-2014), Tosh.0 (2009-), American Dad! (2005-), and This Is Us (2016).  Thicke was also featured as a guest star on the Netflix series Fuller House in 2016.
Author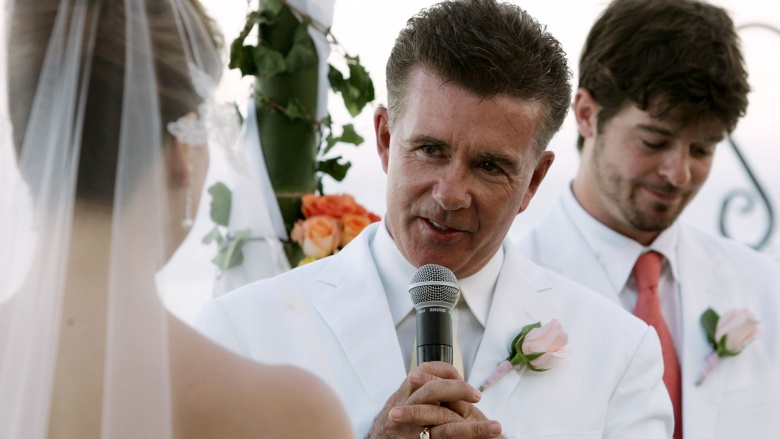 Getty Images
In addition to his career portraying a happy television dad, Alan Thicke shared personal parenting knowledge through his writing. Thicke penned two books on pregnancy and parenting over the years, including How Men Have Babies: The Pregnant Father's Survival Guide in 1999, and How to Raise Kids Who Won't Hate You in 2006.
An excerpt from the second book, released by the Today show, proves Thicke had a humorous, tongue-in-cheek view of parenting, especially when it comes to dealing with divorce: "Most 'previously owned' adults fall into three categories: 1. Those willing to find another relationship. 2. Those who'd rather be widowed or gay 3. Those who'd rather get poked in the eye with a hot stick hourly." Given that Thicke was married three times, we're guessing he fell into the first category.
His children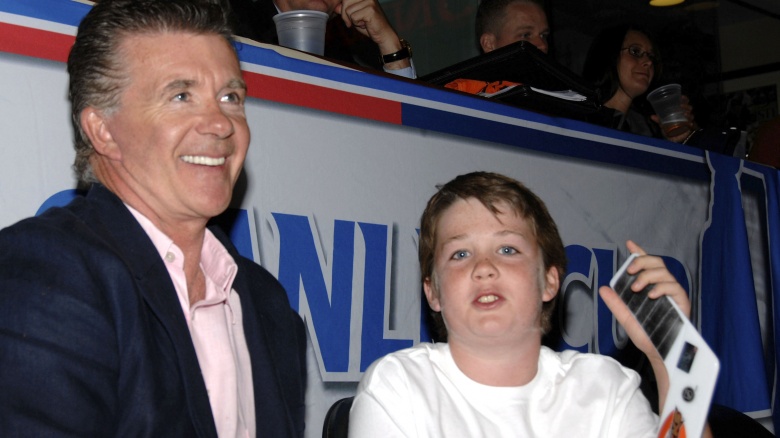 Thicke fathered three sons. His first marriage was to Days of Our Lives (1965-) star Loring, with whom Thicke shared a love of music and their two sons, Brennan Thicke and Robin Thicke. Robin is now a successful singer and songwriter in his own right. Loring and Alan divorced in 1984, and ten years later, he wed Gina Tolleson, former winner of the "Miss World" pageant. Alan and Tolleson had son Carter Thicke before divorcing in 1999. Alan exchanged vows with model and long-time girlfriend Tanya Callau in 2005. The couple did not have any children, and were still together at the time of his death.
Carter posted a moving tribute to his father on Instagram, writing, "Today I lost my best friend and my idol, and the world lost one of it's [sic] finest. I have never known a more kind, loving, hairy, and generous person in my life and I am forever grateful for the light that this man brought to my life and so many others. You will be missed every second of every day. You are a legend and I love you Pops. Until next time."
Sports fan
Alan was an avid sports fan. He played football in college, and after moving to Los Angeles, he paled around with some L.A. Kings players he knew from his Canadian hometown, including Mike Corrigan, Dick Duff, and Ralph Backstrom. Alan's interactions with professional athletes, particularly hockey stars, on the TV variety shows he produced in the '70s and '80s led to him eventually becoming an unofficial "celebrity liaison" for the Kings. When budding hockey star and fellow Canadian Wayne Gretzky came to town with the Oilers, Alan took him under his wing and even introduced Gretzky to the woman the hockey star would later marry. Gretzky was eventually traded to the Kings and later told Grantland,"Outside of the Oilers and the Kings and my wife and I, [Alan] was the first person that knew the trade was going to happen."
Alan's love of sports was not limited to hockey. Through the same kind of serendipity that connected him to the Kings, Alan also became close friends with basketball legend Michael Jordan—even playing three-on-three basketball with Jordan and country crooner Kenny Rogers, as well as stars Larry Bird, Dominique Wilkins, and Woody Harrelson.
Unexpected death
Alan Thicke passed away on Dec, 13, 2016. He'd been playing hockey that morning with his youngest son, Carter, at the Pickwick Ice rink in Burbank, Calif. —a regular hobby for the pair. Around 11 a.m., Thicke reportedly began to suffer from chest pain, which was followed by nausea and vomiting. He was taken to Providence St. Joseph's Medical Center around 11:30 a.m., where he was pronounced dead from a heart attack.
Immediately after the news broke, an outpouring of sympathy and grief-stricken tributes began emerging on social media, including messages from celebrities. Fuller House co-star Bob Saget tweeted, "So sad is the passing of Alan Thicke. Such a good husband, father, brother, and friend. He will be deeply missed. Rest in peace dear Alan." His untimely death has left family, friends, and countless fans longing for a chance for the beloved actor to "show [us] that smile again."