Inside Donald Sutherland's Relationship With His Son Kiefer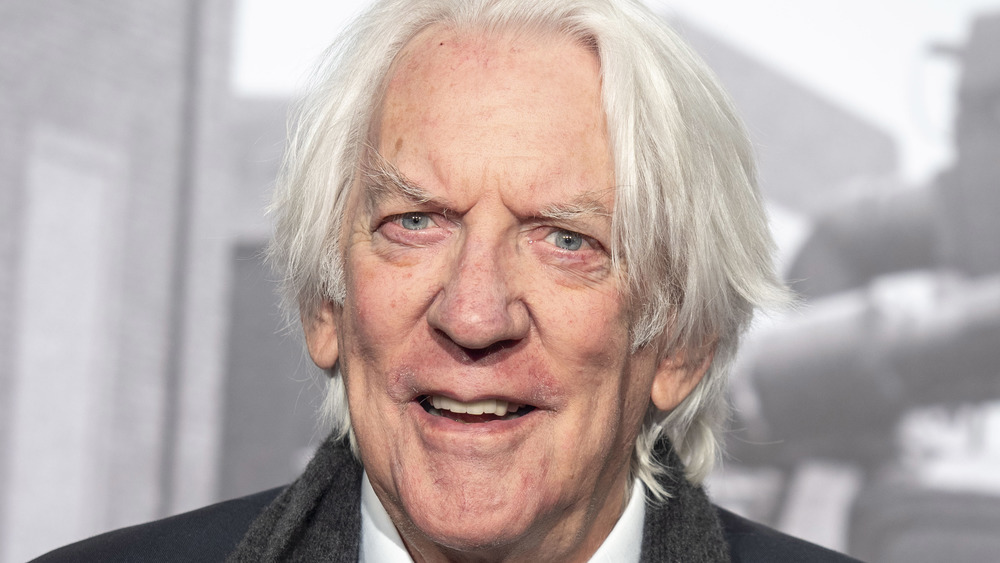 Arnold Jerocki/Getty Images
Screen legend Donald Sutherland, 85, has one of those faces that instantly adds warmth and gravitas in equal parts to a film or television show. After some bit roles in television, Sutherland's Hollywood career took off with a lead part in 1965's feature Dr. Terror's House of Horrors, which co-starred fellow icon of the silver screen, Christopher Lee. The actor has been steadily working since, from his 1970 role in the dark war comedy film M*A*S*H to appearances in contemporary blockbusters like The Hunger Games.
In 2021, Sutherland received his eighth Golden Globe nomination, this one for his supporting role in the HBO series The Undoing. Previously, he had won Globes for supporting roles in two miniseries, 1995's Soviet crime thriller Citizen X and 2002's Vietnam War drama TV movie, Path to War. This is in addition to his 2018 Honorary Oscar, of course.
For all his acting accomplishments, one of Sutherland's greatest legacies remains his son, Kiefer — an acting giant in his own right. How do father and son get along with their equally busy Tinseltown careers?
Donald and Kiefer Sutherland are extremely proud of each other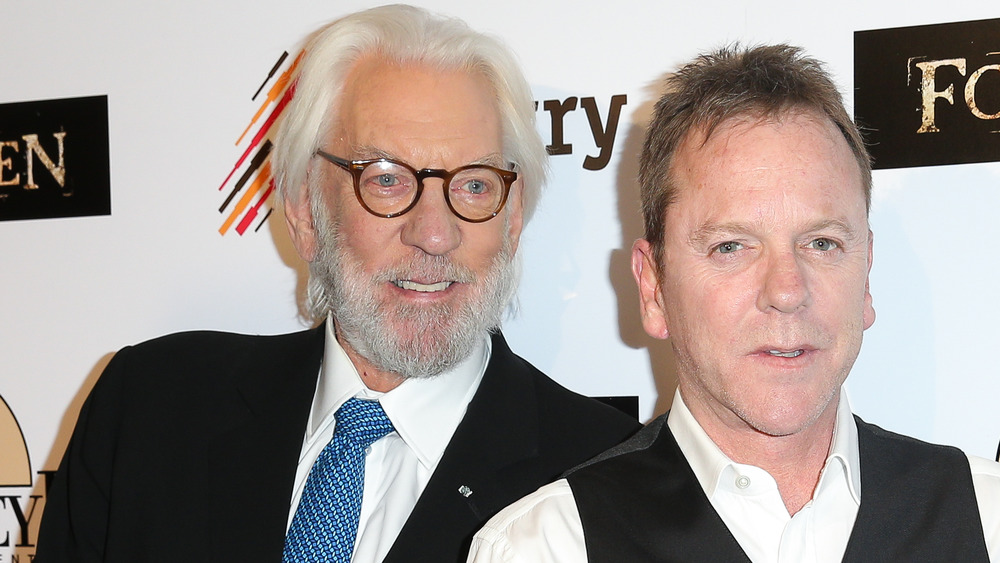 Imeh Akpanudosen/Getty Images
In a 2017 Hollywood Reporter profile on the whole Sutherland clan — Donald and his sons, Kiefer, Rossif, and Roeg — Kiefer admitted, "Both of my parents were quite disappointed that this was what I wanted to do." The star who became a household name after his NBC thriller 24 found himself in love with show business nonetheless. "Growing up, I didn't have much contact with my father," Kiefer told The Big Issue in 2019, saying it wasn't until he could see Donald's more adult work like the 1973 mystery Don't Look Now! that he realized "what an important actor he was." 
After calling Donald and apologizing for not realizing how famous and well-respected he was, Kiefer received an affectionate reprimand from his fellow actor of a dad. "He was so sweet," Kiefer shared. "He said, 'Oh my God, that's okay, it's not your fault, how would you know?'"
Kiefer also opened up to the Los Angeles Times in 2016 about feeling vulnerable when he and Donald played an onscreen father-and-son duo in 2015's Forsaken. "I was not expecting how powerful it was going to be when I looked into my father's eyes," he said. The actor shared that having his real-life father act opposite him was an emotional "trigger."
In fact, when Kiefer received his Hollywood Walk of Fame star in 2008, Donald delivered a moving speech declaring his pride. Isn't it nice to hear about a Hollywood family that's free of hijinks and drama?