How Regina King's Dog Stole The Golden Globes Pre-Show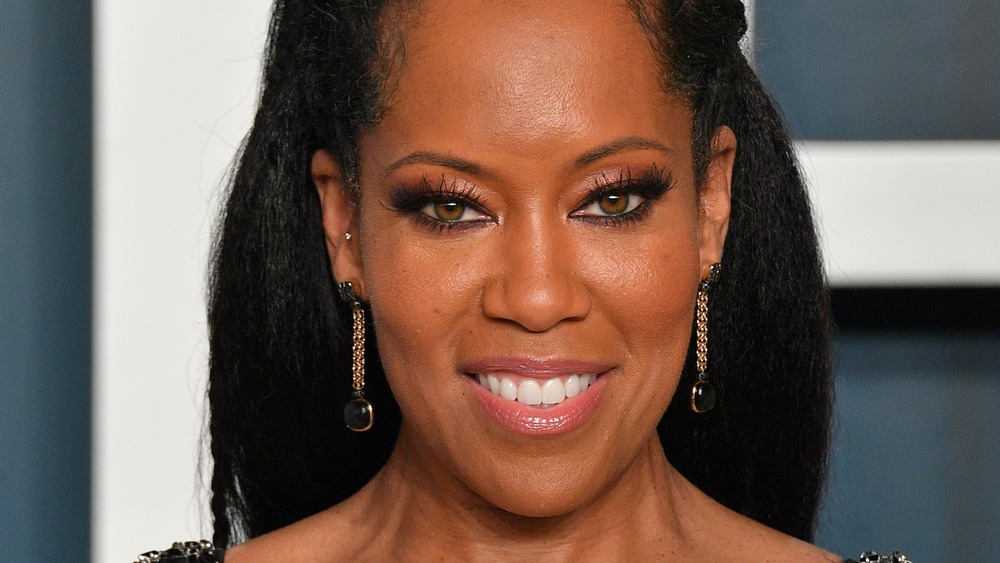 George Pimentel/Getty Images
When the 2021 Golden Globes kicked off on the red carpet, viewers at home watched yet another far from the traditional red carpet experience, with celebs arriving at the Golden Globes pre-show via zoom. NBC's pre-show red carpet was hosted by former Glee star Jane Lynch and This Is Us star Susan Kelechi Watson and included appearances by A-list celebs awaiting their Golden Globe fate.
Celebs in attendance (via Zoom, of course) at the show included Kate Hudson from Music, Jared Leto from The Little Things, Lily Collins from Emily In Paris, Eugene Levy from Schitt's Creek, Hugh Grant from The Undoing, and many more. And although an "at-home" award show season may saving the best of Hollywood from unfortunate falls or blunders on stage, it didn't shield them from the interruptions of technical problems, children at home, and for Regina King, her 14-year-old dog. Keep on reading to find out how the pup adorably stole the show. 
Twitter fell in love with Regina King's dog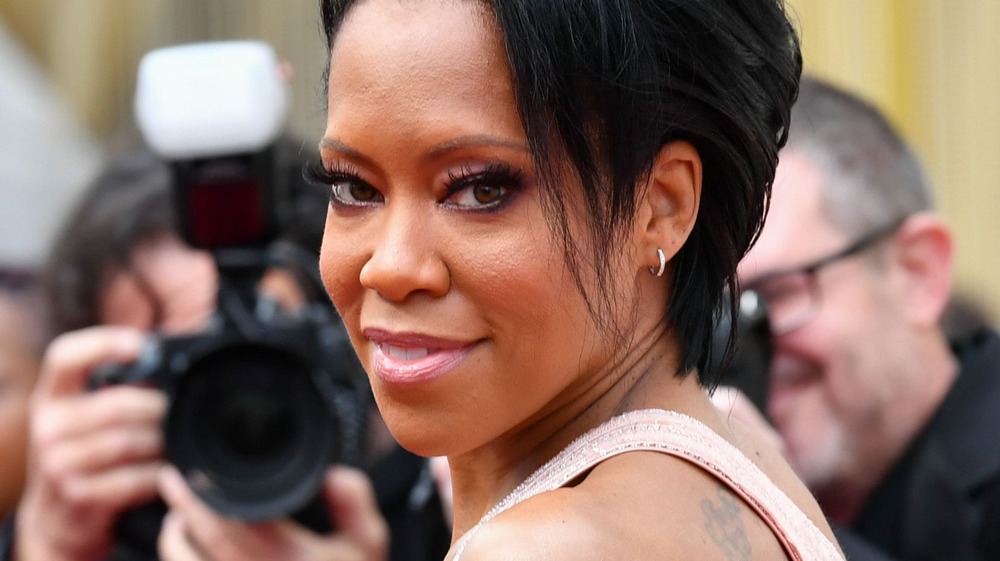 Amy Sussman/Getty Images
Of all the fashion and inspiring stories shared at the 2021 Golden Globe pre-show virtual red-carpet, it was Regina King's dog that stole the show. But first, let's set the scene. King, who attended the Golden Globes in honor of scoring the Best Director" nomination for her movie, One Night In Miami, stunned in a black and gold off-the-shoulder gown. Speaking to This Is Us actor Susan Kelechi Watson, King gave her pre-show interview seemingly from her hotel room.
Behind King, a sweet dog walked into the actor's zoom camera and took a plop for a nap in his dog bed. The moment had all of Twitter talking. "I am here for Regina King's dog chilling on his doggy bed in the background while she talks to Susan Kelechi Watson — in a stunning dress — in NBC's #GoldenGlobes 2021 preshow," wrote one Twitter user. "Praying we get to see more unexpected pets – like Jared Leto's cockatoo or something..." Another revealed the famous pup's name, writing "I [am] sad to inform you that Cornbread, Regina King's scene-stealing dog, does not have an Instagram. But by the end of tonight he'll have an agent. #GoldenGlobes." Someone else joked, "If you think Regina King did not frame the shot with the dog bed, you are underestimating her as a director."
Not only does Cornbread deserve an agent, but we'd argue the pup deserves a Golden Globe, too. Make it happen, people!