How Demi Lovato Is Celebrating Her Changing Body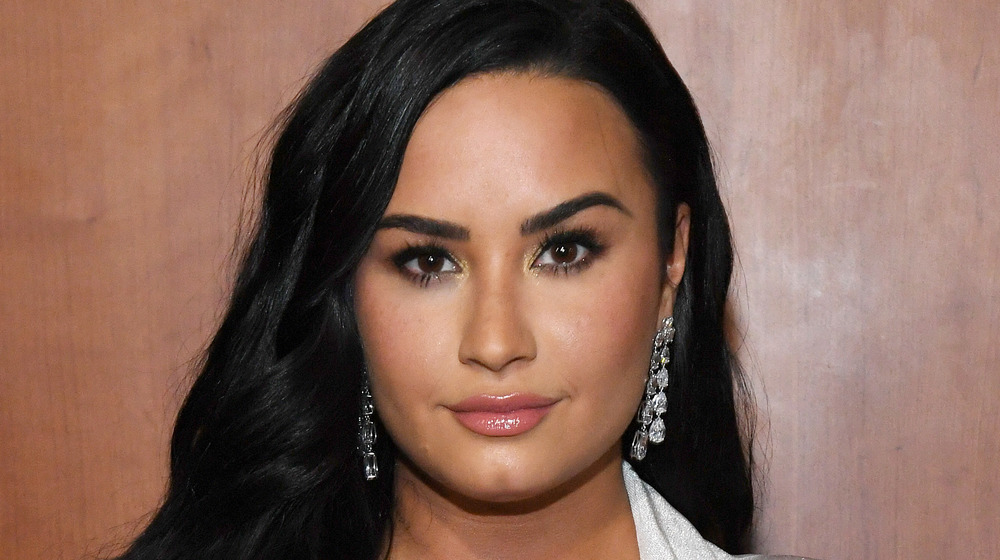 Kevin Mazur/Getty Images
Demi Lovato has grown up in the spotlight. She started her career on Barney & Friends at age 10 and shot to fame as a Disney Channel star playing the lead of the made-for-TV musical Camp Rock alongside the Jonas Brothers. The "Skyscraper" singer has struggled with addiction and mental health in the public eye, sharing her journey openly with fans.
The actor revealed she also struggles with an eating disorder in her 2017 YouTube documentary, Simply Complicated. "Food is still the biggest challenge in my life," she admitted in the doc (via Glamour). "I don't want to give it the power to say it controls my every thought, but it's something I'm constantly thinking about."
Four years later, following a near-death overdose and a newfound lease on life, Lovato took to Instagram to share with fans how she's feeling now. In March 2021, she shared a video (screenshotted below) showing off her recent weight loss by showcasing how much bigger a pair of old pants looked on her. She also shared a message of self-love.
"Accidentally lost weight," Lovato wrote along with the post. "I don't count calories anymore. I don't over exercise anymore. I don't restrict or purge. And I especially I don't live my life accordingly to the diet culture.. And I've lost weight. This is a different experience but I feel full. Not of food. But of divine wisdom and cosmic guidance. Peace. Serenity. Joy. And love." Lovato also included the caption, "I'm full of peace, serenity, joy, and love today."
Demi Lovato has been extremely open about her mental health journey with fans
Demi Lovato's fans, dubbed "Lovatics," have been following along with the star's mental health journey since she was 18 and checked into rehab to deal with her eating and self-harm issues, according to E! News.
In 2017, she posted a side-by-side photo of herself on her Instagram story alongside a photo of herself from a few years prior to highlight the progress she'd made working on her eating disorder, writing, "Recovery is possible," per Glamour. The "Now" image shows a much healthier looking Lovato compared to the skin-and-bones "Then" image she also shared.
The "Sober" singer plans to release a new docuseries on YouTube in March 2021 titled Demi Lovato: Dancing with the Devil, which highlights her journey to recovery after a near-fatal 2018 heroin overdose. In the trailer, it appears that Lovato's family and friends recount the incident in detail, her stepfather sharing that, "Demi's good at making you believe she's okay," and her mother recalls, "We were watching all of the blood coming out of her body into a machine." Lovato herself even revealing, "My doctors said that I had five to 10 more minutes."
The docuseries — which also features interviews with Elton John and Christina Aguilera — appears to, in true Demi Lovato fashion, leave no stone unturned in her sobriety journey.

If you or someone you know is struggling with substance abuse and mental health, please contact SAMHSA's 24-hour National Helpline at 1-800-662-HELP (4357).
If you or someone you know is struggling with an eating disorder, please contact the National Eating Disorder Association's Helpline at 1-800-931-2237 or chat with one of their helpline volunteers on NEDA's website.