How Much Were Meghan And Harry Paid For Their Oprah Interview?
Handout/Getty Images
Meghan Markle and Prince Harry are set to sit down with Oprah Winfrey for a "bombshell" interview that will air on Sunday, March 7, 2021, at 8 p.m. Eastern on CBS (via The Sun). There has been a bit of speculation about how much money Meghan and Harry were paid to do this highly anticipated interview, which Oprah's longtime friend Gayle King, co-host of CBS This Morning, called "her best interview yet" (via People). According to the Wall Street Journal, CBS reportedly dished out between $7 and $9 million for the rights to air the interview, and the money went to Oprah's production company, Harpo. The report indicated that CBS was charging a whopping $325,000 for "every 30 seconds of commercial time."
And, while Harpo is most certainly making a windfall from the deal, people still find themselves wondering just how much money Meghan and Harry will take home when this is all said and done. To find out that answer, keep reading.
Meghan Markle and Prince Harry reportedly earned nothing from their interview with Oprah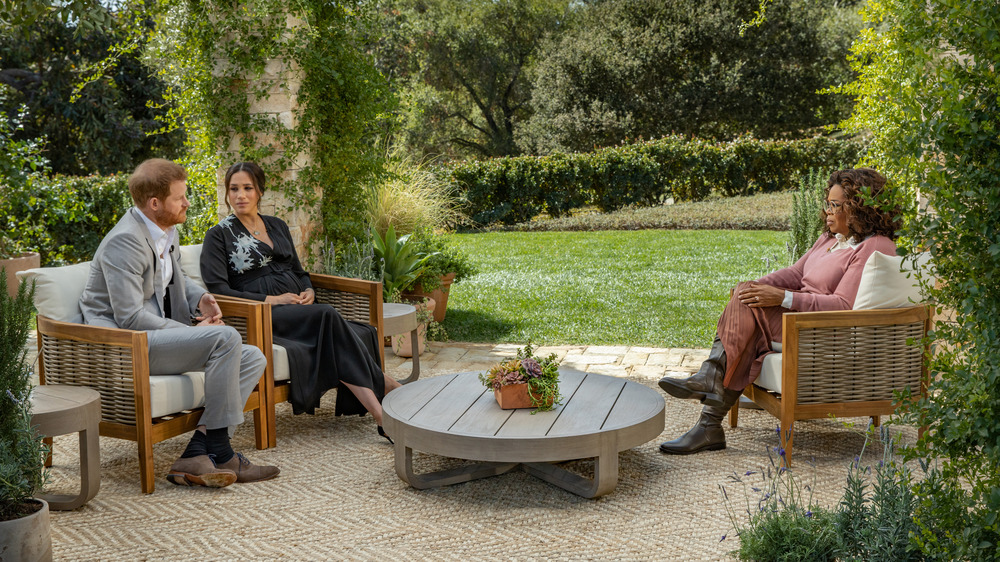 Handout/Getty Images
Meghan Markle and Prince Harry won't be adding to their net worth by running to the bank with a check from Harpo Productions, according to Page Six. While Oprah is cashing in from her sit-down interview with two people she considers friends, a spokesperson from the Oprah Winfrey Network (OWN) told the outlet that Meghan and Harry "won't be collecting a paycheck" and further shared that "no donations are being made to their charity" on the couple's behalf.
In a recent teaser for the interview posted by CBS, Oprah revealed that she reached out to Meghan back in 2018, and wanted to interview her before her wedding. Meghan told Oprah that, at that time, she "wasn't even allowed to have that conversation" without other people involved. She went on to say she and Harry now have the "ability to make [their] own choices" and that it's "really liberating" to be able to "say yes" this time around.
Meghan Markle and Prince Harry's interview fetched a sizable sum in the UK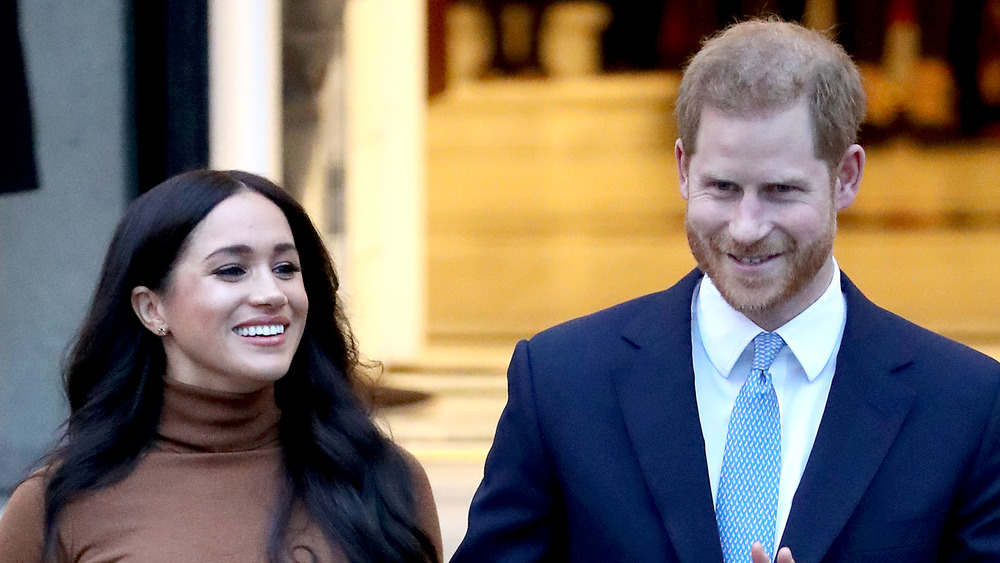 Chris Jackson/Getty Images
Meghan Markle and Prince Harry's interview is proving to be wildly anticipated across the pond, as well. In fact, people all over the world seem highly interested in hearing what Meghan and Harry have to say now that they are not under the proverbial thumb of the monarchy. Several media giants were in the mix to land the U.K. rights to the interview, with the highest bid coming from ITV, according to Deadline. The exclusive U.K. television rights were purchased for approximately $1.4 million. "This interview is already a national talking point and ITV is pleased to be able to offer UK audiences the opportunity to see it," ITV managing director of media and entertainment Kevin Lygo said (via Deadline).
The interview itself comes at an interesting time. For starters, Harry's grandfather, Prince Philip, is in the hospital recovering from surgery, according to People. In addition, Buckingham Palace has begin investigating claims that Meghan bullied staffers, according to CNN. And, lastly, Meghan and Harry recently announced that they are expecting their second child together (via People).
For those hoping to catch the interview, there are a few ways you can watch. In the U.S., the CBS network will carry the special beginning at 8 p.m. ET on Sunday, March 7. It will be available via streaming on "paid subscription services that offer live TV" and it will be available on Paramount+, according to Indiewire. In the U.K., viewers can tune into ITV on Monday, March 8, at 21:00 GMT, according to BBC.