Here's How Much Devin Booker Is Really Worth
Mike Coppola/Getty Images
Devin Booker has built a reputable name for himself in the five seasons he's played in the NBA. The Phoenix Suns shooting guard's inclusion into the 2021 All-Star game came after LA Lakers forward Anthony Davis suffered an injury and needed a replacement, via NBA. The day before he was announced as Davis' replacement, LeBron James and others took to Twitter to express disappointment with Booker not being included in the game's original lineup. 
"Devin Booker is the most disrespected player in our league," James proclaimed. Portland Trailblazers' CJ McCollum expressed the same sentiment. "Damn @DevinBook really didn't make it? That's crazy," he tweeted. "Even we know that Devin Booker is an All-Star," the Arizona Cardinals NFL team added. 
The onslaught of public support for Booker showed the favorable impression he has made on basketball fans. As the son of former NBA player Melvin Booker, Devin Booker endured early sacrifices to perfect his skill in the sport. He moved away from his suburban life with his mom to attend high school in an "urban environment" in Mississippi with his father. "This was a social setting he needed to be around to know how blessed he had it because he was around a lot of kids with the typical urban story with no father in their lives," his father told The Undefeated. "Those were the things he needed to see and didn't see before." The experience helped to give him some perspective ahead of his bright future.
Devin Booker's historic deal with the Suns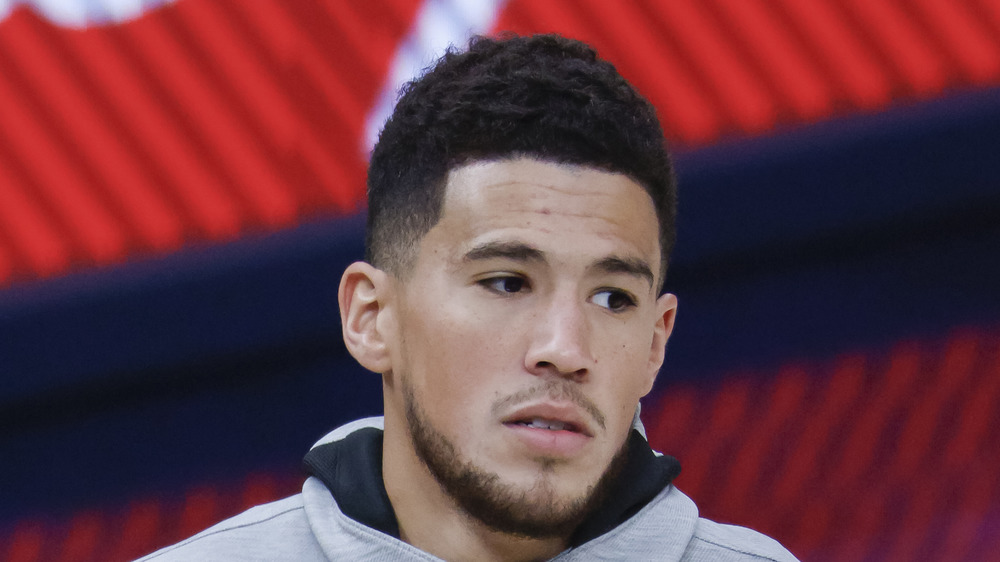 Michael Hickey/Getty Images
After more than five years in the NBA, Devin Booker had a net worth listed at $26.6 million, per Forbes. His earnings include signing the richest deal in Phoenix Suns franchise history worth $158 million over five years, as well as a $36 million salary for the 2023-24 NBA season. He was named one of the world's 100 highest-paid athletes in 2020. He also landed an extended deal with Nike following his status as a sneaker free agent in 2019. Three years into his NBA career, Booker made history as the youngest player to ever score 60 points in a game, according to ESPN. His other career highlights include breaking the Phoenix Suns record for points in a game as well as joining the ranks of Kobe Bryant and Wilt Chamberlain by becoming one of only six NBA players in history to score over 70 points in one game.
Though he's not swimming in quite as many millions as some of his NBA counterparts, Booker isn't far from the money considering his high-profile romance with Keeping Up With The Kardashians star Kendall Jenner. After a year of fueling dating rumors, Booker and Jenner seemingly confirmed their romance on Valentine's Day 2021 with an Instagram story (via Cosmopolitan) the supermodel posted with the Phoenix Suns player. Sources for the fashion model shared how "happy" she is with the All-Star player. As two young multi-millionaires, what isn't there to be happy about?