The Truth About Guy Fieri's Son Hunter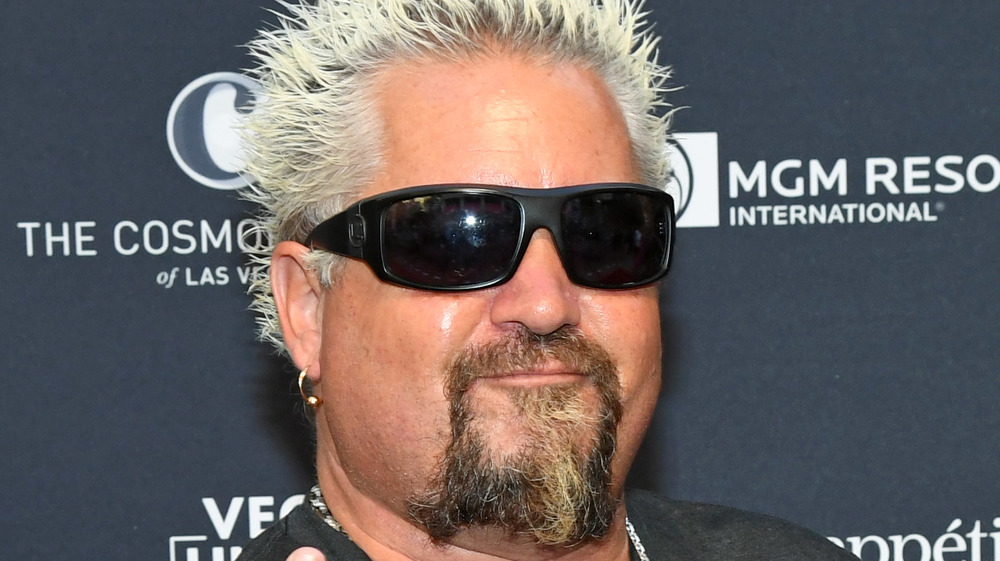 Ethan Miller/Getty Images
Food Network star Guy Fieri proved to be a quiet hero of the restaurant industry in 2020. The beloved Diners, Drive-Ins, and Dives host directed and produced the documentary Restaurant Hustle 2020: All On the Line about the food industry during COVID-19, per Delish. Guy also made headlines for raising over $21.5 million for restaurant workers throughout the pandemic. 
"This isn't just about people not having the convenience to eat food — this is the lifeline to single parents, to students, to dual-family incomes. Many people who work in the restaurant industry have two jobs," Fieri stated to Travel + Leisure. "Finally I get this epiphany: I'm going to go to all of the people who make the money off of the industry — the suppliers — and tell them that now's the time to stand up and give back." Thanks to Guy, companies like Pepsi, UberEats, and more corporations donated to the fund that provided relief to roughly 43,000 workers. 
According to E!, "Fifty percent of grants went to racial minorities and 80 percent of grant recipients reported earning less than $50,000 per year in household income before being impacted by the COVID-19 pandemic." Guy also supported past Triple D hotspots by filming via Zoom how to prepare "takeout" dishes from fan-favorite diners at-home. 
Now, it seems Guy's passion for charitable cooking has rubbed off on son Hunter Fieri. Keep scrolling to find out about Hunter's career in the culinary industry!

Hunter Fieri is a mini-me of dad Guy Fieri, minus the frosted tips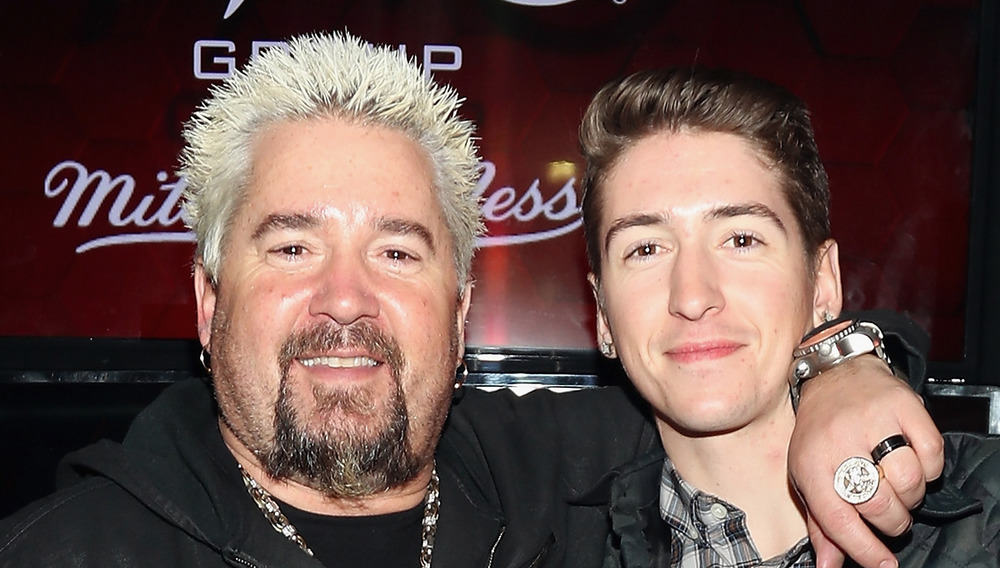 Cassidy Sparrow/Getty Images
Iconic chef Guy Fieri has two sons with his wife of 25 years, Lori Fieri. Eldest son Hunter Fieri has followed in his larger-than-life father's footsteps. Hunter has been in the spotlight since age 13, when Guy brought him along to cook for the Obamas at the White House. 
Following Hunter's high school graduation, Guy treated him to an international European Vacation that was filmed for the Food Network. The father-son duo explored the best food famed cities like Paris and Athens had to offer, all while deepening their bond before Hunter went off to college at the University of Nevada-Las Vegas, which Guy also attended. "We're best friends, we do everything together at this point," Hunter told The New York Post.
Hunter graduated in December 2019 with a hospitality degree, and even spent a semester being mentored by Hell's Kitchen maestro Gordon Ramsey. Hunter then put his culinary knowledge to good use by hosting events at the South Beach Wine & Food Festival and appearing on Guy's Grocery Games. Still, he says his biggest inspiration is his frosted tip father. "I want to follow in the same path because I feel like I can kill it," Hunter told Delish. "I want to open my own restaurants — to have things that I created and things my dad created and run this empire... I have to one-up dad, of course." Seems like he might on his way to ruling the real-life Flavortown!