Lindsey Graham's Latest Statement About Donald Trump Is Turning Heads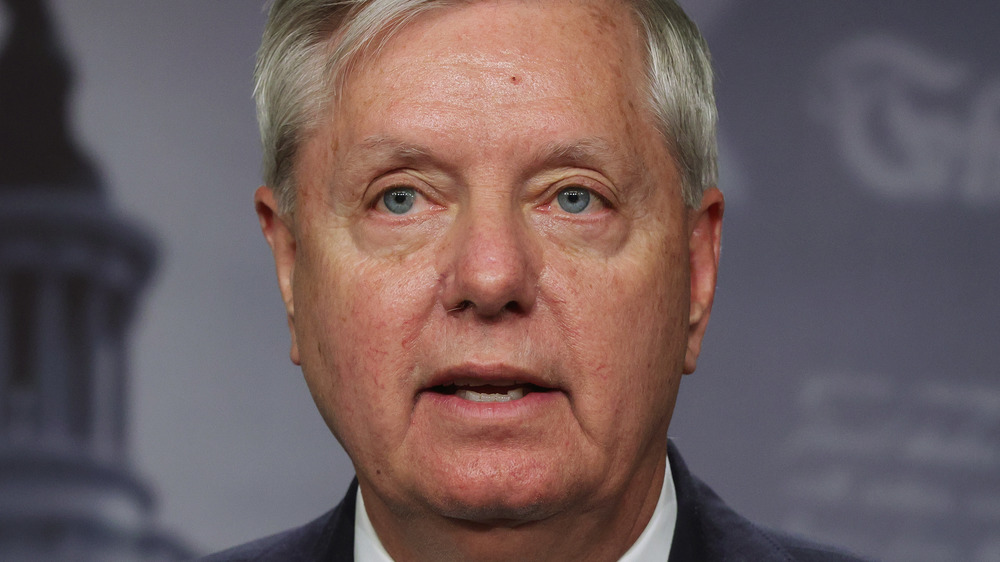 Alex Wong/Getty Images
Lindsey Graham defended his ongoing loyalty to Donald Trump in an interview with Axios on HBO, describing the former president's influence as "magic" and admitting that Trump has a "dark side."
"He could make the Republican Party something that nobody else I know could make it," the senator told Jonathan Swan. "He could make it bigger. He could make it stronger. He could make it more diverse. And he also could destroy it."
Speaking about the former president's charisma, Graham described Trump as a "bigger-than-life deal," and called his public persona "sort of a cross between Jesse Helms, Ronald Reagan, and P.T. Barnum." As The Guardian noted, Helms was a conservative senator who died in 2008 and was known for his pro-segregation politics, while P.T. Barnum was a circus showman and businessman who often courted controversy in the 19th century. He also claimed that, compared to Mitt Romney and John McCain, it was clear that Trump had "some magic there" since he had won his election, even if he had a "dark side," as well. 
"What I'm trying to do is just harness the magic," Graham told Swan. "I want us to continue the policies that I think will make America strong," the senator revealed. "I believe the best way for the Republican Party to do that is with Trump, not without Trump."
Lindsey Graham previously criticized Donald Trump after the Capitol riots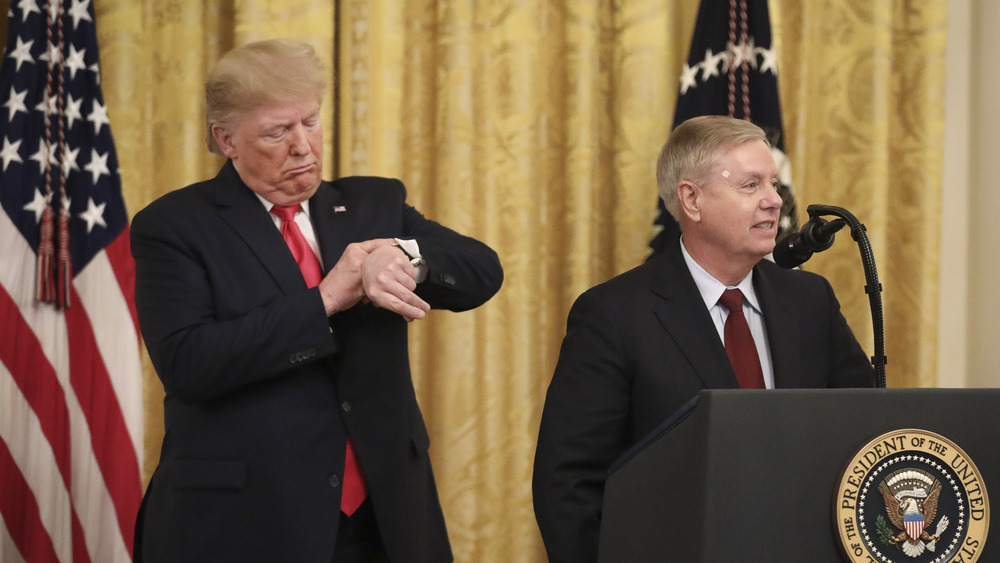 Drew Angerer/Getty Images
Lindsey Graham's praise of the former president seems to contradict comments that he made in January 2021. After the deadly Capitol building riots, Graham joined many of his fellow senators in blaming Donald Trump's aggressive rhetoric and claims of election fraud. "Enough is enough," he declared at the time, per The Hill. The Republican did, however, vote to acquit the former president during his impeachment trial a month later, along with the majority of his party.
In his March 2021 interview with Axios, however, Graham stressed that the GOP had to move on from the attacks. "Donald Trump was my friend before the riot. I'm trying to keep a relationship with him after the riot," he said. "I still consider him a friend. What happened was a dark day in American history. And we're going to move forward." 
Graham has changed his tune about Trump before. In the run up to the 2016 elections, he told CNN that the reality star and businessman was "a race-baiting, xenophobic, religious bigot." The senator claimed at the time that Trump didn't "represent my party," although he became an outspoken supporter after Trump won against Hillary Clinton.