Carrie Fisher May Have Relapsed Before Her Death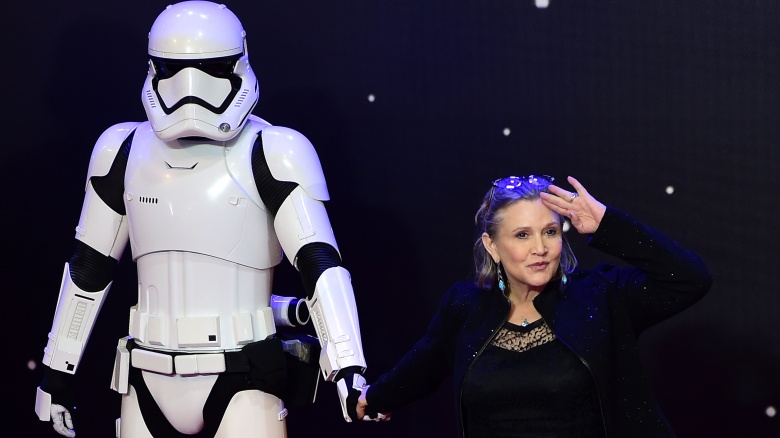 Getty Images
Carrie Fisher's tragic death on Dec. 27, 2016, may have been preceded by a relapse. The actress, who passed away at 60 years old, was open about her history of drug and alcohol abuse throughout her life, admitting as recently as 2014 that she still feels tempted to do LSD.
A source told Radar Online, "Carrie had relapsed around Thanksgiving. Some of her friends I talked to doubted she was ever totally clean and sober because she got doctor's prescriptions to treat her bipolar disorder, depression and anxiety." The source added, "I saw her myself high as a kite once, not that long ago. Ironically, she said to me, 'You're too old to get high anymore, dear.' I replied, 'You, too, dear.'" The source didn't specify which substances Fisher allegedly may have used.
Sources told TMZ that Fisher never regained consciousness after suffering cardiac arrest on a flight from London to Los Angeles on Dec. 23, 2016. Passengers reported she seemed "lifeless" and did not regain a pulse for 10 minutes. Sources close to the family told TMZ Fisher suffered cardiac arrest once more in the hospital on Dec. 27, 2016. The family had reportedly discussed removing her from life support, but her heart suddenly stopped beating on its own.
TMZ also reported that Fisher's beloved French bulldog, Gary, who often accompanied her on red carpets, will remain in the care of her daughter, Scream Queens starlet Billie Lourd.
As heartbreaking as Fisher's death is, there are some silver linings in this very dark cloud. According to Variety, the actress had wrapped up her work on Star Wars: Episode VIII (2017), so her iconic role as Princess Leia will live on. Fisher also had a role in Amazon's Catastrophe series, as well as a recurring role as Angela on Family Guy, in which she is reportedly set to appear in two future episodes. A documentary called Bright Lights: Starring Carrie Fisher and Debbie Reynolds (2017) will air on HBO in March 2017.