Harry Styles' Grammys Outfit Is Turning Some Heads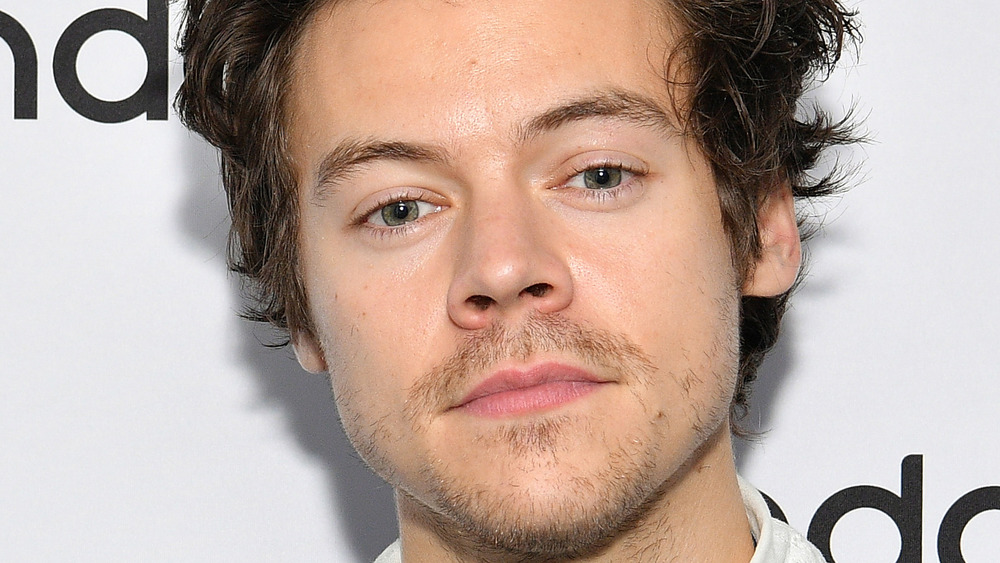 Dia Dipasupil/Getty Images
Harry Styles has successfully transformed from teenage pop idol to Grammy Awards opening solo act. Styles kicked off the 2021 Grammys with a performance of his No. 1 hit song and summer bop "Watermelon Sugar" as he awaited for the results of his three nominations, and his fans were stoked.
Styles' music, however, is not the only thing getting him recognized recently. While he has been seen as a handsome heartthrob to millions across the world since his X Factor days, his style, rather than his natural good looks, has been getting a great amount of attention. For instance, he stunned fans when he appeared on the cover of Beauty Papers in March 2020 wearing nothing but fishnet stockings and shoes. Per Yahoo!, Beauty Papers "sets out to examine and explore the ideas that shape how we understand beauty today," which fits Styles' evolving style perfectly.
The "Golden" singer has made it clear he no longer follows society's set fashion rules and guidelines when dressing himself. "Many borders are falling — in fashion, but also in music, films, and art," he told L'Officiel in a 2019 interview. "I don't think people are still looking for this gender differentiation. Even if the masculine and feminine exist, their limits are the subject of a game." Styles has also grown to enjoy wearing earrings and pearl necklaces. 
Now, Styles' 2021 Grammys outfit has people commenting on his fashion choices once again. Keep reading to learn why his outfit is turning some heads.
Harry's style garnered mixed reviews at the 2021 Grammys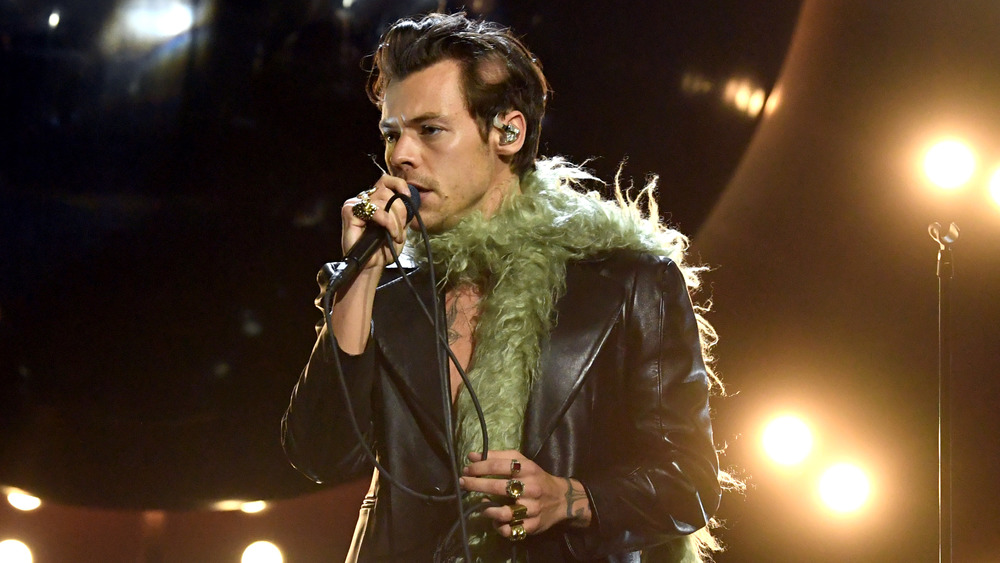 Kevin Winter/Getty Images
Harry Styles opened the 2021 Grammys confidently wearing a matching leather set and a green feather boa. According to Cindy Conroy, fashion expert and TV personality, this outfit choice was as smooth as his vocals.
"Fashion prince Harry Styles brought it this Grammy season," she told Nicki Swift. "As the spotlight shone during his performance, you were instantly transported into a whimsical world. Under his buttery mint green feather boa, he mirrored the very hot iteration of luxe leather, with flared trousers (hello 70s) and combo jacket." She concluded, "Opulent leather dotted the SS21 runways and he brought it center stage in a way that only Styles can."
While Styles was applauded by the fashion expert, not everyone was so impressed with his look. One Twitter user compared his boa to The Grinch. "You want to talk about canceling Dr. Seuss, the poor Grinch was skinned to give Harry Styles that scarf," they said. Another viewer was concerned, as well, simply writing "what is harry wearing omg." However, many fans agreed with Conroy, saying his outfit was "gorgeous" and "superior." Another wrote that they were "screaming over" his look. 
Even though his outfit was not loved by all, it's safe to say many would agree that Harry Styles is quite the "Sweet Creature."