What We Know About Silk Sonic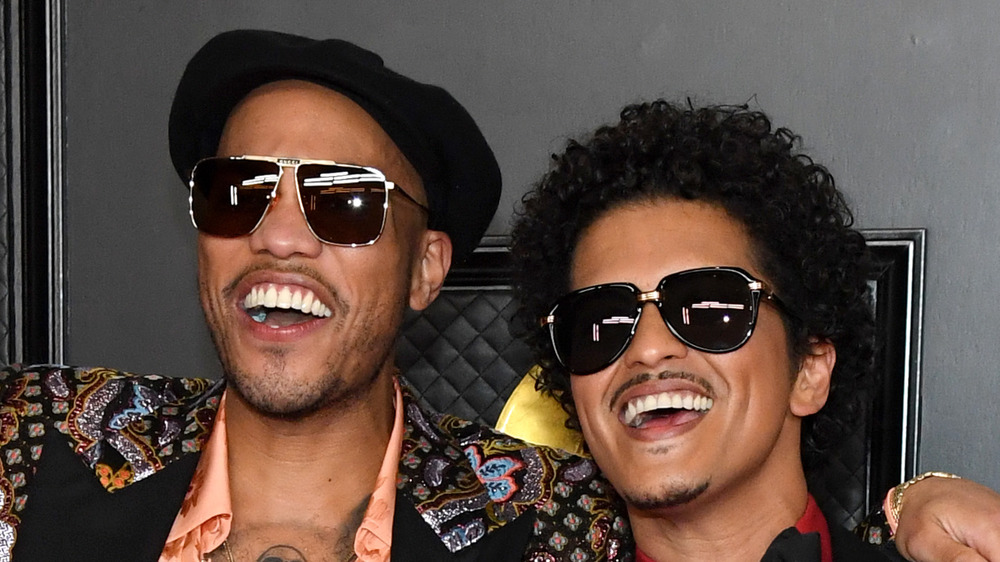 Kevin Mazur/Getty Images
If you were watching the 63rd Annual Grammy Awards, you may have noticed a new band called Silk Sonic was set to perform on the Grammy stage, only to find out that new band is not quite that new at all.
Silk Sonic is the ultra funky, R&B duo formed by none other than Grammy award-winning artists Bruno Mars and Anderson .Paak. The two mega artists announced in February 2021 they had joined forces and preparing to release an album under their new band Silk Sonic. Fans got a taste of what is to come with their debut single "Leave the Door Open," which the duo performed on the Grammy stage. With a nostalgic 1970s, Soul Train look, both Mars and .Paak proved their upcoming album, titled An Evening With Silk Sonic will be worth the wait.
"We locked in and made an album," Mars, who previously won Album of the Year for 24k Magic in 2017 wrote in an Instagram announcement. "The band's called Silk Sonic."
So how exactly did this dream casting get paired? Purely by chance. In an interview with Zane Lowe on Apple Music, Bruno Mars and Anderson .Paak detailed how they first met and how a few jamming sessions somehow turned into a new band and album for the newfound duo.
Bruno Mars and Anderson .Paak met on tour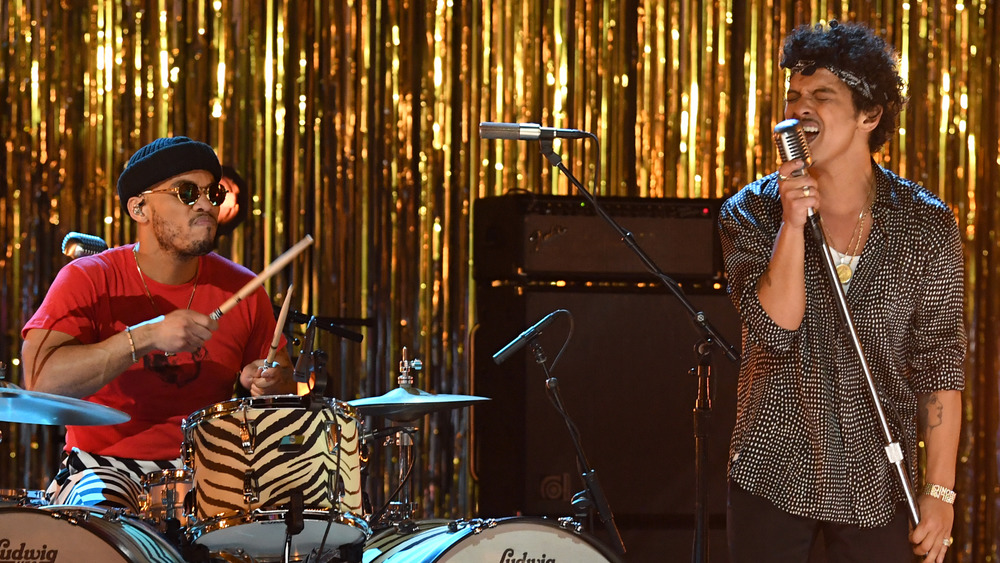 Kevin Winter/Getty Images
According to Men's Health, Anderson .Paak first met Bruno Mars while on tour with the "Locked Out of Heaven" artist in 2017. Having a whole genre of music in common, the artists became close friends and started creating new sounds in the studio.
"It was like, 'Well, want to come back tomorrow?'" Mars told Zane Lowe (via Men's Health). "And we kept coming up with music. It felt like why you fall in love with music in the first place. And jamming with your buddy... There's no plan, just working out the parts and trying to excite each other... that's why this wouldn't happen if it didn't make sense and it didn't feel natural and organic. This was a series of events that led us to 'Man, why don't we just do it?'"
.Paak chimed in on the interview, adding, "When you get in and you can jam with someone and other artists that could hold it down and you're bouncing, that's different. That's the difference and you're really creating a groove from scratch. You guys are trying to figure out what's going to work."
Based on Silk Sonic's first Grammy performance, it seems like both Mars and .Paak figured out what worked. The group even returned to the 2021 Grammy stage a second time, honoring the late Little Richard with a rock performance.