The Chilling True Story Behind Circle Of Deception - Exclusive Interview
Matt Winkelmeyer/Getty Images
You know Ashley Williams as an actor — from her role on The Jim Gaffigan Show, to her scene-stealing gig as Victoria in How I Met Your Mother, to her countless holiday films — but get ready to be acquainted with her work as a director! The New York-born performer talked to Nicki Swift about making her feature length directorial debut with Lifetime's Circle of Deception, speaking with an infectious energy about her "little director uniform" and her "dog-eared and highlighted and underlined" copies of Practice to Deceive, the true crime novel which the film is based on.
The film follows Diane Neal's performance as former beauty queen Peggy Sue Thomas, who exploits love, friendship, and her womanhood to remain on top after orchestrating the murder of friend's husband, Russel Douglas, with her lover Jim Huden. Though the film explores the darker nuances of women's friendships, the actual production was powerful in a different way, giving a female director, screenwriter, and lead their chances to shine together.
In addition to discussing to Lifetime's pioneering female filmmaking initiative, bringing Thomas' case to life, and her "little grad school program" she made for herself, Williams also gave us the lowdown on how she really felt about HIMYM's ending and decking the halls when it's not Christmas season in our full interview.
Ashley Williams made her directorial debut with Circle of Deception
Courtesy of Lifetime
Congratulations on your feature-length directorial debut! How has it been promoting a film during the pandemic?
There's always the little bit of a panic when [my phone camera] orientation is a little off, or like I started to do my last interview with my screen all the way to the side and we had to fix it.  It keeps it new and fresh. I've done a lot of press in my life, and I did have to promote another movie this fall. And so, that was my first sort of junket in my living room. It's fine. It's weird. We're all getting by the way that you know how to best.

How did you get started on the other side of the camera?
Well, I've been working as an actress since I was 11 in the industry, and it's meant that I've been on a lot of sets. Now that I'm in my 40s, I reached this point where I realized that I had a lot more set experience than a lot of the other people on the set. And I found that to be kind of empowering. I've always been interested in the technological aspects of directing, but was self-conscious and honestly, a bit disempowered, to be considering myself taking on what is normally a conventionally male profession.
But recently in the past couple of years, many of my associates in the industry have told me that there's just not enough female directors, and it kind of put a little bee in my bonnet. And so, I started really studying the stuff that I felt like I was more of a novice at, and I loved studying it. I started shadowing really amazing directors who became my mentors and have really learned a lot. I directed a short film [Meats] that went to Sundance that I was really proud of. And then Lifetime took a shot at me, and I was so honored.
You've been in Lifetime movies before, so if anyone knows how to make one, it's going to be you.
I mean, not necessarily. What's the Ratatouille quote that's like, "Just because you've been in the kitchen, doesn't mean you can cook." You know? I was self-conscious of that, which I think motivated me to really be overly prepared when it came to actually taking on the job. And that meant that for a solid year, I really cut back on auditioning and threw myself into studying. So I read a ton of books. I took classes, I shadowed, and really had a pretty good understanding of what the job was when I started prep on this movie ... I was saying that I've sort of created my own little grad school program for myself.
Was there anything that surprised you about being on the other side of the filmmaking process?
I really enjoyed not having to go into hair and makeup and I enjoyed not having to wear heels. I mean, I had my little director uniform, which was sneakers, jeans, a button-down shirt, and a fanny pack, and my hair in braids and a baseball cap. It was really fun to feel like first and foremost, I was getting to craft a story objectively. I think sometimes as an actor, I get kind of lost in the character, and it becomes a lot about, "What shoes am I wearing," and "Ooh, that lipstick doesn't feel right," and it's kind of a lot more introspective. But as a director ... I got to compile my vision which was of course very empowering but of course also really, really fun and really cool that the second I would say, "All right, that's a wrap on the day," we'd jump in the car and be home.
I didn't have to wash my face. It wasn't about how I looked. ... I remember I delivered [Circle of Deception to Lifetime] in August [2020], and then I went right into being number one in another movie in September. And I remember thinking when I went in for my first fitting, "I'm not just a brain anymore, I miss just being a brain," and all these people are looking at my body and trying to figure out how to hang clothes on it. And I miss being able to be on that side and it was kind of a weird transition. I mean, listen, I love acting. I'm always going to be an actress as well, but the difference experiences were very ... It was really interesting to go back and forth, and I look forward to doing that more." 
The shocking true story of Peggy Sue Thomas inspired the movie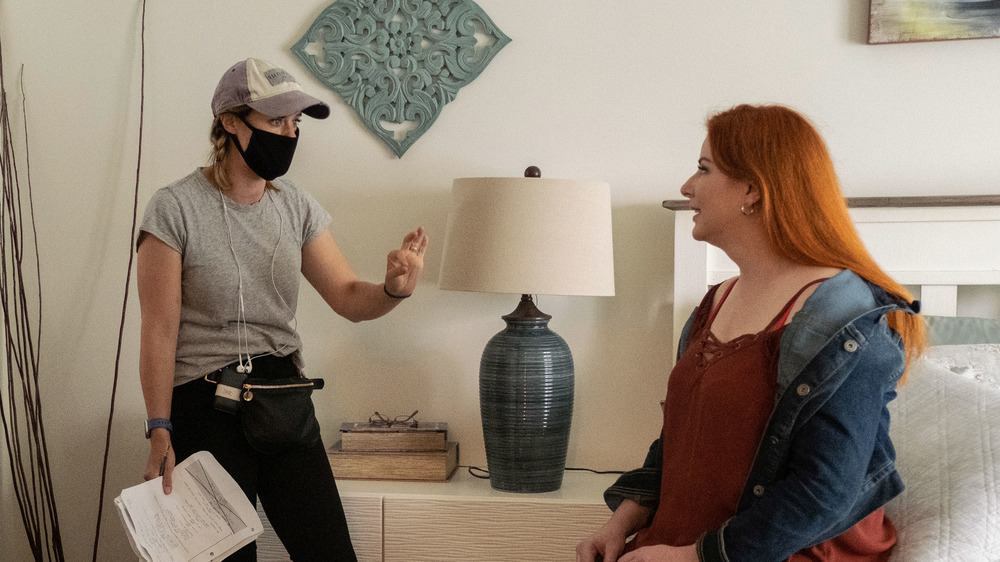 Courtesy of Lifetime
Had you heard about Peggy Sue Thomas' case before taking on the film?
It was new to me. It's [based on] a book written by Ann Rule called Practice to Deceive. As soon as they sent me the script and I read it, I immediately bought the hardcover and the softcover, and had the hardcover next to my bed and the other one in my backpack. And within a month, both books were dog-eared and highlighted and underlined and just covered in coffee and snacks. I really kind of dissected the stories, and there were many. And it really is a circle and very complicated, very layered story. We had to make sure that it was streamlined and easy to follow. So getting to pick and choose which aspects of the story to focus on was something that I think Christina Ray, our writer, did a really incredible job with. It's a very fun story because it's ultimately about women and their relationships and how they influence each other. People say nobody treats women worse than other women, and I think this movie is a little bit of an exploration of that.
Like in real life, the film ends with Peggy Sue Thomas serving four years while her lover Jim Huden was sentenced to 80 years for the murder of Russel Douglas. Do you think things worked out the way she had been planning all along?
I think what's cool about this movie is that we see our antihero, Peggy Sue Thomas, really working to survive as best she possibly can. And that means that in every moment, she's kind of dancing and reaching for the right choice. In every moment, she is negotiating with her instincts and her morals and her relationships and where her love is and what her body's telling her to do. We get to watch her kind of ping-pong from impulse to impulse. And I think she reacts and acts authentically in every moment. And I think her choices are justified and understandable. And also she's a sociopath, which is really fun to watch as well. So I really enjoyed playing around with the idea of a woman just doing the very best she could, considering how damaged and how in pain she was.
The film is part of Lifetime's "Ripped From The Headlines" series. How did you find the perfect tone between dramatic and realistic knowing these characters are based on real people?
Well, I think one of the things that Lifetime does really well is they take these pretty well-known, ripped-from-the-headline stories and then they allow us to have the opportunity to really study the psychology of the characters involved. We can watch the news, and we can get the story and kind of gawk. But getting to sit down for a feature film, which is essentially understanding the motivations behind the characters' actions. For example, in our movie, getting to see one of the characters crying in a bathroom as she sort of melts down. You don't get to see that when you watch the news and you read true crime or you listen to a true crime podcast. I think [that is] something that is really what has for years and years been drawing people to Lifetime and why they can't get enough of these kinds of films.
A group of talented female creators made Circle of Deception possible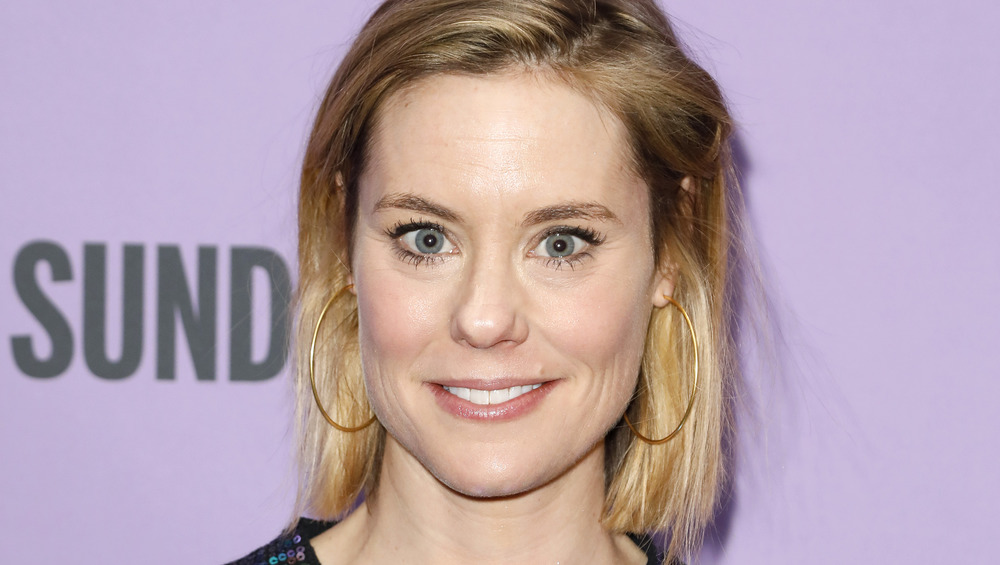 Tibrina Hobson/Getty Images
The film was created by a female lead, director, and screenwriter. What was it like being a part of that kind of team?
Lifetime has this initiative called Broader Focus [which gives opportunities to women filmmakers.] But what I'll say about Lifetime is that, even when I was in high school, they don't do this anymore, but it was [called] Lifetime "Television for Women." They were ahead of the Me Too movement, and they were at the forefront of creating jobs for women from when I was a child and before it was cool. They were all about creating content for women, by women. And everybody's trying to get to 50/50 gender parity when it comes to employment. Lifetime's been there for years, and I really am proud to have been a graduate of their Broader Focus initiative and program. It was an incredible first real directing job for me.
How was it working with Diane Neal [who portrays Peggy Sue]?
[She] is amazing. She showed up on the first day of set, we were all nervous, and she just took over. One of the really important aspects of Peggy Sue Thomas is this absolutely unselfconscious owning of her body, of her voice, of what she wants in every moment. She's very clear about it all and unabashed. And Diane Neal was perfect for that [with] shocking red hair. I think her years of playing a lawyer [on Law & Order: SVU] really allowed her to have ... this authority over every room that she was in. That really opened up the story and made it very fun, and honestly, funnier than I had anticipated, so that was cool.
Doing holiday films changed Ashley Williams' mind about Christmas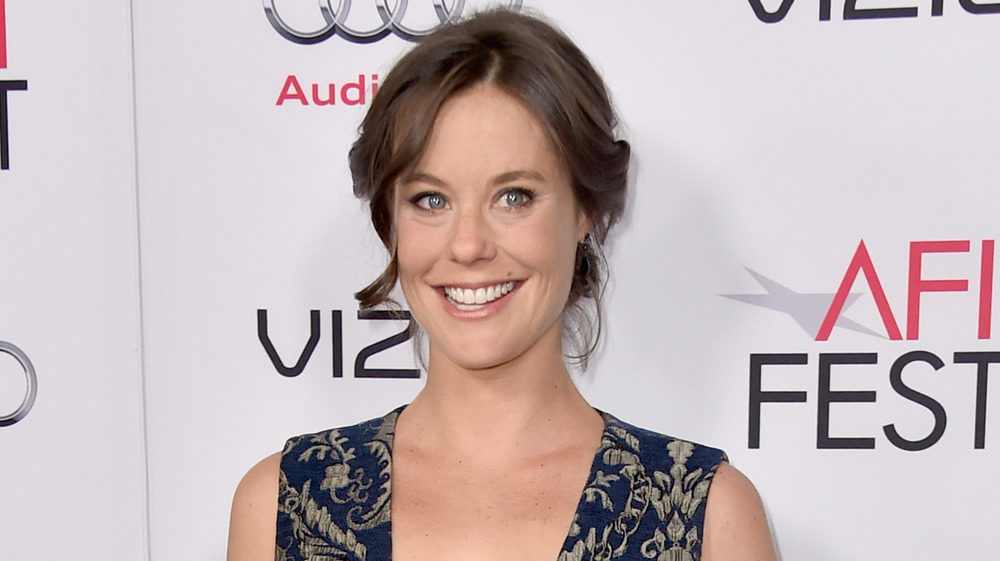 Frazer Harrison/Getty Images
Recently you've been in a lot of Christmas movies like Christmas in the City and Christmas in Evergreen. Are you a big holiday person?
Honestly, no. I bet that's kind of controversial for me to say, but I have grown to love Christmas more through doing these movies. I remember the first Christmas movie I did was [Snow] in 2002 with Tom Cavanaugh and I remember being like, "It's August. There's Santas, and why is there fake snow? What's happening?" It was sort of before the Christmas movie phenomenon had sort of taken over. But now, here's a weird thing. I feel like through doing all these Christmas movies, it's made me really sort of romanticize the holidays even more, because I've been exposed to all of these really beautiful Christmas moments throughout the year. All of the sudden, it's my own Christmas Day and I'm like, "Well, this is a big deal. It's Christmas." [It's] sort of become more of a monumental holiday because of my job, which is really weird.
You're like, 'Okay, I know the good gingerbread house decorations, I know how to trim the tree.'
Yes, absolutely. I have trimmed more trees than I have years I've been alive. I'm an expert.
What do you think people would be most surprised to learn about behind-the-scenes of a holiday movie?
I think you should all know that whenever you see us in a coat, we're sweating because it's very warm. Most of these movies are shot in Canada in the summertime. Tom Cavanaugh would wear these Santa suits [in Snow] and he would wear ice pack vests around his chest to cool his poor body down which is pretty funny.
Ashley Williams thinks her How I Met Your Mother character Victoria was a 'tragic figure'
One of my favorite quarantine re-watches has been How I Met Your Mother. You portrayed Victoria who had quite the story with Ted. Do you think she got the justice she deserved?
I think Victoria is a tragic figure. I'm not sure if you know, but Craig [Thomas] and Carter [Bays], who created the show, had this plan that if the show got canceled early, they would just make Victoria the mother, which was just terrible news for me as an actor, who was always unemployed and always like, "Can I go back to How I Met Your Mother?" I mean, listen, I've worked steadily, but [the show] was one of those jobs that every time they call, I'd be like, "Yes." So, hearing it was always the plan to make me the mother, unless they could make it through all of their seasons, was like a little carrot being dangled all the time. But I think... poor Victoria. I think Victoria is so romantic and the idea that she's off in Germany with Klaus, it's just so sad. I think Ted really missed out.
I agree! And the ending was controversial anyway.
Agreed. I would rather be in this position ... I hear probably every day, "Oh, I wish Ted had chosen Victoria." I would rather that be the case than "I wish Ted hadn't chosen Victoria." I would take this any day.
Do you still keep in touch with any of the cast?
Yeah, Josh, Cristin Milioti, and I did a fundraiser last year before the pandemic raising money for [show creator] Craig [Thomas'] son's heart fundraiser. That was really fun. And we're sort of periodically in touch. My children love Josh Radnor music, so whenever they're jumping around and singing it, we send Josh a video. One of the cool things is that Pam Fryman, who directed [almost all the] episodes of How I Met Your Mother, and I have a project together right now that we're developing. It's really, really fun to work with her, and as a director, she's also one of my heroes. Getting to have her as a mentor has been such a gift.
This isn't the last time you'll see Ashley Williams behind the camera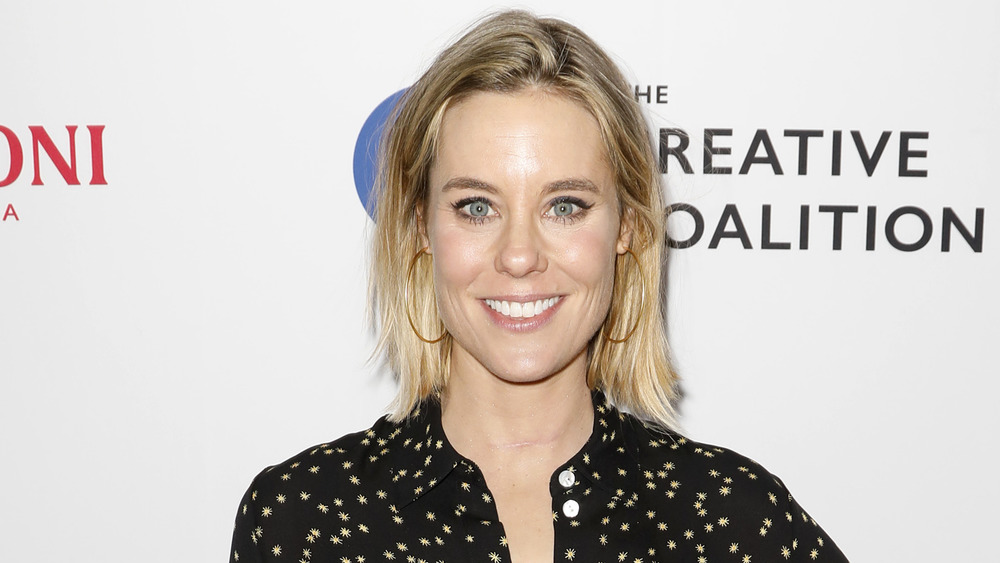 Tibrina Hobson/Getty Images
Circle of Deception is out on Lifetime, you're on set right now. What's next for you: more acting or more directing
I'm [on Season 4 of] The Good Doctor which shoots here in Vancouver and I'm writing. I'm actually in my office right now, and I'm surrounded by note cards. Here, I'll show you. It's crazy. It's like [A Beautiful Mind] in here. I'm writing a TV show and I've got a bunch of projects in development with several different networks, and we're staying busy. Thank God we're healthy, we're okay, and we're all just plugging along and trying to get through this time.
Do you have anything to add about the film?
I just want to say that Lifetime has just done such incredible things for me. And from the very first meeting that I ever had with them as a director, they said to me, "Throw away your ideas of what a traditional Lifetime thriller is and make your own, make every choice your own in this movie. We want it to be authentically your story." And it was as, a first time director, absolutely incredibly empowering, to have been given that kind of authorship and agency. And I'm forever indebted to the people over there and their Broader Focus Initiative. I think they're all amazing.
Circle of Deception is now playing on Lifetime.